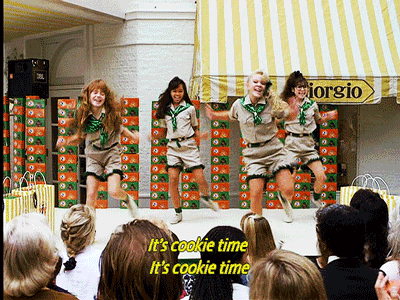 When Netflix added Troop Beverly Hills to instant streaming late last year, we immediately organized a group twitter watch and had the time of our lives sharing this movie experience for the first time. And, yes, this movie is FUN but watching it as adults made us realize how many life lessons they snuck into it, somehow without ever crossing that annoying after school special line. Phyllis Nefler is a queen, a fashion icon, and a role model. She and the girls are a team, and teamwork has never looked so enjoyable and so rewarding.
Which makes it all the more baffling that the Girl Scouts objected to this movie. In a special feature on the recently released Blu-ray, Shelley Long explains that the organization was sent a copy of the script, only to report that they wanted nothing to do with the movie and wouldn't allow use of the Girl Scout name (we personally think "Wilderness Girls" sounds more badass anyway). Sure, Phyllis may not be the woman you automatically think of when you think of a troop leader, but the lessons she teaches the girls in her troop–and the lessons she learns herself–are lessons that any Girl Scout, Wilderness Girl, or human being should keep in their back pocket. Turns out shopping wasn't Troop 332's greatest skill after all.
-Sarah and Maggie
"Never go to Reno, girls."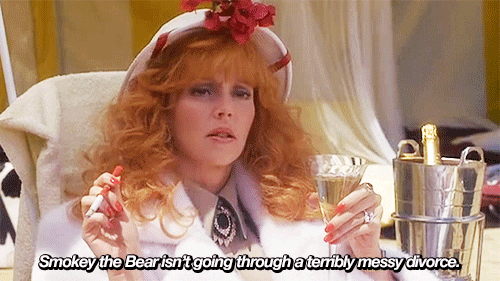 In the movie, Phyllis follows up this tidbit of advice to the girls at the divorce court hearing with "California property laws can't be beat." And yes, it's practical (if a bit cynical?) advice. But I think the larger lesson to draw here is about self-worth and knowing your value. Phyllis becomes stronger over the course of the movie, but even at the very beginning when she and Freddie are arguing, she tells him not to mock her and states that he never acknowledges her contribution to their marriage. She stands up for herself, even though she's vulnerable and doubting herself a little. And by the time Freddie tells her he's proud of her during the check presentation gala in the middle of the movie, she's grateful for his acknowledgment but I think it's a more significant moment when she replies that she's proud of herself too.
As a young woman in the professional world, I know a bit about being underestimated and not being taken as seriously as I should be so I relate pretty hard to Phyllis, who's faced with this constantly throughout the movie. I think very carefully before I speak because I want people to hear the content of what I'm saying and not have an excuse to write me off as hysterical if I'm not perfectly calm. I have to know my worth and stand up for myself first instead of leaving it up to others to do it for me. There are always going to be people like Freddie who underestimate you or Velda who won't give you a fair chance. You can't let them shake you; you have to be confident in yourself and your abilities and carry on and prove them wrong.
-Maggie
"Good for her! Not for me."
The first time I watched this movie after reading Amy Poehler's
Yes Please
, it became glaringly obvious that
Troop Beverly Hills
is 106 minutes of "Good for her! Not for me." In six words, Amy brings home an essential concept that Velda should have kept in the back of her mind for occasions like this: There is more than one way of successfully doing things.
Phyllis and the girls are pitted against Velda's version of a Wilderness Girl for the entire movie, which is ridiculous when you look at Velda's expectations of a troop leader. In the orientation meeting, she explains, "When we're looking for new leaders, we're looking for a real no-nonsense woman, a woman who can cope with anything, a woman who doesn't cause a ruckus, but can still get the job done." So let's go through this checklist, shall we? The troop earns 36 patches in three weeks. Sure, some of them aren't marking traditional achievements (although Gardening with Glamour should really be a mainstay), but everything the troop did still warranted hard work. They end up selling over four thousand boxes of cookies without going door-to-door, and I'd love for someone to explain to me why celebrating an accomplishment of that magnitude constitutes an embarrassment to the organization, VELDA. They make it to the jamboree and win despite the Red Feathers' constant cheating AND making time to help an injured Velda get to the finish line. Perhaps most important out of everything, she adapts the teachings of the organization into lessons the girls can use in their everyday lives in Beverly Hills. If that doesn't flat-out scream "Troop Leader of the Year," I don't know what does. Phyllis got the job done; it just wasn't on Velda's terms. But her terms are irrelevant, as Beverly Hills becomes the new poster troop.
Sorry, Ms. Plendor. Better luck with Velda's Avengers. But once you secede from the organization, maybe you should teach your new batch of girls that life isn't one-size-fits-all, that sacrificing yourself in order to squeeze into another person's expectations only strips the joy out of success. And then you can commemorate the whole thing with a Good for Her, Not for Me patch.
-Sarah
"Uniforms blur an individual's sense of self."
I wore a school uniform from first through eighth grade and it still weirdly influences my sense of style, a full 20 years later. I tend to wear similar outfits every day, I feel anxious when I am over or underdressed, I can't wear shirts with collars. I was a bridesmaid in September and wearing the same dress and shoes as five other ladies felt so soothing, I can't even tell you. And sure, we personalized our school uniforms by choosing accessories but no one ever came close to the way Phyllis made her troop leader uniforms her own. I love how she describes everything wrong with the standard uniform to the girls when she tries it on for the first time, only to declare "But all of that can be fixed." You don't have to accept what's given to you as is and you don't have to let someone else mold you. You can have a great experience as part of a group or team while still being yourself and an individual. Yes, uniforms can blur an individual's sense of self and the lesson here is not to let them.
-Maggie
"The most important thing is having friends."
Leave it to Phyllis to hit on something so simple yet so vital. While she's consoling Emily after learning of her family's financial problems, Phyllis drops a truth bomb. In the end, material possessions don't matter nearly as much as the people you choose to have around you. Friends are chosen family. They see you at your worst, help you wipe away your tears, and still love you unconditionally. They put a Tina Turner wig on and sing with you about chocolate chip cookies. They try out new dance moves with you in brightly colored spandex. They throw impromptu birthday parties for you when your parents are in Monte Carlo. They are your rock, your safety net, your level head, and your spontaneity. They make life seem less overwhelming and make sure you are never alone in your hour of need. And, of course, if you need a loan to pay for your patches, they can float you one with little to no interest.
-Sarah