In September of 2005, I had just moved into a shiny new luxury building in the financial district. Unfortunately, the building was still under construction and it wasn't equipped for cable just yet. These were the dark days before Hulu and On Demand, when if you missed something on TV, you just missed it. Knowing my plight and distress with not having access to Season Premiere week, my friend and co-worker Renee would tape shows off of HER television every night and deliver me video cassettes every morning, which I would promptly watch and then give back to her the following day to start the whole process again. A Buffy and Angel fangirl, Renee handed me my tape one morning and said she had recorded the new David Boreanaz show and she thought I would like it. And that is how I saw the pilot of Bones for the first time.
Bones fell off my radar for a bit until I met a guy at my sister's wedding in October 2007 who raved and raved about how awesome Bones was and how much he thought I'd like it. Never one to turn down the advice of a boy I was interested, I went back to Bones and was like "WHY HAVEN'T I BEEN WATCHING THIS THE WHOLE TIME?" Bones filled the giant gaping hole that The X-Files had left in my heart. I binged the first two and a half seasons and fell in love with Temperance Brennan's giant brain, Seeley Booth's giant heart, and the way Seeley Booth and Temperance Brennan loved EACH OTHER. I watched those first 2.5 seasons SEVERAL times over the course of the writers' strike that winter and my first live episode was "The Man in the Mud," which was THISCLOSE to making this list, purely for that sentimental reason.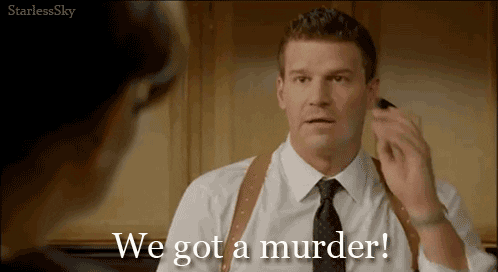 Kelly was much more eloquent than I could ever be in regards to what made Bones resonate with the audience, so you should just go and read her intro in the posts for episodes 20 – 11. All I will add is this: I know a show is good and in my BONES (ha!) when it drives me to fan fiction because those forty-two minutes with the characters every week are just not enough. Seasons four and five were like shipper CRACK and I was regularly going to fanfiction.net (cause that's all there was, dear youths) after every episode to find stories that would FINALLY break the unbearable sexual tension. In fact, the only time I've ever tried my hand at WRITING fan fiction was a Bones one-shot where Brennan casually confessed her love over Mee Krab and Booth literally choked and she had to do the Heimlich maneuver. I abandoned it after two paragraphs because I just couldn't get Brennan's voice right. (MAD PROPS to those of you who can get her voice right.)
My love for Bones has been an up and down relationship over the final seasons (seriously, I'm not kidding about nearly quitting after Sweets), but those first six seasons will always remain an ultimate TV comfort food for me. But what's important with a long running series is sticking the landing. The back half of season 11 found me getting excited about Bones again, with the finale reveal of Zack being the first time I remember YELLING about Bones in a long time. And then, with Sage falling in love with the show in its Eleventh Hour, I embarked on a rewatch and it reminded me just how much this show has meant to me over the years. I'm so sad to see it go but I am so HAPPY that it's going out with a (literal) bang.
It was interesting because when Kelly and I decided to do this list, I was anticipating that we may have a lot more of a debate when it came down to picking our Top 20.  Yet when we sat down to compare our lists, the top 10 were virtually identical, give or take a placement or two. These are the DEFINITIVE episodes of Bones. Enjoy. — Kim
10) "Two Bodies in the Lab" (1 x 15)

source: drtemperancebrennans.tumblr.com
This is one doozy of an episode. It's the episode that gave us "Knight in Standard Issue Body Armor" because Booth was really letting his alpha male flag fly. It's the episode where Brennan refused to let Booth shame her for online dating (JEALOUS MUCH, SIR?) and where she's all "I have sex deal with it." (Hero.) It gave us "Hot Blooded" (which Sage waxed poetic about in our Booth post). Booth literally got blown up and he also bonded with Hodgins for the first time. We got a hospital scene where Brennan blows off the poor internet sod to sit by Booth's side and watch old movies. But perhaps most importantly, it's the episode that gave us the first Booth/Brennan hug. And let me tell you…that moment was worth waiting for.
One of the reasons I love Bones is that it took them fifteen episodes before they put Brennan in GENUINE peril to the point where Booth needed to rescue her. Don't get me wrong, I love a good rescue scene, but I also love a heroine who is able to take care of herself. What's even better is that when Brennan DOES get herself in a bit of a pickle, it's not because she made a stupid move or charged into a dangerous situation without any back-up. It's because she got too close to the truth, prompting Kenton (a typecast douchey Adam Baldwin) to HAVE to try to get rid of her. And even then when she knows she is in trouble, she fights Kenton all the way and damn near escapes on her own. Temperance Brennan will NOT be damseled unless she is literally gagged and dangling from a hook by her wrists.
When I think of the end of this episode, I compare it a LOT to The X-Files' "Irresistible". That's the first episode where SCULLY winds up in a situation she's not able to get out of on her own. It's the first time Mulder charges in and rescues her from the bad and it's the first time where Scully allows herself to break down and cry in Mulder's arms. The same goes for Brennan in "Two Bodies in the Lab." Brennan doesn't allow herself to be vulnerable in front of many people in those early days and her breakdown at the end of this episode comes from a genuine place of terror for her life. Her relief is palpable when she collapses into Booth's embrace and clings to him for dear life. Will I ever be over the way he lifts her off the hook using his own body weight? Nope. It's so hot. For me, this is the moment they truly became partners. — Kim

source: jigsmave.tumblr.com
Best Line: 
Brennan: Look, I am an adult Booth. I see men. I go out with them on occasion. I sleep with them.
Booth: Hey, you know what? That's cool but you don't even know who this guy is that you're meeting.
Brennan: I have trekked through Tibet avoiding the Chinese army. I think I can handle meeting someone for dinner.
Booth: Fine, you know what? You have fun with Dick431 or whatever his handle is.
Brennan: Yeah I will.
9) "The Blackout in the Blizzard" (6 x 16)
You ever think you know what hope is and then this six-season-old procedural is like, "No, let me tell you"? That's "The Blackout in the Blizzard." For Booth and Brennan, this was the promise of a light at the end of the tunnel: a literal date on two pieces of paper. And then they burned the paper, because they wouldn't need hope if they knew anything for sure.
This episode is an astonishing little thing. It's got Sweets in a World's Greatest Grandpa sweater and cool science; it's also got two expectant parents coming to terms with overwhelming news while a couple on the brink moves closer together. The fact that it weaves so many disparate elements into a nice cozy blanket instead of, well, a grandpa sweater is a bit of a miracle, but if you look carefully, optimism is the common thread holding everything together. And it's all made possible by a blizzard that forces everyone to finally sit down and talk.
These people should have been snowed in years ago. There's something charming, usually, about how much Booth and Brennan can say in so few words; when it comes right down to it, they just know. But conversation is still key, and it's no accident that every step forward in this episode starts with a talk. Booth opens up to Brennan about his father, and they're considering their relationship in no time. Hodgins knows Angela needs to do more than just curl up in silence, so he tricks her into comforting him—a trick that works because they don't tend to share Booth and Brennan's communication issues.
Hodgins' ability to immediately find the joy in this situation still floors me. If his kid can't look through microscopes, he'll just take up the piano. The optimism of this show is not in everything going as planned but in finding ways to work with obstacles and grow: to not only make the best of a situation, but to make it mean something. There are things that we have to let go of to move forward (chairs, anger, expectations). But the sacrifice is worth it. It's no accident that Booth's "one perfect day" with his dad is eventually the same date he marries Brennan.  —Kelly
Best Line: 
Brennan: A substance that is impervious to damage doesn't need to be strong. When you and I met, I was an impervious substance. Now I am a strong substance.
Booth: I think I know what you mean.
Brennan: A time could come when you aren't angry anymore and I'm strong enough to risk losing the last of my imperviousness. Maybe then we could try to be together.
8) "Mayhem on a Cross" (4 x 21)
Lance Sweets, my baby duck. Up until this point, Sweets had either been used as comic relief or as a stand-in for the audience in terms of commenting on Booth and Brennan's relationship. "Mayhem on a Cross" gives Sweets a backstory…and boy does it get dark.
In typical fashion, Gordon-Gordon Wyatt is the one to cut through all the bullshit and get to the heart of the matter. (Side note, I don't think we've praised the INSPIRED casting of Stephen Fry quite enough. He brings the perfect amount of bemusement and gentleness to the role.) I love the relationship between Sweets and Gordon-Gordon in this episode. It's a passing of the torch, with Gordon-Gordon quitting psychiatry to pursue his culinary dreams (which it's never really discussed how BRAVE that is, but Gordon-Gordon Wyatt is my hero). It ALSO sets in motion the events that culminate in the 100th episode. But what it really does is solidifies Sweets' place in the Jeffersonian family…which is everything he's wanted from the very beginning. (MY HEART.) John Francis Daley is SO WONDERFUL in this episode because he allows us to see the scared and vulnerable little boy beneath all the quips and psychobabble. The way his face FALLS when Gordon-Gordon spells out exactly what happened to him is devastating. I just want to wrap him in a blanket and shield him from the evil of the world.

source: drtemperancebrennans.tumblr.com
The moment where Brennan sees the literal scars on Sweets' back is fantastic because the reveal comes out of the blue. What's amazing is that despite her many social missteps is that Brennan KNOWS not to comment on it to Sweets' face. It's only when Gordon-Gordon comments on their OWN traumatic childhoods that the pieces click into place for Brennan. They are more alike that she thought they were. The amazing thing about Temperance Brennan is that once she is told how to process something, she fucking UNDERSTANDS and she does it. After Gordon-Gordon explains that they need to show their metaphorical scars to Sweets, she's like, "Yep, okay." She's SO OPEN in the moment where she blurts out the story about breaking the dish; she gives away that part of herself without even thinking TWICE.  It's a beautiful moment for her and a stunning performance by Emily. It's such an interesting contrast to Booth, who, despite being very emotionally open in other area of his life, clings to the darkness of his childhood with an iron fist, refusing to share it with anyone else if he can help it. (Remember, getting the "My Dad drank." out of him in "The Con Man in the Meth Lab" was like pulling teeth.) Booth doesn't like admitting weakness and to him, being the child of an abusive parent IS one. It's so telling that even after admitting that he would have killed himself had it not been for his grandfather, he immediately turns it back around to Brennan. "Are YOU okay, Bones?" (It's also interesting that he delivers that whole line to HER instead of Sweets, who they are supposed to be comparing scars with.) It's such a deep and complex moment for him and it blows my mind that people write Bones off as just a procedural.
Sweets: Would you agree that they have both, uh, sublimated their attraction to each other out of fear of endangering their working relationship because their working relationship is paramount to both of them?
Gordon-Gordon: Alas, I'm afraid I wouldn't agree with that, no.
Sweets: Wow, which part?
Gordon-Gordon: Well, everything you just said. Yes, one of them is acutely aware of that attraction. Struggles with it daily, as a matter of fact.
Sweets: Wow. I'm sorry I keep saying that… but which one?
Gordon-Gordon: It's your book, Dr. Sweets. I would never tell you.

all episode gifs via drtemperancebrennans.tumblr.com
Ah yes, THIS SCENE. There is much debate about exactly who Gordon-Gordon is talking about here. The obvious answer is Booth, as he's the one whose more in touch with his feelings and also is the one who is all HEART EYES all the time. But in MY mind, Gordon-Gordon is talking about Brennan here, mainly because of his use of the word "struggle". I think Brennan is highly aware of her attraction to Booth but she's also terrified of it because she doesn't understand it. What's BRILLIANT about the handkerchief scene where Sweets finally "sees it" is that David and Emily make it ambiguous. What makes him see it? Brennan's gentle and lingering pat on his chest that she takes away after realizing what she's doing? Or the way that Booth reaches up to grasp her hand, only to be too late, so he touches the place her hand was and gives her a LOOK? WHICH IS IT? (It's totally Brennan.)
Lastly, I have to shout out this episode for giving us the HILARIOUS "Ska-LEH" moment. I screamed when they brought that back for season 12. — Kim
Best Line: 
Gordon Gordon: So now, you're mostly alone in the world. But they had time to save you. They gave you a good life, and that's why you believe that people can be saved by other people with good hearts. That's the gift your parents left you. That, and the gift of a truly good heart. That gives you a deeper calling I do not share.