As all our shows go home for their winter breaks (with 60 pounds of laundry for mom!), it's time to embark on our annual year-end coverage!
We kick off our celebration of all things 2014 with part one of our Top 20 TV Moments. Trust us when we tell you that this has been a 12-month discussion; we've been analyzing and re-analyzing our picks since this year was even a thing.
A few disclaimers:
1. These moments are presented in no particular order. Feel free to rank in the comments, but we're not doing the dirty work for you.
2. Spoilers obviously present. If you are phobic, you might want to scroll down and take a look at the tags to keep yourself safe.
That said, here are half of our favorite TV moments from this jam-packed year. Remember – there are ten more coming. So you can't yell at us for leaving anything out. Yet.
1) Sherlock kisses Molly – Sherlock
Watching any episode of Sherlock is a heady experience. They are few and they are precious. When I watch one for the first time, I'm caught between a desperate need for the adventure's conclusion and "DON'T FORGET ONE MOMENT OF THIS, SAGE." It's a thin line to walk.
After two years of the waiting game, season three opened with an escape sequence of Bond-ian proportions. And the cherry on top of the whole sexy spy act was the moment that Sherlock Holmes crashed through a glass window like a damn hero and reminded Molly Hooper why she keeps on dealing with his nonsense.
It is a genuine, pearl-clutching moment and, as Kim just said to me, "pure fanservice." Up until this point, this swashbuckling, bodice-ripping Holmes only existed in fan fiction. And then Benedict Cumberbatch is on our TV screens (laptop screens, for those of us who are crap at waiting) ruffling his Sherlock locks (Just keep the curls for ONE hiatus, BC. We're begging you.) and taking Molly's face in his hands to give her something to remember him by. It was barely January and the first entry on this list was locked down like a cell block.
I maintain that this moment is canon, even if the rest of Anderson's action-fantasy is not. My reasons for this are four-fold. Firstly: Molly Hooper deserves this. I want so much to believe that Sherlock acknowledged her sacrifice; she had more to lose than anyone. Secondly, they're suuuuuper weird around each other the rest of the season, especially when the conversation comes down to love and sex. Something totally went down. Next, we find Molly in Sherlock's mind palace in "The Last Vow." She's vital to him. And finally: I ship it and I want this and this is about me.
Irregardless of the reality of the situation, this was good, panty-droppin' stuff. I'll leave you with Louise Brealey's thoughts on the matter, because she sees us.
And maybe she is us.
–Sage
2) Pierce Hawthorne's Last Will and Testament – Community
Season Five of Community was a mixed bag creatively, especially in the back half of the season after Donald Glover left the show.  Maybe it is because the show blew its wad on the one-two punch of "Cooperative Polygraphy" and "Geothermal Escapism" because those two episodes were perfect send-offs for two of the Original Greendale Seven, Pierce Hawthorne and Troy Barnes.  The final scene of "Cooperative Polygraphy" is the perfect mix of sweet and sour that is oh so Community that I am going to just paste all of the dialogue here.
Mr. Stone: Britta Perry Do you know that you hate yourself more than you should and that your passion inspired me?
Britta: No.
Abed: That's true.  She didn't know.
Mr. Stone: To Miss Perry, I leave my iPod Nano filled with music to take life less seriously by.
Shirley: Oh, that's nice.
Mr. Stone: I also leave you this liquid nitrogen cooled cylinder of my hyper-virile sperm in case your lesbian lifestyle one day wears out and you wish to raise an army of geniuses.  Shirley?
Shirley: Hmm?
Mr. Stone: Did you know that you are not only a credit to your race and gender, but to our species, and that I was intimidated by your strength of character and business acumen? To Shirley Bennett, I leave my spacious timeshare in Florida, where she can take What's-his-name and however many children she has now. I also leave you a cylinder of my sperm. Annie Edison. Did you know that you were always my favorite?
Annie: You mentioned it once, but…
Mr. Stone: I leave you this tiara, which you once refused to accept. It's the same tiara I used to wear when my mother would verbally assault me for not being a little girl. Also sperm. Jeff Winger, did you know you're gay?
Jeff: No.
Mr. Stone: Agree to disagree. To you, I leave this bottle of fine scotch so that you're less tempted to drink this cylinder of even finer sperm. Abed Nadir, did you know that you are insane and nothing that you said ever made any sense to me?
Abed: Yep.
Mr. Stone: Here's your sperm. Troy Barnes, did you know that you possess the greatest gift life can give: The heart of a hero. And that it's up to you not to waste it like I did?
Troy: I think.
Mr. Stone: To Troy, I leave the obligatory sperm.
Troy: Maybe it's because everyone else got one, and because it's an old man's semen, but, um, I'm kind of disappointed.
Mr. Stone: In addition, I am prepared to leave Troy Barnes my remaining shares in the Hawthorne Wipes company, currently valued at $14.3 million. On one condition. You must first sail my boat, the Childish Tycoon, by yourself around the entire world.
Troy: What?
Mr. Stone: When I was 23, my father asked me to do the same thing to earn my adulthood and his fortune. Of course I cheated and floated off the coast of Belize for a year doing coke with John Denver. I always regretted it. I'd like to give you a chance to do what I never did…Become your own man.
The INSTANT Britta was given the iPod nano, I started sobbing and cursing Dan Harmon's brilliance because of the above image, hilariously from one of the most loathed episodes of Community, season one's "The Art of Discourse".  It's a little serendipitous that Chevy Chase left the show in 2014 (hell, it's serendipitous the show was still even AIRING in 2014) and while I doubt that this moment was planned from season one, the fact that the writers added in this callback shows JUST how much attention they pay to the rich history of the show (and that makes me angry when they DON'T pay attention like when they create a brother for Annie Edison out of NOWHERE.  I digress).  The whole scene was a love letter to the fans of the show, between the iPod, Annie's Tiara, and Pierce getting one more "Gay" dig in at Jeff.  But most of all what this scene did is exemplify that Pierce, though he may have been a bastard and he may have been bad at showing it, truly loved and respected  his study group friends.  They were his family and he loved them and at the end of the day, he wanted to be sure they knew that.  The gifts he gave to them all proved that he knew all of them better than they thought he did…and that he believed in them.  And finding people who believe in you and love you FOR your weirdness?  That's what Community is all about, my friends.
— Kim
3) Diamond Dan Dances for Mindy – The Mindy Project
For most of the year, Danny and Mindy's first kiss on the airplane had a solid slot locked down on this list.   On September 16th, everything changed.  Sage and I were at a screening of Gillian Anderson's A Streetcar Named Desire the night of the season three premiere of The Mindy Project.  When we emerged emotionally exhausted from the screening, both of us had multiple (spoiler-free) text messages from friends making sure we were alive.  I rushed home as fast as the MTA would carry me and immediately queued up "We're A Couple Now, Haters".  When it was revealed that Danny Castellano had a stripper past, I immediately started saying Hail Mindys that we would get to see Chris Messina show off his moves (as we all knew he had them, thanks to "Christmas Party Sex Trap").  And in the last minutes of the episode, my prayers were answered and I curled up on the couch making dying animal noises at my television screen.  "What did I do to deserve this wonderous moment," I wailed at my TV.  "I must have been very very good this year."  And then I promptly texted Sage to check to see if she was conscious.  (She was.  Barely.)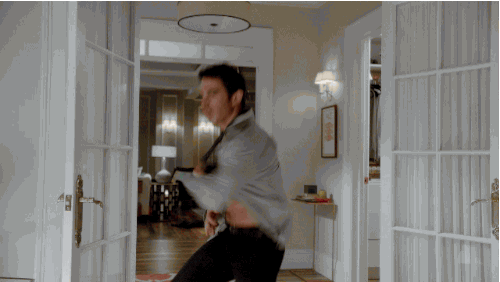 Danny Castellano dancing to "American Woman" for his girlfriend is important for many reasons, not just for the fact that these gifs exist on the internet to cheer you up on a dreary day from here to eternity.  (Seriously…having a shit day?  Stare at these gifs for a while.) Diamond Dan is important because in a culture where it's usually the woman doing the sexy striptease (Magic Mike aside), Mindy Kaling flipped the script and had the MAN be the one being blatantly objectified, while the woman greedily watches.  As Sage pointed out in her recap of this episode, the fact that both Danny and Mindy are DEAD SERIOUS in this scene is what makes it so special.  Mindy is not hooting and hollering like so many women tend to be portrayed as doing in a male stripper situation.  Danny is not doing some half-assed version of his routine as a joke.  He does the routine full-out, never taking his eyes off her.  In his seriousness, he makes it known that he completely trusts Mindy with his past. He also makes it known that this is a seduction to please HER and that there are going to be some SERIOUS sexytimes to follow.
He IS like a thirsty camel at a desert oasis, after all.
— Kim (and I am sure you won't mind one more gif so here you go.  I SAVED THE BEST FOR LAST.)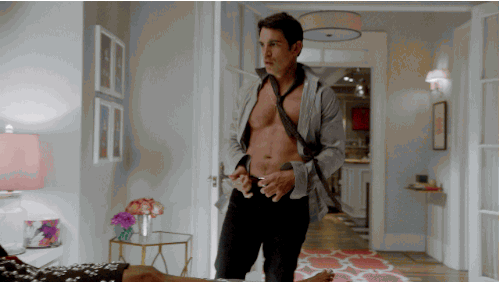 4) Clara Gets a Phone Call – Doctor Who
It took us about 30 seconds to accept the Twelfth as our Doctor and savior, but Clara Oswald needed just a bit more time. "Deep Breath" did a fabulous job of transitioning a companion from a familiar, cuddly Doctor to his more dangerous and less knowable regeneration. And we can argue over the rules and what we consider to be the breaking of them, but that won't make this surprise cameo by Matt Smith any less powerful.
My heart aches for anyone who was spoiled for this scene. I myself was sitting in the dark among a few thousand Whovians (annnnnnd Peter and Jenna and Moffat, thank you very much) at the Ziegfeld screening when Eleven called Clara from Trenzalore. I promptly burst into tears.
Clara: Hello? Hello?
Eleven: It's me.
Clara: Yes, it's you. Who's this?
Eleven: It's me Clara. The Doctor.
Clara: What do you mean "The Doctor"?
Eleven: I'm phoning you from Trenzalore, from before I changed. It's all still to happen to me. It's coming. Oh, it's coming. Not long now. I can…feel it.
Clara: Why? Why did you do this?
Eleven: Because I think it's gonna be a whopper. And I think you might be scared. And however scared you are, Clara, the man you are with right now, the man I hope you are with, believe me, he is more scared than can imagine right now, and he needs you. Is that The Doctor?
Twelve: Is that the Doctor?
Clara: Yes.
Eleven: He sounds old. Please tell me I didn't get old. I was young. Oh. Is he gray?
Clara: Yes.
Eleven: Clara, please, hey, for me. Help him. Go on. And don't be afraid. Goodbye Clara. Miss ya.
Most of the criticism that this scene was met with accused it of being gimmicky – a shortcut to full companion/audience acceptance of Twelve. For me, it was a proper goodbye to Eleven, since "Time of the Doctor" was a sloppy travesty.
Moreover, I don't think that the call left the writers or the actors off the hook. If anything, Matt's appearance highlighted the stark differences between Eleven and Twelve. "Miss ya," Eleven says, with so much emotion in his voice that it hurts to hear it, right before Twelve reacts to Clara's hug like she's crawling with cooties. These are different men, and we're going to deal with that. You better believe we're gonna deal with that.
"Deep Breath" is a suspenseful debut in need of an emotional center. This scene brought us a welcome quiet moment for the Doctor and his companion to take stock and get back on the same page. And all three stars acted the hell out of it. Matt with his weary cheerfulness; Jenna putting on her brave face because she knows it's the right thing to do; and Peter infusing this thorny Doctor with heart wrenching vulnerability. ("Please…just see me.") Things for Clara and Twelve wouldn't be easy from this point on, but at least she finally saw the person standing right in front of her.
–Sage