Series 8, Episode 4
Listen

Doctor Who rarely does exactly what it says on the tin. (Exceptions include "Dinosaurs on a Spaceship," which is pretty much…that.) The "Listen" trailer promised a lights-on-all-night ghost story, but the actual episode offered ghosts of a different stripe. The Moffat-penned story is, more than anything, a meditation on fear – the great motivator.
Fear drives the episode from the very start. In a a beautifully directed monologue, the Doctor wonders if natural selection has developed a creature with the perfect ability to hide. Hypothetically, "alone" might be a false concept. Hypothetically, the creeping discomfort we feel when we think we're alone might be a response to an actual presence. He frames it as a opportunity for a cold and scientific investigation, but Clara sees the Doctor's new pet project for what it really is: he has succeeded in totally freaked himself out. ("How long have you been traveling alone?")
In an effort to lure the unknown entity To Catch A Predator-style, the Doctor locks the TARDIS onto Clara's timeline. Or at least he thinks he does. But one should never underestimate even the most self-assured singleton's ability to dwell on a bad date, the Doctor and Clara end up outside the West Country Children's Home, under the window of one Rupert Pink.
Rupert is trying to sleep but feeling a little antsy. And who can blame him, an orphan living in a drafty mansion in the middle of nowhere? While the Doctor does his digging, Clara – as is the companion's job – takes control of the human element. I'm thankful the script didn't drag out the reveal that Rupert would one day grow up, change his name to Danny, join the Army and then the ranks of Coal Hill School's fine educators. Clara realizes it straight away, and it's very sweet to watch her comfort the even more vulnerable version of the man she just stormed out on.
The most frightening episodes of Doctor Who – nay, of anything – are the ones that build on universal fears. Or in the case of Weeping Angels, create them. The events of that night in Rupert's bedroom dig right into our terror of the unknown. It's a truly scary scene. Once again, Doctor Who burns a mundane yet undeniably creepy image onto our brains. (And provides us with a very simple method to make our Whovian pals crap their pants.)
What in the damn hell is under there? I'm desperate to know, only it doesn't actually matter. On my second watch, I squinted my eyes and concentrated on the form over Clara's shoulder as it stood and dropped the blanket. It's…a thing. "What's that in the mirror or the corner of your eye?" It's usually nothing. Correction: It's fear itself.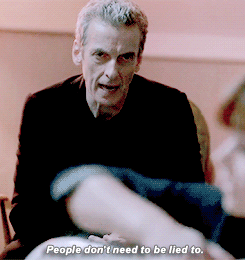 The Doctor explains the scientific benefits of fear to little Rupert in a speech that once again justifies Capaldi's casting. He can be flippant about his "dad skills" all he wants, but the last of the Time Lords is always going to know how to relate to kids. At least, when he feels like it. For the rest of the time, he's got his "carer" to keep him in line.
Detractors of this episode and others like it often complain about Moffat "showing off" with these circular developments. But beyond the taking this whole time travel concept out for a walk, this story also raises some intriguing questions about how these people became who they are. A kind, beautiful girl shows up mysteriously in Rupert's room one night and tells him about "a soldier so brave he doesn't need a gun," but can still "keep the whole world safe." Scrambled memory, we're told. But look who ends up building wells and freeing villages 20 years later. Heroes aren't born on Doctor Who. They're made.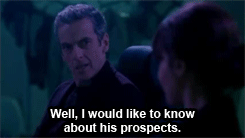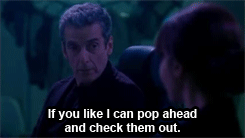 Continue Reading