Masters of Sex Season 4, Episode 2
"Inventory"
Posted by Kim
We're two episodes into season four of Masters of Sex and we're seeing a major paradigm shift in the characters of Bill and Virginia. Bill has always been the more emotionally constipated of the two, stuffing down his desires until he bursts (usually with devastating consequences). Virginia, while just as damaged as Bill, has at least always seemed to be in tune with her feelings and her actions. So far this season, we're seeing the opposite. Be it through his reluctant participation in AA or simply the fact that he's hot rock bottom, so far Bill has been more open to exploring his emotions and the havoc his past actions have wreaked. On the other end of the spectrum, Virginia seems to be spiraling and putting up her walls even higher as she lives in denial of JUST how much of a mess her life is. She's ALWAYS been calculating in her actions but everything she's done in this season so far has been cold, even cruel at times. I've always been on Virginia's side but I found her actions in "Inventory" to be incredibly hard to swallow. This is NOT the Virginia Johnson I've come to know and love over the past three seasons. But I'm getting ahead of myself.
There is one thing Bill and Virginia have in common right now: their children hate them. Johnny shows up at the clinic only to find that his father is living there, having grown tired of paying for a hotel. Johnny cuts right to the chase: he doesn't want to see Bill and neither do his siblings, so he needs to stop pestering Libby about it. "Why do you want to see us anyway? You don't like us." Ouch. Bill insists that is not true but it's merely a case of too little, too late. The damage is done. Johnny is right, after all. Bill has shown little to no interest in spending time with his children up until now. Now that he does, his children don't want to see HIM. He promises Johnny that he's in the process of finding an apartment but Johnny has no interest in Chinese dinners once a week with his Dad. (But Johnny, sesame chicken is DELICIOUS.) Bill offers to walk Johnny to school (since he can't drive, as his son disdainfully points out) but Johnny declines him. "That would just be the walk of shame." Did I say ouch already? OUCH.
source: michaelsheen.tumblr.com
Despite all our pleas that she go to boarding school, Tessa is still around to sulk and pass judgement. Gini tries to play off her escapades in Las Vegas as a simple vacation, plying Tessa with a new charm bracelet and talking about the gift she bought her father. Tessa is having none of it and she relays how HARD it was for them while she was away. "Do you know that Lisa cried six hours straight last week? I mean, her face was red, she was covered in drool. It got so bad that we had to call Libby." That's just salt in the wound, isn't it? But Gini just brushes it all under the rug, as she is wont to do. Then Tessa twists the knife by saying that she's spoken to Dan and we FINALLY get some answers about just what happened in Vegas. Gini and Dan didn't get married. Gini's been lying to everyone. WHAT HAPPENED? Who dumped who? (It was Dan, right? He KNEW that Gini was waiting for Bill to stop her.) These are things we need to know.
Tessa calls her mother out for lying and Gini stumbles about saying she was just waiting for the right time, which is a big load of bullshit. She also asks Tessa to keep up the charade because it protects her. That's the second time Gini's said that, by the way. The thing is…Gini was married to George and it didn't "protect her" so what's the difference to this fake marriage to Dan? Is it because Bill was threatened by him? Because Bill knew that Dan was clearly the better option? Is it because SHE would be faithful to Dan and not George? Honestly, I don't know what the fuck her reasoning is and neither does Tessa. "What you need, mom, is a shrink." DING DING DING.

source: michaelsheen.tumblr.com
At the clinic, things aren't any better for Virginia. Betty DiMello is still 500% done with all this shit but her reaction to Virginia is significantly cooler than that to her reaction to Bill last week. (When it comes down to it, Betty's always going to be #TeamBill because if there is one thing Betty DiMello is, it's loyal.) Annaleigh Ashford's "Bitch Please" face is a thing of glory as Betty hands Virginia her stack of messages. "Some of them I told you were on sabbatical, some of them I told you were on safari.
You'll have to sort them out yourself." BLESS. Betty also smugly informs Virginia that Bill's prospective new partner, Nancy LeVeaux (who apparently interned with Barton even though we've never seen her before) is here for her interview. Nancy is tall, blonde, and sports perfect cat-eye eyeliner. Virginia basically hates her on sight, so she puts her down immediately, calling her "Ms." instead of "Dr.". THIS IS GOING TO BE FUN.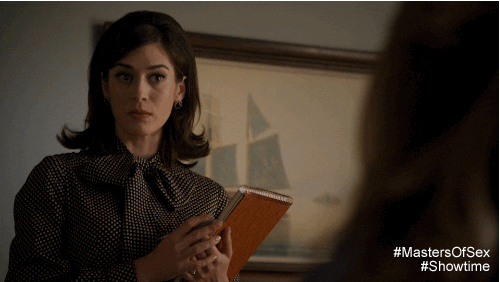 What happens next is the Lady equivalent of a dick measuring contest. (Boob measuring contest? Ovary measuring? What's the equivalent?) Gini has a reluctant Betty and Lester roleplay an intake interview for Nancy to audition with. (Lester, when told he had secondary impotence: "Again?!") Gini assures Nancy that she is only there to observe but of course she butts in before Nancy has even managed to complete a sentence. Nancy takes it all in stride though and gamely takes all of Virginia's criticisms. When Betty Mrs. McGillycuddy expresses her issues ("It doesn't fit." DYING.), Nancy says they will proceed with a physical exam. When Gini stops her to say that she should take a sexual history first, Nancy sweetly says that all of the "symptoms" point toward vaginismus, which is probably causing the impotence, as Gini herself pointed out in an interview last year. "Yes…that's true," Virginia stammers. POINT NANCY.

source: michaelsheen.tumblr.com
In the observation room, Gini and Bill trade barbs about schedules and who's to blame for their current predicament. (Answer: they both are.) They can't even make eye contact and it's PAINFUL. Gini disses Nancy's qualifications, which is rich considering she has not degrees herself. She even goes as far as demanding that Lester install recording equipment everywhere because THAT will certainly help things. Betty interrupts them, clutching a massive bouquet of roses for Virginia. Virginia pointedly asks for Betty to read the card and if looks could kill, Gini would be dead and buried. The roses are supposedly from Dan, causing Bill to slump out of the room, mumbling about making Nancy a final offer. This is the last straw for Betty. "I've spent the past two months tap-dancing as fast as I can trying to keep this business together with spit and Scotch tape. And in all that time I didn't hear so much as a peep from you," she spits. (Me: YAS BETTY TELL HER.) Gini tries to placate her by fake apologizing but Betty isn't letting her off the hook. It's time for a (well deserved) raise and Gini is going to give it to her. Why? "See, I have been working here for ten years. And I know your handwriting from a mile away. Now, I don't know why you're sending yourself flowers from Dan, and I'm not asking. What I am asking for is a little bit of support." Basically, Betty knows that Gini is Cher Horowitz-ing and she's going to use it to her advantage. Have I mentioned that Betty is my hero lately? She's my hero.
At AA, the step of the week is "taking inventory" aka taking responsibility for your actions by taking good hard look at yourself aka the title of the episode. Bill still thinks he's above it all, rolling his eyes at Louise as other attendees rattle off their lists. Yes, the guy speaking that night was doing the list wrong, by listing all the people who wronged HIM rather than the other way around, but, as Louise points out to Bill, at least he's trying. "Change is a process, not an event," she reminds Bill. Bill thinks he's FINE though. His business is back on track, he's hired Nancy, and now he's going to go hammer out a custody agreement with Libby. He's a success story. "And where are you living these days, Bill? 'Cause I've been picking you up and dropping you off at your office almost like you're sleeping there, but that can't be true. I mean, for a success story like you." I AM HERE FOR NIECY NASH CALLING HIM ON HIS SHIT EVERY WEEK. Especially in all of those fabulous outfits.