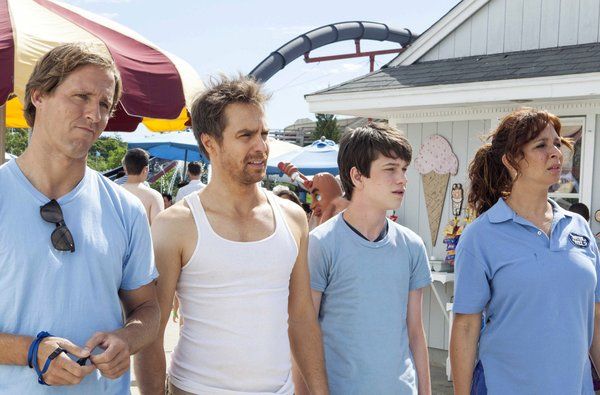 The fine people at the Museum of the Moving Image in Astoria, Queens were kind enough to schedule this advanced screening of Fox Searchlight's The Way Way Back on the day before the official start of Communies Take Manhattan, a meetup planned by an east coast group of TV-loving Twitter friends. Why would Community fans be particularly interested in seeing this coming-of-age comedy together, aside from their impeccable taste? Let's just say this movie is where their favorite show meets the silver-DEAN.
The screening was followed by a talkback with cast members Liam James (Duncan) and Sam Rockwell (Owen), plus writer/directors Nat Faxon and Jim Rash. That's right, my friends. This poignant and witty ensemble dramedy is the brainchild of Ben Fox and Dean Pelton.
Okay fine, so they're also ACADEMY AWARD WINNING screenwriters. Nat and Jim took home the Adapted Screenplay Oscar for their work on The Descendants, which gave them the Hollywood muscle to take the lead on their next project. At the talkback, they told us that they also carry around the "travel size" versions of their awards, just in case they ever need to prove something. Nice strategy, but The Way Way Back is proof enough for me that they are and will continue to be the real deal.
The Way Way Back chronicles a summer that 14-year-old Duncan spends with his mom Pam (Toni Collette), her boyfriend Trent (Steve Carell), and Trent's surly daughter Steph (Zoe Levin) at Trent's east coast vacation house. While his mom tries to keep up ("It's like spring break for adults.") with Trent's summer friends Betty (Alison Janney), Kip (Rob Corddry), and Joan (Amanda Peet), Duncan escapes the house to be befriended by Owen, the boyish and capricious manager of the local waterpark. Duncan wear his loneliness like a Water Wizz employee t-shirt, so Owen offers him a job at the park. He blooms under the interest of his new friends and Duncan's mysterious new confidence draws the attention of Betty's restless daughter Susanna (AnnaSophia Robb), if not that of his distracted mother.
Frankly, you could put this cast in a reenactment of an episode of Whodunnit? and it would probably be gold. Toni Collette plays Pam as a confused woman doing her best to navigate a huge transition in the life of her and her kid. I can't ever remember seeing Steve Carell play such a boundlessly unlikeable character, and he did it so well that I'm still a little mad at him. Jim Rash described Trent in the talkback as "passive aggressive" and that's an understatement. He approaches his life with teeth bared, looking to take someone down before they can get to him first.  (Shallow Editor's Note: Carell also clearly bulked up for this role and the ladies in our group were…well, reacting. Kim even appointed him to her Top 5.)
Alison Janney is – as always – completely delightful as lovable lush Betty. And no one could have played a more complete or engaging Owen than Sam Rockwell, an actor who doesn't so much disappear into his roles as he overlays his own distinct qualities onto them. The film basically rests on the performance of Liam James, since the audience shares the perspective of Duncan. (If I remember correctly, there is no scene in the film that occurs outside of Duncan's sight or hearing.) Liam nails both Duncan's reserve with his family and goofy chutzpah as Water Wizz's Employee of the Month. Rob Corddry's Kip is a willfully ignorant good-time guy who pretends not to notice how Peet's prickly and jealous Joan fixates on Trent's new relationship. I'm always pleased to see Maya Rudolph, whose character Caitlyn is tired of playing mother to Owen and urges him to grow up – just a little. Faxon and Rash cast themselves as other members of the Water Wizz team – fratty Roddy and sad-sack Lewis, respectively.
MoMI screened this film as a part of their Coming of Age Comedies: The Summer Edition screening series, which also includes classics Meatballs, The Goonies, and The Sandlot. Those movies and others like them are so ingrained in my soul, that I at first didn't consciously recognize what an influence they had on this film. An audience member pointed out the scarcity of tech in this film, though it's set in the present, which heightens the alienation that Duncan, Pam, and Susanna feel and the urgency of friendships they make. Nat and Jim talked about the timelessness of those summer places – the friends you only see once a year; the houses that are never redecorated. That retreat from the real world sets the scene for bad behavior or uncharacteristic heroics. The Way Way Back follows in that grand tradition of magical summers, the tropes of which are familiar to me as breathing. But this movie isn't at all formulaic. It flips those tropes on their head, especially as they pertained to the grown-up/kid power dynamic.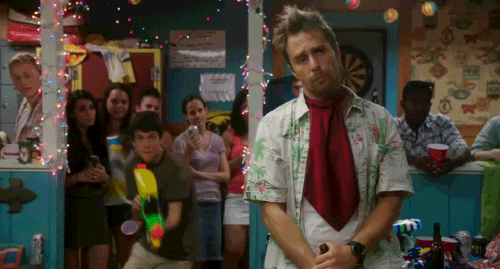 **MILD SPOILERS AHOY**