It's been an exciting couple of weeks over in the Supernatural-writin' wing of Head Over Feels. Sarah got engaged (it being the era of the internet, you can see the moment in its grainy glory here at 02:59:04) and Dawn headed off to Florida! Now that the dust has settled, so to speak, our ladies of Salt and Sass are back at it with Season 1, Episode 10.
Sarah: Welcome back, my similarly scared SPN sister-fans! I am getting hitched! (at some point! In 2015!) I spend a lot of time doing this: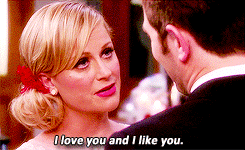 Aaaanyway. I have yet to watch the second season of American Horror Story because I read that it takes place in an abandoned asylum and that (shocker) scares the crap out of me. On the other hand, I love ghost stories and stories of haunted buildings and hospitals and the like. So color me both terrified and intrigued by this episode.
Dawn: Forgive the lateness, my demons and angels — I spent the last two weeks dealing with an interstate move, and I swear it almost made me want to live in an abandoned asylum. Because I love me some abandoned asylums. Madness and the supernatural go together like me and Dean Winchester — a great combination that is entirely in my imagination.
Season 1, Episode 10: Asylum
Written by: Richard Hatum
We start our episode with the usual teensy recaplet, this time with descriptive title cards! So now we know for sure how old Sammy is. It's like watching a movie trailer that isn't, quite. Also no flames, and so we are kinda bummed. But bonus Baby, which is kinda cool.
Thanks to our ever-helpful chyron person, we know we're at Roosevelt Asylum in scenic Rockford, Illinois. It's abandoned, graffitied, and creepy as fuck, as all derelict asylums should be, and this doesn't bode well for anyone. We meet Sgt. Exposition and his helpful partner, Clueless Rookie. Sgt. Expos comments that they just can't keep those gosh darn kids out of said abandoned asylum. When his partner seems confused, he launches into an expository monologue that actually begins with the words, "That's right, I forget, you're not from around here."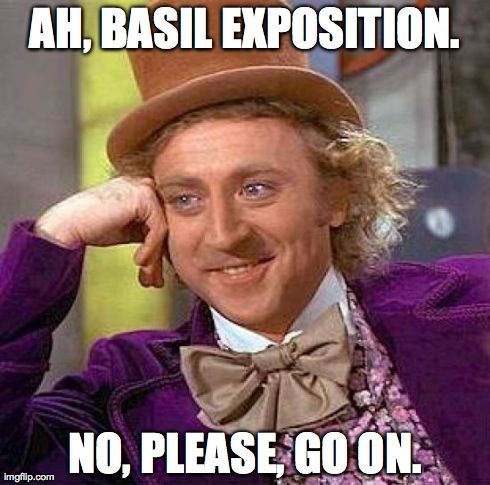 Sgt. Expos tells Clueless Rookie that as local legend has it, spending the night at Roosevelt Asylum will cause you to go insane…driven there, helpfully, by the spirits of its inmates.
Then they charge into the Asylum, announcing their presence. Because when cops on TV announce their presence, things always go well.
Sgt. Expos is really taken aback that this latest group of kids has brought bolt cutters with them. We consider that enterprising, really. And also practical, and proof that these particular teens believe in research and preparation.
Clueless Rookie treks down to the Boiler Room. It's dark and ominous. Sarah nominates him for our Deadshirt of the night; Dawn thinks it's too obvious. Meanwhile, Sgt. Expo's creepy and dangerous situation turns out to be a McGuffin – instead of DANGER, he finds TEENS! Mission accomplished.
Back in the Boiler Room, though, Deadshirt!Rookie opens a door marked with a BioHazard warning he totes fails to notice. While he's trying to figure out why his flashlight has gone out, another door opens behind him.
We cut immediately to teens driving off in a sportscar, overseen by Sgt. Expos. He radios for Deadshirt!Rookie, who appears, RIGHT BEHIND HIM. And is also now extra creepy.
So no winner yet on Deadshirt roulette. Both cops get in the car together and prepare to drive off – Sgt Expos is behind the wheel, and Creepy Rookie is creeping pretty intensely in the passenger seat. Also his nose is bleeding inexplicably.
Suddenly it's Later That Night, and Creepy Rookie has creeped upstairs to his pretty blond wife.
Shit, there's a new candidate for first Deadshirt of the night. Could be, especially because CR (actually named Walt) is reaaaaaaaaaallly methodically taking off his gear and emptying his pockets – gun, watch, etc. – while Blonde Wife apologizes for what is apparently not the first time tonight. He grabs his gun, and from outside the house, we see and hear two gunshots.
Oh, great, SPN. A murder-suicide.
Now we're with the Brothers Winchester, who are bickering inside of their Motel Room-of-the-Week. Sammy wants to call the Feds to report their father missing. Dean is afraid of his wrath if they go that route. Sam doesn't care…not after KANSAS, where he Should Have Been (and, we the audience know, Actually Was). The brothers continue to bicker while Dean's we-love-the-mid-2000s flip phone rings and rings. He opens it and ZOOOOM goes the camera to reveal coordinates.
"I don't believe it!" Dean says, "It's a text message. Coordinates."
Sam is not on board, as their father can "barely work a toaster."
Dean thinks Something is Afoot, though, because the coordinates are for (surprise, surprise) good old Rockford, IL! Not only is Deadshirt!Rookie's murder-suicide on Dean's computer, he lets us know that Papa Winchester had previously earmarked Roosevelt Asylum in Scary Demonbits. Well, then. So we have a total of seven unconfirmed sightings and two deaths — well, four, now.
Sam is annoyed that their dad wants them to work a job. Dean is just thrilled that there's some sort of communication and is gonna follow those coordinates no matter what, dammit. Just so we are clear, Sam is the Rebel. Dean is the Good Son. Or at least the obedient one. Some are born to their roles. Some achieve them. And others find those roles thrust upon them. These two boys got all three.
Next thing we know, Baby is parked outside of The Terminal Pub.
Sarah: I sincerely hope that the locations department FINDS some of these pubs and that it's not all just clever art dept. signage. Just saying.
Inside the Terminal Pub, Dean approaches Damian Gunderson (nee Sgt. Expos), who is, understandably, having a beer. He unleashes his alias of the week – Nigel Tufnel with the Chicago Tribune.
OK, Dean is out on a serious limb if he truly thinks that anyone Sgt. Gunderson's age will truly never have heard of Christopher Guest's infamous Spinal Tap character. But apparently, Spinal Tap is not a timeless classic in the SPN universe. It's okay though, because Sgt. Gunderson is totally capable of calling Dean out for his asshole move even if he does believe his name is "Nigel." And as soon as he does, there's Sammy to the rescue, shoving Dean off the barstool and telling him to "show a little respect."
So, this case kicks off with Sammy's dreams coming true then. He gets to call his brother a "serious jerk" in service of a case. He calls it method acting, which Dean doesn't get (and which makes Sarah wince). But the beer Sam bought Sgt. G pays off – he gets the goods on the Deadshirt and the Asylum.
It's daybreak, and the brothers Winchester are breaking into Roosevelt. It looks like the aftermath of a terrible frat party. They land at the South Wing, which is where two kids died in 1972. Dean figures if it were truly something icky, the body count would be higher. Sam helpfully points out that it looks a whole lot like someone usually chains that shit up…though whether to keep something in or some other folks out, it's hard to say.
Dean calls Sam "Haley Joel Osment" and it's kinda the line of the night. Big Brother is trying to come to grips with Sam's emerging talents, and it's not going so well.
The South Wing is creepy as fuuuuuuck. The brothers are sort of 50/50 between spirits possessing people and spirits driving people nuts. After bickering about WHAT IT MEANS that their father isn't with them, they find a door plate that says "Chief of Staff: Sanford Ellicott."
Dawn: Dr. Stanford Ellicott just sounds like a creepy old mad scientist from a Hammer Horror movie or a Gothic novel.
Next thing we know, Sam is paying a visit to a Dr. James Ellicott, a local psychiatrist. Sam is playing a slightly AU version of himself – a "local history buff" – which is how he just HAPPENS to know that this Dr. Ellicott is related to the Dr. Ellicott who worked in the South Wing at Roosevelt. He tries to get Dr. E to talk about an incident in the South Wing, but today's Dr. Ellicott isn't biting – he reminds Sam that they're on his dollar, and there to talk about Sam. Shockingly, Sam plays along, or tries to. He is spectacularly bad at talking about himself, though it's pretty clear he wishes he were. He tries to drive things back to the South Wing again, and is challenged with a toss-off comment that is also A Clue — If Sam is truly such a history buff, he knows all about the riot, the doctor remarks, before telling Sam he's avoiding the real subject: Sam. The doctor dangles info about the Roosevelt Riot in front of Sam, promising to tell him all about it if Sam can just tell him one true thing about himself.