Middle fingers up for Martin Freeman, our Showman of the Year!
2014 marks our second annual awarding of this title, and the criteria are getting a little more clear. Just like 2013 winner Tom Hiddleston, Martin represents the range of what we appreciate here at Head Over Feels: unquestionable talent, a heavy impact on pop and fandom culture, cuteness, and – above all – a proclivity to burst into spontaneous dance. He's also got the best face in the business; an endearing fondness for ascots and colorful socks; plus the lovely and equally talented Amanda Abbington for a partner. (Great taste.) And Martin's kept us entertained throughout the year, from Sherlock's third series run in January all the way to The Hobbit's Christmas release.
Yes, mainstream fame now belongs to our Fisher Prince Man. (And he's just going to have to deal with it.) Having adored him since a DVD of the original run of The Office found its way into my hands, I felt a massive swelling of pride (and a few falling tears) to see him standing in front of the house band in Studio 8H. And I've got a feeling that Martin Freeman won't need to introduce himself to American audiences for much longer.
–Sage
Stuff happens to John and John happens to stuff, on Sherlock: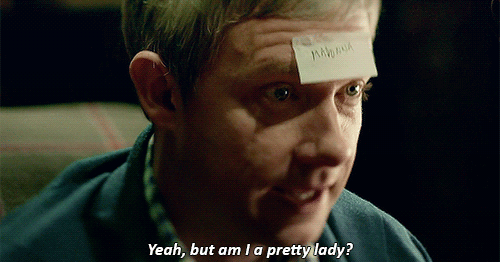 It's no wonder the Sherlock fandom is certifiably insane. It's pure torture that we are only blessed with Martin's John Watson every three years or so.  NINE EPISODES.  That's all we've had.  It feels like more and it feels like nothing all at the same time.  Sherlock Series Three lasted a blissful 12 days, if you went by the UK Schedule, which obviously we did.  It was over as soon as it started.  Series Three hooked up with us and then refused to cuddle afterwards…but we were fine with it.  Sage has said it before, but most of the series felt like a love letter to the fans, giving us everything we wanted and more.  We got to see John grieve over losing Sherlock and then his OUTRAGE at his return (poor bb didn't know what to do with himself).  We got to see John fall in love with Mary (she can stay cause she understands that John needs his boyfriend as much as his wife) and subsequently stand by her when her shady past came to light.  Is there anything more romantic than "The problems of your past are your business. The problems of your future are my privilege."? I don't think so.
The highlight of Series Three, however, was John and Sherlock's drunken Stag Night.  I'm not gonna SAY Martin's delivery of "Yeah, but am I pretty lady?" tipped the scales in his favor when it came to him winning this honor, but I'm not going to deny it either.  I think I can safely speak for Sage when I say we would have watched an entire episode of those drunk idiots gleefully clueing for looks.
Well, now he can say "Fuck you, I won a BAFTA and an Emmy."  Also, I don't think I will ever forgive the circumstances that made him miss the Emmys this year, therefore denying us an acceptance speech. (FINE.  It's because he was playing Richard III in London.  Whatever.) Martin and Benedict BOTH won and NEITHER were there…probably because they knew that their collective wins and speeches would have plunged Tumblr into a black hole, never to be heard from again.  Worth it, I would say. (And I think Tumblr would agree.)
— Kim
Recreating mid-'90s indie magic in Fargo:
There were a lot of things that could have gone wrong with Noah Hawley's miniseries adaptation of the Coen Brothers' 1996 film. It could have turned off viewers by re-writing a beloved screenplay, alienated new fans by being too precious about the material, or missed the tiny, moving target that is the movie's brand of dark comedy. But Team Fargo succeeded by combining serious respect for its inspiration with audaciously doing its own thing. "Its own thing" included casting an internet-famous British actor to take the lead as a Minnesotan sad-sack who becomes a soulless bastard. Cut to Martin being nominated for all the awards.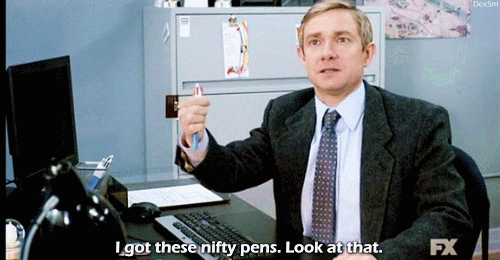 To begin with, HOW DOES THAT ACCENT COME OUT OF HIM? I might not believe it if he hadn't DONE IT FOR ME HIMSELF. Yes, this year I got a few minutes with Martin on the red carpet for the Paley Center preview of the show, and I managed to somehow stay upright and vaguely human for the entire interview. We chatted about the challenges of the part (including the dialect) and of the brutal weather on location. I waited until the end to begin gushing about his work on this past season of Sherlock, which he graciously endured and thanked me for. It was because of him that I tuned into the PBS premiere in the first place. (Benedict Whom-berbatch?) He's my favorite living actor and I'll be forever grateful that I had the chance to tell him how much I appreciate the humanity he brings to every role. I also want to note that a small group of fans waited just beyond the red carpet and I witnessed their interaction. One such fan – who'd worn a suit for the occasion – held out his hand and said it was a pleasure to meet him. Martin shook his hand heartily, thanked him for coming, and even complimented his ensemble ("Very sharp."), all without a hint of irony. CLASS. I feel that some interpret Martin's sarcastic humor as ungratefulness or an unwillingness to engage with the adoring masses. But what I saw was sincere. My hero-worship of him only got worse that day.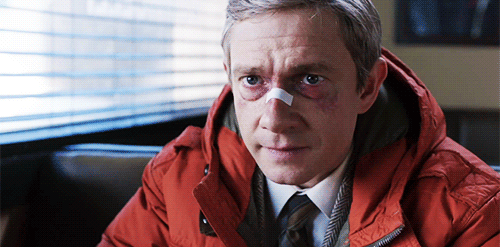 ANYWAY, FARGO. If you watched it, you get it. If you didn't, get on it. Those people didn't hack each other up in sub-zero temperatures for you to not tune in. Dontcha know.
–Sage
Taking on Richard III, and our beard fetish:

We weren't there, as we tragically live in America, but we are SURE he was awesome.  Plus, beard porn.
In lieu of being able to share our own experiences, let's look at Martin's reviews, shall we?
The Guardian: Martin Freeman is an original, not massively humped Richard, who coolly examines each phrase as if it were a poisoned proposition. Contained and caustic, he gets his way not by seductive snarling; not even exactly by fear, but by careful planning.
The Guardian (again): It's fair to say that Freeman's Richard is perfectly suited to the concept. This is no grandiose villain but a dapper, smooth-haired figure who only gradually reveals his psychopathic tendencies. And although Freeman chops up the verse into neat little segments rather than giving us the architecture of a speech, he has the capacity to make each phrase tell: "simple, plain Clarence", for instance, becomes a withering put-down of his gullible brother.
Variety: He nails the self-satisfied psychopathic side with tiny, well-placed bursts of self-satisfied humour. Even when furious at his loss of control and power, he always keeps the audience with him because he never shouts or loses control.
HuffPo: Martin Freeman has a well-deserved reputation for interesting approaches to text and impeccable comic timing and both those talents are well-used here. He has a great knack for using pauses for dramatic effect and sources of humour, such as when he's asked to address the nobles, all of whom he will of course murder on his way to the top, the disdain is palpable as he starts "Amongst this princely…heap."
The Independent: Freeman gives a highly intelligent, calculatedly understated performance, full of witty mocking touches in his rapid line-readings (he refers to "this princely….heap" with a comically fastidious pause) and creating a rapport of shared superiority with the audience over his dupes.
You get the picture.
— Kim