Season 7, Episode 10: The Johnny Karate Super Awesome Musical Explosion Show
Posted by Sage
Neither Leslie and Ben's triplets or Ann and Chris's Oliver have received much show focus since their births. No great loss: Parks already has its idealized version of childhood in one Andrew Dwyer.
With only a handful of episodes left in its lifetime, Parks and Rec dedicated a full show to Andy and by virtue of that, to the family that's watched him grow up. It's a rare meta exercise for the series. The action – aside from a very important sidebar – is staged in real-time, as Johnny Karate takes his final bow.
It's a clever set-up that satisfies on multiple levels. Firstly, we get to see Andy's show! It's zany, heartfelt, completely absurdist and wouldn't feel entirely out of place on the UHF network. (Anyone for drinking from the fire hose?) Mailman Barry and Pawnee's tiniest ninjas aren't Andy's only sidekicks; Johnny Karate is a Parks Department family affair. Ben plays out his Mister Wizard fantasies as Professor Smartbrain. Carpenter Ron does his best to instill a respect for doing things with your own two hands. And Leslie, because she is an expert, gives tips on how to be brave.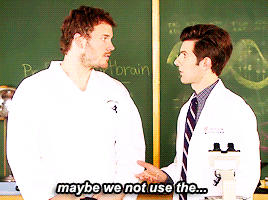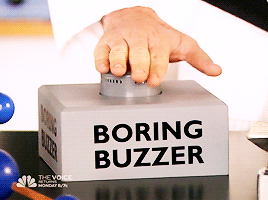 I love that Pawnee parents tune in to Johnny Karate every day to see business owners and high-ranking government employees who aren't too busy to remind the town's kids to "do something new, even if it's scary to you." Leslie, Ron, et. al. do the show because they love Andy, but they're also reminding their neighbors that this is a town that would never value conference calls over karate singalongs. (Or drenching John Cena in a dunk tank.) Most of what we saw in this episode was beamed out to the whole town, continuing that infinite feedback loop of love that exists between these people and the place they live. It's why Mailman Barry's mailbag is loaded down with letters asking the Karate-Dwyers to stay.
Andy's friends stage a swift and welcome coup during his final show; it becomes Andy Dwyer: This Is Your Life. And what a life it's been. When we met Andy, he was self-absorbed and immature, holding Ann back just as much as that cavernous pit in her backyard. He had to be raised, in a different way than April. Break the show down to its bones, and Andy was kind of the catalyst for everything that's happened. ("In a weird way, Andy, I owe it all to you.") The thing about these people around him is that they take the time to see who you are. Andy's gigantic heart started to show itself, and everything else grew out of that. Where do you think he came up with the 5 Karate Moves to Success? He's lived them, my friends.
1. Make Something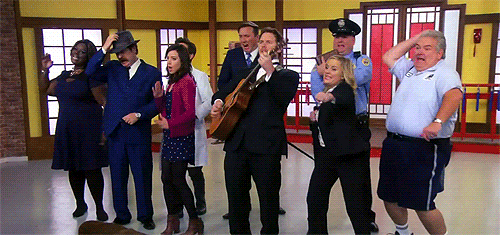 The big MouseRat joke was the band's multitude of name changes, or the songwriter's preference for lofty, heroic lyrics, but never the quality of the music. Let's face it: the "shitty band" gag can only go so far. Andy is talented; creating things makes him feel worthy. He almost gave it up a few times, but I'm glad that April helped him realize that there's nothing silly about making silly songs that make other people happy.
2. Learn Something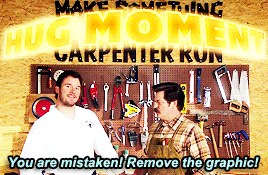 Andy is the first (and to our knowledge, only) recipient of the coveted Ron Swanson Scholarship. He's not dumb because he doesn't know things. He's smart because he knows he wants to. New information is a gift to Andy, something that makes his awesome world even more awesome. ("Did you know that the food you eat becomes energy?" *kicks air* "That's spaghetti.")