Thought I'd run out of things to say about Parks and Recreation? You thought wrong. This show is a gift, and I find something new every time I watch it.
I've been ruminating on a best-of Parks list since we found out that season seven would be the last. It's a show that has several low-key phases: the female Michael Scott era; the pre-Ben and Chris era; the Beslie build-up era, etc. I did my best to treat all those stages fairly in my rankings. I'm happy with the mix I ended up with. I tried to include an Honorable Mention or two, but ended up with an set of extra picks that was 6-episodes long and growing. So I cut it, and limited myself to a flat 15. It was a tough task, but ruthlessness is the name of the game. Or, as Leslie might say: go big, or go home.
Read on for episodes 15-8, and look out for Part 2 early next week.
15. "Pie-Mary" (Season 7, Episode 9)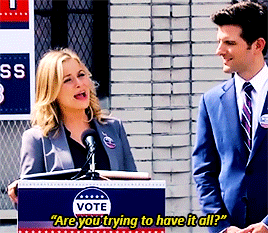 I don't know if there's ever been a piece of television that feels as specifically created for me than this one. During Ben's run for Congress, he and Leslie decide to skip a traditional bake-off between the candidates wives. Thanks to Marsha Langman and the "Male Men," their logistical call sets off a ridiculous "family values" debate, wherein Leslie's commitment to her husband and children is publicly questioned. I'm always here for it when Parks comes into a timely (and in this case, ETERNAL) political issue through a side door. Though the pie-baking competition is a piece of fiction (unless it isn't – if you've got this in your town, let me know so I can come picket it), the uproar that the Knope-Wyatt's "boycott" of it causes is too, too real. ("Can we have one conversation about feminism where the men are in charge?" – the entire Internet.) In addition to the spectacular takedowns both of our heroes give to "meninists" and the gender roles police, the Pie-Mary competition also loops in old friends and running jokes like Elise Yarktin of the Indiana Organization for Women and Ben's calzone obsession, which, in my opinion, is the real insult to the pie-making housewives of Pawnee. Stay in your Cal-zone Zone, Ben. Pies are delicious, and this is not their fault.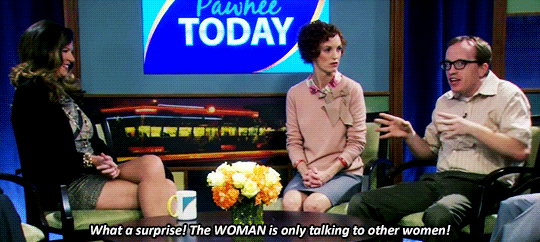 Elsewhere in the episode, Parks did what it did best in the final season, putting sentimental caps on the relationships between its characters. April has always been the cold, distant daughter Ron never had, so of course the news that she and Andy are leaving town would be hard on him. Instead of mourning her loss, Ron loops April in on one last quest – a scavenger hunt for a key that doesn't even unlock any doors. (The hunt does, however, remind everyone what a giant crush April had on Andy. Woof woof.) I remember writing in some recap or other that Ron always enjoys the doing, and solving a puzzle that offers no reward would seem pointless to so many who need a reason to get out of their chairs and engage their brains. April claims she doesn't care for feelings, but what she really hates is people who magnify theirs for attention and who pull other people into their problems. Ron is the opposite of that. He wouldn't dream of making April feel guilty for moving on.
And finally, the unsung BrOTP of Jerry Gergich and Donna Meagle get their moment. Donna notices things about her coworker that the other's don't, and she's got a big, ol' soft spot for him. And though she takes pleasure in watching him stumble through his days, she knows that Jerry's perfectly content in his small, bumbling life. And it least she takes the time to thank him for the entertainment. "You're one of a kind, Garry," is a pitch-perfect compliment for him. He's not the smartest or the strongest or the most confident or even the kindest (that honor goes to Ann, I think); to say that he is would be a lie. What he means to me as a character is that it's okay if the only superlative you can boast among your friends is that you're the biggest mess. You're still unique, and you still have value. And there are people who will recognize that, even if they don't mention it at the time.
Favorite Quote:
Leslie: You're ridiculous, and men's rights is nothing.
14. "Woman Of The Year" (Season 2, Episode 17)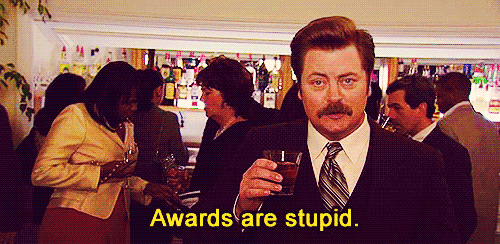 Ron and Leslie became such good pals over the course of the show that it's kind of a treat to go back and remember what an antagonistic relationship they had in the early years. Leslie was the padawan in those days; begrudgingly receiving Ron's advice on life, work, and being true to herself no matter how he chose to dish it out. In this season two episode, he can't resist tormenting her with his Dorothy Every Time Smurf Woman of the Year award, even though he thinks it's worthless. As was usually the case then, Ron isn't as right as he first assumes, which hints at the mutual mentor/mentee thing he and Leslie would get going later.
Leslie becomes much more discerning; but as a younger woman, she gives honors and traditions more value than she should. She's the ultimate sentimentalist. If something has been on her bucket list since the age of 9 (when she became a dues-paying member of the I.O.W.), then it's damn sure going to stay there and she's damn sure going to get it. ("Winning is every little girl's dream, but it's my destiny.") Before I rewatched this episode, I was primarily remembering Ron's justified dismissal of awards in general, but I'd forgotten how "Woman of the Year" also boldly calls out false feminism. The I.O.W. doesn't much care that Leslie is the actually brains and brawn behind Camp Athena; choosing a male recipient will bring them more press. The politicizing of an "ism" so near and dear to Leslie's heart is unconscionable. When she learns that the organization is more concerned with raising their own profile than doing the work that they claim to be doing, Leslie mentally snatches the membership card out of her past self's little hands. ("The I.O.W. is a bunch of sexist jerks who need to get back in the kitchen where they belong and leave the real feminist work to actual feminists like Ron Swanson. Oh my god, what is happening?")
Leslie isn't the only Pawneean with big dreams in this episode. Tom has an opportunity to buy into the Snake Hole Lounge, the town's "hottest" club. (And there's a fun Easter Egg in one of his talking heads, wherein Tom christens his imaginary future hotspot "Tom's Bistro," because "the word 'bistro' is classy as shit.") This entrepreneurial ambition leads to what is, in my opinion, the iconic Jean Ralphio scene. We'd met him once before, when he interviewed to be Ron's new assistant. But JR, we didn't truly know you until this moment:
What up, Big Teeeeeee…stop. This must be the lovely Donna. Enchanté. Listen beautiful, let's cut the bull, alright? You want this. I definitely want this. T.H. wants this. Let's seal this devil's threeway right here, right now.
Mike Schur said once that the peripheral characters in Parks were inspired by the The Simpsons stable of enemies, friends, and neighbors. And while there are dozens of Pawneeans who I'm pleased to see in every one of their cameos, Jean Ralphio is the crown prince of all of them. He's the most despicably lovable and adorably clueless; plus, his friendship with Tom gave the audience a baseline for Tom's future development as a person who could be realistic and upstanding, while not giving up his dreams of fame and fortune. There's also an interesting contrast between Jean Ralphio and Andy in this episode. Those two don't share the screen much, but we see the stark difference between their worldviews when it comes to helping a brother out. Jean Ralphio invests more in Tom's share of the club, but he also wants more out of it. (Lest he be forced to stand in the street and wait to be hit by another Lexus.) Andy gives up his aspiration of moving into his own apartment without a second thought, because his thousand dollars would be better spent making Tom happy. We live in a world where people who don't regularly act in their own self interest are assumed to be stupid. Fortunately, April doesn't buy into that. This selfless act is pretty much the last straw for her in terms of falling for her human golden retriever of a future-husband, and who among us could ever blame her?
Best Line:
Tom: Jay-Z. Rihanna. Audrina Patridge. Jon Gosselin. Lady Gaga. Snooki….
Jerry: Are these real people?
Tom: …Cash Warren. And Dennis Rodman. These are just a few of the celebrities that wish they could invest in Pawnee's hottest club. But they caaaaan't! And you can for the small price of only [echoing] $1,000. The only question is, who's gonna be my partner? [singing] Mark, I'm talking to you. Donna, I'm talking to you. Jerry, I'm talking to you. Mark, I'm talking to you….
13. "Halloween Surprise" (Season 5, Episode 5)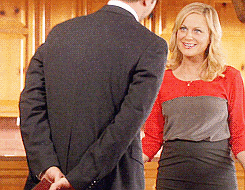 As I put my shortlist together for this post, I got frustrated with myself for picking so many "event" episodes. But hey, it's not my fault that Parks nails these milestones so hard. I didn't choose "Halloween Surprise" because Ben proposes to Leslie in the final act; I chose "Halloween Surprise" because all of Ben's character development leading up to that point made proposing the only reasonable action he could take in that moment. And it happens after Leslie's made peace with the idea of an extended separation. At least Jerry's near-death experience was good for something.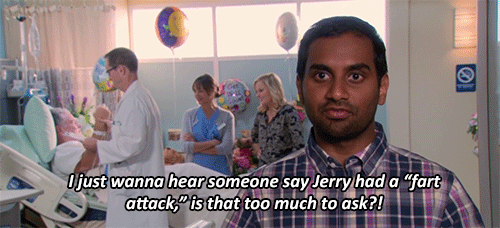 Anyway,  the Beslie relationship has been wrapped up in career, basically from day one. It was their devotion to their individual callings that first drew Ben and Leslie to each other, or rather, how both of them used their positions to better lives. (Even when Ben was cutting budgets, he was doing it in the name of saving entire towns.) They're so in tune with each other; it's usually outside circumstances that threaten their happiness bubble. In this case, it's opportunity that Leslie would never – not for a billion dates with Ann Perkins, the most beautiful woman in the world – ask Ben to turn down.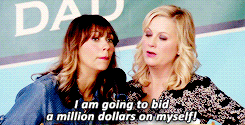 For Leslie, it's never been a question of trusting Ben. It's a question of missing, and of putting their life on hold. I love the Jen Barkley character so incredibly much – not just because Kathryn Hahn is a treasure, but because this is a couple with potential who need to be pushed. Jen eventually adopts them both; and her ruthlessness and straight-talk deserve a lot of the credit for where Leslie and Ben end up professionally by the series end.
"Leslie, you don't have to plan your future," Jerry tells her. And Jerry is the patron saint of rolling with the punches. Several characters end up facing physical manifestations of their fears in this episode; and they embrace them, like Chris does his paunchy, older self. Leslie's fear is loss of control. It's a beautiful, empty house that's waiting for life to fill it up. Ann's is her "ex" boxes lined up next to each other, and the thought that she might have let her own interests go unexplored in favor of being a good girlfriend. And Ron's is a pair of shrieking children that drive him way outside of his comfort zone but are part of the package if he wants to be with Diane. Donna's, like mine, is pesky Twitter trolls accosting her in person.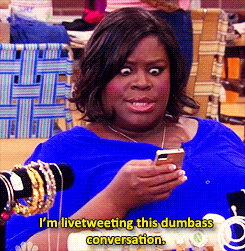 Leslie stops Ben before he can pop the question so that she can take a mental picture of a perfect moment. Those perfect moments are few, but holding on to them can offer a lot more stability than a daydream of what comes next. In conclusion, Adam Scott's face will be the death of me. Mark my words.
Favorite Line
Donna: Getcha foot outta the water, dumbass. It's BLOOD LAKE.
12. "Road Trip" (Season 3, Episode 14)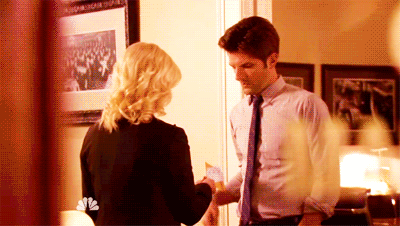 Ben and Leslie are sent by Chris on a work field trip and subsequently hit their breaking point. The sexual tension is so real, I'm sure it's about to sprout legs and start walking at any minute. Ann is a pathetic obstacle to their getting together, being more pro-Beslie than lit-rally anyone in the state of Indiana and in the dorms at Johns Hopkins University, probably. I truly hope that everyone reading has been in a situation like this, where time is perpetually in slow motion as you wait for the other shoe to drop and every innocent conversation is as stupidly electric as Leslie-min and Benjamin's on the couch in Chris's condo.
Ben and Leslie's love is as pure as can be, so I'm so pleased that we got an episode that's dedicated to how badly they're dying to jump each other's bones. We are all Ann Perkins watching the mating dance happen ("I've got an idea: why don't you ask him about his penis?"); it's gone so far that a confession is hardly necessary. But a confession we get anyway, and it happens long before the two victorious public servants sit down for their celebratory dinner. Leslie morphs into the heart-eyes emoji as she watches Ben recommend Pawnee to the Little League board. She's so used to being this town's sole champion and defender, and her love for it is a part of Leslie. It's thrilling for her to find out that this outsider sees what she sees. And if Ben can understand what's incredible and unique about Pawnee, then he must really know her. (He does.) The inevitable fireworks are delayed when Chris shows up to congratulate his dream team. But sly Ben calls Leslie in on a pointless chore later in order to make his move, and god damn, but that's a good TV kiss. Quite worth all the build up, I'd say.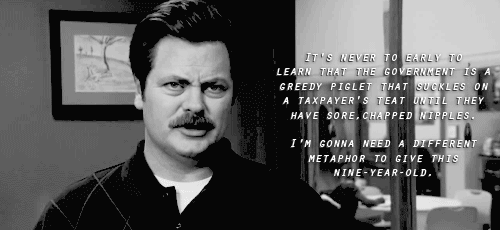 One of the episode's B-stories is a personal favorite Ron plot. A fourth grader on a City Hall field trip wanders into Ron's office in the name of a school report, and gets the full Swanson download on the futility of government. For as little as Ron thinks he cares for children, his instant and obvious fondness for this girl is so telling. ("Don't sass me, Berkus.") He talks to her like an adult; she preens at the attention. And when Ron has to backtrack his Libertarian teachings, he still assumes that Lauren will hold onto those views that they agreed upon – not because he wants to be right, but because he knows after one afternoon with this kid that she's sharper than her "cute reports," "gold stars," and patronizing teachers would like her to be. I have a lot of Berkus head canons, but most of them include her growing up to join Ron's National Park staff.
Finally, Tom challenges the office to "Know Your Boo," his new rip-off game show. Andy and April deal with newlywed growing pains and argue about Neutral Milk Hotel. The rift is so scary to April that she actually consults Ann ("I'm sorry, my instinct is to be mean to you.") and makes up with Andy via an adorably monotone cover of "In the Pit." And once again, Andy shows that he understands how to be with someone better than anybody else on this show: "Maybe April doesn't think that we're the greatest band in the world, but, man, she loves me. And I love her. So, you know, who cares?" Who cares?
Best Line:
Leslie: I'm gonna go see a man about some porcelain, you know what I mean? I'm not buying cocaine. I'm going to the bathroom. The whiz palace, as I like to call it. And I'm not calling Ann, so…
11. "Ann and Chris" (Season 6, Episode 13)
You totally changed me, you know.
When we first met Leslie, it was impossible to imagine that she'd ever be thanking anyone for that. That's what just one dependable girlfriend can do for you.
Young Leslie's ambition isolated her, and her loneliness is what made early episodes so uncomfortable to watch. But that's how I know that Parks and Recreation is a love story about Leslie Knope and Ann Perkins. As soon as her most precious sunflower came into her life, Leslie started to click with other people around her too. It kills me that this little blond overachiever had nothing but her dreams and the Ruth Bader Ginsburg poster on her wall to keep her company. Meanwhile, there was 103 scrapbooks-worth of devotion and love inside of her, just waiting to be unleashed on a friend who deserved it. Leslie loves Ann like it's going out of style, because she just can't believe she gets to have her. Their goodbye was excruciating.
As a parting gift, Leslie tries to give Ann some actual progress on the vacant lot that brought them together. But even the momentous occasion of Ann's move can't subvert Pawnee's bureaucratic melee, or the ill will that Leslie herself engenders by being so damn uppity. "We wait for no man," Ann tells Leslie after they've skipped out on all 30 going away parties to bring down every obstacle in their path and before they decide to break ground with their own four hands. Leslie accepted Ann's challenge to convert the lot back in the pilot because she was embarrassed for her government that nothing had been done; all these years later, and it's still Ann and Leslie together against the world, even though the project itself has been supplanted on their to-do lists by dozens more important, personal things. Look at the rush they get by ruining tiny-brained Harold's plans to foil them. Lot be damned, they're out for one last Leslie and Ann adventure.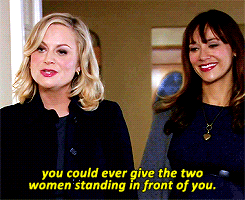 One of my favorite scenes from this episode is Ann and Ben trading tips on dealing with the "intense people" they picked as their life partners. Ann gets a lot of credit for tempering Leslie, not by extinguishing her spirit but by offering her constant empathy and support. Ben does the same for Chris, though their friendship doesn't get quite the fanfare. But this small bit of dialogue shows that, though Ann and Leslie take the prize for outward affection, their closeness is similar. Ben and Chris are partners too. Their jobs made them largely unwelcome wherever they went until they found Pawnee. And it was Pawnee that made them recognize their work relationship for what it was – that they are indeed the best friends that either of them will ever have. God DAMN this episode. And fuck you too, Tom Petty.
Best Line:
Ron: There has never been a sadness that can't be cured by breakfast food.
10. "One Last Ride, Parts 1 and 2" (Season 7, Episodes 12 and 13)
If showrunners have done their job well, a finale should never be the best episode of a series. (Six Feet Under is the single possible exception.) The Parks universe is too big and wonderful to ever be properly wrapped up. A valiant effort is the most I could hope for, and that's what I got.
I recently wrote a very much belated recap of "One Last Ride" recently, and I don't want to just rehash those thoughts. So, if you would like, you can peruse that post, and I'll just list out some of the finest moments of Parks finale here.
A Ludgate-Dwyer baby gets a Ludgate-Dwyer name.
Cones of Dunshire gets multiple sequels.
Bobby Newport's never had a real job in his life, but he might just be the man to make Shauna Mulwae-Tweep happy.
Craig and Typhoon drink Jean Ralphio champagne in first class on the way to an anniversary getaway.
And, as we all guessed, Jean Ralphio has been hopelessly in love with Leslie for the entire series.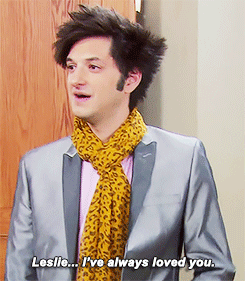 Every day, I'm just doing the best I can to deserve to live on the same earth as Chris Pratt.
"I'm usually a Tom, but sometimes I'm a Donna." BrOTP for lyfe.
I considered putting Willie Nelson's "Buddy" on my iPod, but the thought alone put me into a fetal position. So I'll wait.
ANN'S HERE.
I'm on board with a commentator's head canon that both Ben and Leslie are eventually elected president. I would like to extend that head canon to include the establishment of the Knope-Wyatts as an American dynasty ala the Kennedys, but without adultery and the DUIs.
Best Line:
Leslie: Teddy Roosevelt once said, "Far and away, the best prize that life has to offer is a chance to work hard at work worth doing." And I would add that what makes work worth doing is getting to do it with people that you love. I started my career more than 30 years ago in the Parks and Recreation Department right here in Pawnee, Indiana. I've had a lot of different jobs including two terms as your governor, and soon a new, unknown challenge awaits me, which to me, even now, is thrilling because I love the work. Not to say that public service isn't sexy, because it definitely is, but that's not why we do it. We do it because we get the chance to work hard at work worth doing alongside a team of people we love. So I thank those people who've walked with me, and I thank you for this honor. Now, go find your team, and get to work.
9. "Ron and Tammy, Part 2" (Season 3, Episode 4)
It's been a emotional last few episodes on this list, I am aware. But the mushiness factor is way down on "Ron and Tammy, Part 2," an episode that exists primarily to let Nick Offerman and Megan Mullally be lunatics and act out the bizarro AU relationship that must keep their real life marriage as blissful as it seems to be.
Mullally is the go-to comic guest actress for wild moms and shut-in aunts these days; Bob's Burgers, Trophy Wife, Happy Endings – this is the strongest her career has been post-Karen Walker, Parks predated all of those jobs. She's just remarkably game for anything. ("A real piece of work.") I can't imagine Tammy 2 being played by anyone else, especially watching Offerman match her, crazy choice to crazy choice. When Tammy 2 is around – at least in the early years – Ron becomes a different character all together, and it's such twisted fun to watch. See also: Leslie constantly staring at Tammy with a mixture of horror and awe. ("Whale tail. Whale tail. She's flashing a whale tail.") I would do terrible things to get my hands on the dailies of their scenes. You know that the montage of the newly re-married couple's night of drunken love-making and debauchery was cut from a hefty amount of footage. Release that as a miniseries, uncut, and we'll see where the Emmy nominations land then.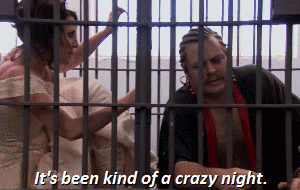 With Tammy 2 on board, the writers don't have to modulate at all. She's a sociopath, and Ron is completely down the rabbit hole when he's with her. These writers can compose a stirring Knope-speech without breaking a sweat, but it's a treat to see them let loose on a joke-heavy script. ("Your song is 'Dancing on the Ceiling' by Lionel Ritchie?")
There are plenty of feels in the B and C stories, anyway. Chris is planning his move back to Indianapolis, and Ann waits on an invitation that never comes. (Be patient, my opalescent tree shark. You've still got work to do in Pawnee.) Instead he asks April to come along as his permanent assistant; Chris isn't as blind to her chilled-out self-sabotage as he pretended to be. ("You're young and trying isn't cool, but I think you're smart.") It isn't time for April to make a move, and my god, who could live with putting that puppy dog look on Andy's face permanently? But Chris's faith in her is a sign of things to come. And Ben and Leslie continue to be drawn together by Harvest Festival preparation. "Ron and Tammy, Part 2" gave us the first appearance of Ben's paralyzing fear of cops as well as his deep affection for the calzone, idiot sister dish to the far superior pizza. Sweet Ben bravely pushes through his terror to meet one-on-one with Chief Trumble after Leslie uses her Pawnee PD favor to spring Ron from jail instead of secure additional security for the event. He escapes with his life, and learns that Leslie actual has an endless supply of good will to cash in, because she's the kind of person "who uses favors to help other people." Cue another fond, goofy smile from a totally sprung Ben Wyatt. He loooooves her.
Best Line:
Ben: Hey, are you hungry? I haven't eaten.
Leslie: You know, yeah. There's a really great calzone place over in Idiotville.
Ben: Oh, really?
Leslie: Down on Terrible Idea Avenue.
Ben: Okay. That's weird. 'Cause I thought it was on beating-a-dead-horse boulevard.
Leslie: Calzones are pointless. They're just pizza that's harder to eat. No one likes them. Good day, sir.
Ben: Leslie, I you know, I-
Leslie: I'm just kidding! Let's go.
Ben: Oh. Okay. That was funny.
8. "Leslie and Ben" (Season 5, Episode 14)
Can't real life be Beslie's wedding, over and over again on a loop until the all the words of "Bye, Bye Lil' Sebastian" run together and the Lagavulin distillery runs dry?
I talked above in the entry for "Ann and Chris" about the family that builds up around Leslie once she plugs into Ann, and they are all at their very best in this episode. Remember Leslie chasing her mother's approval? Embarrassing herself in front of Mark? Pleasing those people was so important to her, until she finally realized she deserved something back. (Note: I actually liked Mark. I loved their final scene and the understanding he and Leslie eventually reached. I have a head canon about the wedding present that he sent. Get your Mark hate outta my post, ya'll.) Fast forward to season five, when Leslie is literally gifted the wedding of her dreams by the people that she loves. They could wait, and do it big. But Bucky, the licensed mini-horse appears, halo-ed in light; and anyway, what could be bigger to this bride than a late-night City Hall wedding, the informational flyers all a-glow?
Jamm does his villainous duties here ("Here comes the BOO. All dressed in BOO."), because only a jackhole like him could threaten the bliss of this betrothed couple. Parks never would have pulled a cold feet card or the return of an ex. Though, how great would it have been if Officer Dave had returned to Pawnee, been making his evening rounds, and accidentally walked in on the festivities? Imagine the mortified cop-speak.
The wedding itself is everything that Leslie wants, but no one else feels slighted. Mama Bear Leslie wants to share every triumph; a piece of her happiness is always up for grabs for anyone who wants to get in on it. She admires herself in the mirror and thanks her best friend for the "Ann Perkins of dresses." She demands Ron's presence and tells him, finally, in so many words that he's the other most important man in her life. She would have cried at any sermon Jerry gave, even if it had been riddled with Hitch quotes. Nobody needed a date or an open bar or 8 weeks notice to put them in the mood to celebrate the shit out of these two people and each other.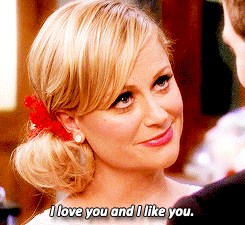 It's an auspicious start for the Turtle Dove and Falcon, who get married that night just because they feel like it. And I'm single af, but I reckon that's the best reason to do it. Leslie's always known where she belongs, but didn't always know who she was. Ben is the opposite. I think they remind each other of the things they tend to forget, and their vows echo that. (Chris's gift to Ben too, which, okay. I'm fine.) And, sue me, I like the little note of sadness that the end of Andy's police squad dreams add to this episode. ("Listen, about my new partner: is it a dog?") He's not flying high at that moment, but Chris and April assure him that that's fine. He can be disappointed and he can hurt, but the one thing he shouldn't feel is alone. ("You are not going to let this deflate you. You are going to pick yourself up, dust yourself off, and we will figure out what the next step is.") We don't put enough importance on just being with people when they're sad, even if there's nothing else to do but that. It doesn't kill the moment; it doesn't ruin the party. And it'll be Andy's turn to be celebrated again, soon enough.
Best Line:
Ben: In my time working for the state government, my job sent me to 46 cities in 11 years. I lived in villages with eight people, rural farming communities, college towns. I was sent to every corner of Indiana. And then I came here. And I realized that, this whole time, I was just wandering around, everywhere, just looking for you.
My top 7 Parks and Rec episodes are coming your way soon! Meanwhile, hit up the comments to let me know what you think of the list so far.