We've discussed the best TV moments of 2016 (you can find those here and here), so now we turn to the individual performances that brought us the most joy this year. These are the performances that inspired us, that stayed with us, and drove us into many a social media fight defending their worthiness. (Note of warning: if you come at Ryan Gosling, we WILL fight you.) I love everything we do for this website, but I have to admit that our annual "Best Performances" holds a special place in my heart, especially when I go back and re-read them when they pop up in our Timehop. These posts are like little time capsules of OUR year in entertainment; they reflect our crushes of the moment, our long-standing love affairs with performers that can do no wrong (Hey Eddie Redmayne), and a scrapbook of all the TV and Movies that we saw throughout the year. Some of these are the performances EVERYONE is talking about, whilst others are the ones that we think you all should be paying attention to. (ARE YOU ALL WATCHING SPEECHLESS BECAUSE YOU SHOULD BE.) Thus we present to you our 18 Best Performances of the year plus four Honorable Mentions. Because it's our blog and we can't be limited to our normal 20 shout outs. We hope you love them as much as we do.  — Kim
1) Millie Bobby Brown – Stranger Things
I obviously follow many celebrities on Instagram who are on the convention circuit. And I've noticed a pattern over the last few rounds of cons. All of these icons who themselves draw fans by the droves to their photo ops were all geeking out over one of their own. I can't tell you how many backstage selfies I've liked of some famous fan cheesing like mad with Millie Bobby Brown.
And why shouldn't they be starstruck over her? Millie burst onto the pop culture scene in the role of Eleven on Stranger Things in a striking performance reminiscent of Drew Barrymore in Firestarter. Eleven is a scientific marvel and a weapon, but she's also a child – a child who was stolen from her family and exploited by the only "Papa" she'd ever known. Millie can do a thousand-yard stare like nobody else, but my favorite moments in the series are the ones where Eleven grasps for a sense of normalcy and belonging with the boys who find her. ("Still pretty?") This young actor's work warrants those deep reads of Stranger Things as an allegory about puberty, child abuse, or just being a kid in this big, bad world. 2016 will always be her breakthrough year, and we can't wait to see how Millie's career unfolds. –Sage
2) Kylie Bunbury and Mark-Paul Gosselaar, Pitch
The success or failure of Pitch as a show depends entirely on the woman playing Ginny Baker. If the audiences don't connect with Ginny and her journey as the first woman to play professional baseball, the show never gets out of the dugout. (BASEBALL METAPHORS.) Lucky for the creators of Pitch and the television audience at large, we've got Kylie Bunbury carrying the entire show on her (very toned) shoulders. And the thing is, Kylie makes it look easy. Ginny Baker is an incredibly complex character and Kylie is tasked with a LOT. She's got a spine of steel yet she remains incredibly vulnerable. (If you weren't moved by her breakdown in the bathtub during her Almost Famous-esque "fuck everything" night, you may want to make an appointment with a cardiologist.) She's been hurt and taken advantage of by so many people, yet she constantly puts herself on the line in the name of pursuing her dream. She fights to be treated as an equal in her workplace. (The episode where she blatantly refuses to back down from the "Beanball" war because she is a woman is SO IMPORTANT.) Kylie makes Ginny wonderfully human; she is flawed and complicated and she struggles being considered a role model when all she really wants to do is just play baseball. She's the most important female character on TV right now, for so many women, and I PRAY that Fox does the right thing and picks up the show for season two.
And in the other corner, we have Mark-Paul Gosselaar as the aging All Star catcher Mike Lawson. Listen, it's not like this is an out of nowhere comeback for the erstwhile Zack Morris. Mark-Paul has worked steadily since his Saved By The Bell days, but something feels DIFFERENT in this performance. He brings a "seen it all" attitude to Mike. He has a weariness that could easily be seen as a disillusionment towards the game when really it's a career ballplayer being painfully aware that he's coming to the end of his time in the sun. It took me about 75% of the pilot episode before I realized that I was watching Mark-Paul Gosselaar on my TV screen and it's NOT just because of his GLORIOUS mountain man beard. Mark-Paul completely disappears into the character and brings a very Coach Taylor-esque quality to the Padres captain. It's the speeches and the eye crinkles and the bone deep love of the game. Come on, you KNOW Mike Lawson would bust out with "Clear eyes, full hearts, can't lose."
So what happens when you put these two incredibly dynamic performers opposite each other? Fireworks, naturally. Kylie and Mark-Paul's chemistry is SO PALPABLE and has so many levels. For Mike, Ginny serves as an inspiration and a reminder of why he loves baseball in the first place. In Mike, Ginny finds a true teammate who will stand up for her and not treat her with kid gloves. There's a definite mentor relationship between them but there is also an undeniable sexual chemistry. Bawson is the slowest of slowburns, with their attraction building through lingering looks and late night phone calls. It's the most DELICIOUS kind of tension and it's one they are both incredibly aware of. Mike and Ginny are like magnets, pushing against each other, challenging each other, and eventually, falling into each other. To quote my boo Kate Moseley, "all they needed was a little flip." — Kim
3) Joshua Sasse – No Tomorrow
As the meteor he believes is hurtling towards Earth inspires Xavier Holiday to live his life to the fullest, so does the uncertain future of the CW's apocalyptic romantic comedy No Tomorrow inspire us to recognize it while we can.
Bearded, beanied, and tattooed Xavier is played by HOT AUSSIE Joshua Sasse, fresh off the unfairly canceled musical romp Galavant. (YEP, he sings too.) He makes an amazing case for not writing off the sexy guy who's into you juuuuust because he believes the rapture is on its way. He breaks the Dealbreaker Scale, basically.
I'd like to keep on objectifying Xavier and Joshua (as the show clearly does – he's 1/2 or more naked in most episodes), but I'll get serious. It's a challenging part, because Xavier has to believe completely in his end-of-the-world theory but not come off as dangerous or deranged. And as charming as he is to Evie and the audience (and OH, HE IS), Xavier is also kind of an arrogant jerk, accustomed to putting himself first. It's a credit to Joshua's embodiment of the character that Xavier is still our hero – a flawed person who heard terrible news and decided to use it to turn his life around. You see his petulance when Evie challenges him, but you also see the way he lights up when someone around him takes control of however many days they have left. And the man knows how to sell a love scene, just saying.
He's so convincing that I wonder sometimes if Xavier is actually right about our impending doom. And if No Tomorrow gets the pick-up it should, I hope it ends with a completely fulfilled Apocalyst and a vindicated male lead. –Sage
4) Sterling K. Brown – This Is Us
2016 was a garbage year but it's ALSO the year that gave us Sterling K. Brown's major career breakthrough, so I am ALMOST willing to call it even. I foolishly missed out on The People Vs. OJ Simpson (and am counting down the days until it gets added to Netflix), so my first exposure to Sterling's acting came when I saw the pilot episode of This Is Us. Sage said it perfectly when she wrote about Sterling for our Handsome Young Man post: just when we think Sterling has hit his peak as Randall Pearson, he just gets BETTER. Randall is easily the most compelling character on This Is Us, and sometimes I can't decide if it's because he has the best story or because Sterling is just THAT GOOD in a cast filled with stellar actors. I actually think it's a combination of both; Randall DOES have the meatiest stories, but Sterling also elevates every single scene that he's in. In my humble opinion, he is giving THE male television performance of the year.
It's clear that Sterling understands Randall on a fundamental level. The performance is never one-note and Randall can switch from achingly vulnerable to slyly sarcastic in the blink of an eye. (His comic timing is MASTERFUL.) If I had to think of one word to describe Sterling's performance it would be DEFT. You never see him working, you never see him changing gears, and you NEVER see Sterling. You only see Randall Pearson, king of bad Dad jokes and devoted son, brother, and husband. It's such a fully formed and nuanced performance. But the most important thing about Randall is how wonderfully human he is. It would be quite easy, after all the truth about William and Rebecca and his adoption came out, for Randall to be played as bitter and jaded. But he's never been that, even in his initial meeting with William in the pilot episode. Randall Pearson has the biggest HEART and his capacity for love and forgiveness is truly inspiring. Sterling imbues him with such grace and warmth that you can't help but fall in love with him immediately. It's the perfect combination of actor and the character he was meant to play and we're so blessed to watch him work week after week. — Kim
5) Aya Cash – You're the Worst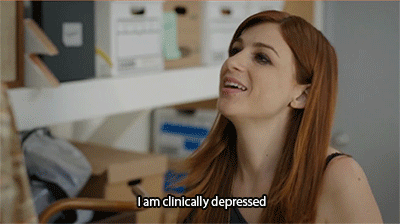 The first time I saw Aya Cash perform was in 2008 when she played a disillusioned teen in the off-Broadway comedy From Up Here. She was memorable in a way that surpassed quirkiness, and I'm so thrilled to see her thriving in a role like Gretchen Cutler.
I binged the first two seasons of You're the Worst in time for the season 3 premiere and responded instantly to the show's filthiness and honesty. As it progresses, the show digs deeper and deeper into what familial and chemical circumstances make Gretchen and Jimmy, in fact, the worst. And what Aya has done with already keen and incisive material is to give an alarmingly accurate crash course on clinical depression. Jimmy can talk himself out of feeling most things, so it's scary for him and for us when the normally verbose Gretchen goes nearly comatose. She wants nothing, asks for nothing, finds comfort in nothing. For the novelist, cause and effect are always talking to each other. Aya shows Gretchen paralyzed by the fear of telling Jimmy that there's not switch to flick when it comes to her illness. She worries that he loves her because she's irreverent and fun, but she can only be those things when she's capable of feeling anything. In a brave and desperate moment of confession, she finally tells him: "So the only thing I need from you is to not make a big deal of it and be OK with how I am and the fact that you can't fix me."
This is You're the Worst, and it's not the kind of show that will present a newly determined Gretchen facing her illness with gumption and putting one foot in front of the other until she's better. Mental illness and its treatment are not linear. In season 3, she backslides and claws and insults her therapist for wearing the same pair of jeans every day. But that's Gretch and that's depression. Even badass bitches can have it. –Sage
6) Minnie Driver – Speechless
Speechless is my favorite new comedy of the season and that's largely in part to Minnie Driver's FIERCE performance as ultimate tiger mama Maya DiMeo. The overbearing mom is a sitcom trope that could easily go the clichéd route but Minnie plays Maya like she's in on the joke. She KNOWS she's ridiculous but she also makes no apologies for it. (Also, she's advocating for her disabled kid, so how ridiculous is she, REALLY?) It's such a WRY performance, especially in the way Minnie delivers so many of her lines completely deadpan, her posh British accent just ACCENTUATING the dry delivery. While I never watched About a Boy, I heard nothing but good things about Minnie's performance on it, so I am so happy to see that she's found herself another television vehicle to showcase how talented she is. (Look, I can make a very strong case for the fact that she should have won the Oscar for Good Will Hunting. Ask me about it over cocktails.)
So often on television, unabashedly alpha females are portrayed as ball busters or stone cold bitches. Speechless takes a different approach. Maya IS a ball buster and she is often a bitch but it's clear that those closest to her adore and cherish that part of her personality. Her husband Jimmy (a DELIGHTFUL John Ross Bowie) is more than happy to let Maya wear the pants in the marriage, but not from a slacker "oh look at the old ball and chain" point of view. It's clear that Jimmy loves and respects his wife immensely and takes pleasure in watching her run the show. (And he's always there to pick up the pieces when she comes in like a wrecking ball, shrugging his shoulders in a "Yeah, isn't she great?" kind of way.) While her kids often roll their eyes at Maya, it's obvious that there is no one they would rather have in their corner than their mother. Same. TV needs more characters like Maya DiMeo and it needs more actresses like Minnie Driver to bring them to life in an honest and relatable way.  — Kim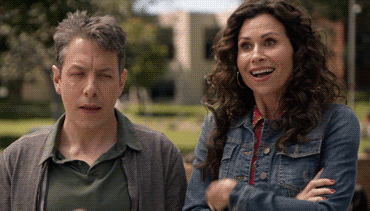 7) Kate McKinnon – Ghostbusters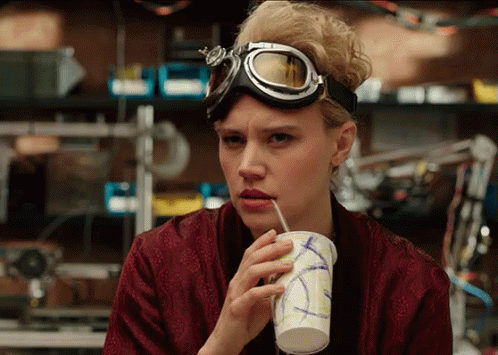 Dudes, I love you. But it is IMPOSSIBLE to explain to you how much Ghostbusters means to us. When you tell me it's "OKAY" or "good but not great," you're just proving how little you understand our intense craving for movies like these. We were DEHYDRATED over here, okay? But we didn't know how thirsty we truly were until we saw Kate McKinnon as Jillian Holtzmann.
We got Holtzmanned, baby. And we loved it. Forever an SNL MVP, Kate imbued the gadget-loving scientist with a resplendent weirdness that made the whole movie sing. She instantly became an icon for girls who geek and – explicit though it wasn't allowed to be – girls who would absolutely hit on Kristen Wiig if she ever wandered into their basement lab. The women in this movie were never sexualized, yet somehow, everyone I know walked out of that theater with a massive crush on Jillian and her collection of safety goggles. I'm so distracted by the gif below, it's taken me 40 minutes to write this paragraph.
Which brings me back to why this is so important. Not since Ellen Ripley can I remember a female character kicking paranormal ass like Kate does in that sublime slow motion fight scene without being stuffed into cut-offs or a catsuit. Holtzmann is not a token hero, like so many in the "There's One Girl!" teams that have been shoved down our throats. She's a brilliant, bizarre, queer, ghostbusting scientist who's biggest takeaway from this whole world-saving thing is that she's finally found her tribe.
There should be a sequel. Kate McKinnon should be a movie star. Safety lights are for dudes who say this movie could have been better. –Sage
8) The Women of Penny Dreadful
RIP Penny Dreadful and some of the best female characters to grace our television screens in years. I'll never understand why awards didn't rain down upon Eva Green, Billie Piper, and Patti LuPone (whose role is the definition of a Guest Acting Emmy). But WE know the truth and we will never stop preaching the gospel of Vanessa Ives. Years from now, television historians will look back on Eva Green in Penny Dreadful and laud her bravery and her boldness. Her performance exhausts me, honestly. I don't know how she did it. It was completely free of vanity. She wouldn't just go to the ugly places, she would marinate in them and let them soak into her soul. Watching her every week was a masterclass in character development and determination and any episode that was Vanessa-less was weaker for it.
It was such a brilliant move to bring back Patti LuPone back for season three as Vanessa's shrink, Dr. Seward. She had an incredibly memorable role in Season 2 as Joan Clayton, a witch who helped shape Vanessa's life and cemented her identity as the Scorpion. I love how the two roles were completely different but yet the underlying thread of overwhelming compassion for Vanessa Ives tied the characters together. Patti brings SUCH gravity to all of her roles and really she's the only woman who could go toe to toe with Eva Green and WIN. My biggest regret about the fact that we won't be getting a season 4 is that we won't get more of Seward the Vampire Slayer. NEVER FORGET how Seward casually admitted that she killed her abusive husband with a meat cleaver. Where's my spinoff John Logan?
And then there's Billie Piper, Queen of Our Hearts and the 2016 Feelie Winner for Best Supporting Actress in a Drama. There's not much to say about Billie's furious portrayal of Lily Frankenstein that we haven't said before, so I'm just going to quote creator John Logan here. "It's a very feminist show, and the idea that the audience gets to see, in our three years, Lily as a degraded figure who's abused by men, as Brona, literally being reborn into a blank slate and then achieving incredible power but always having a great human connection. That was a case where I was also inspired by the actor, because Billie Piper so delights me, and I found that in the second season I was able to write her an eight-minute monologue that she absolutely delivered, completely, in a way that I found thrilling. I just wanted to do it again, because she's an actor who understands theatricality and understands larger than life language in a very unique way, and that's part of what this show is about."
Quite right too.  — Kim