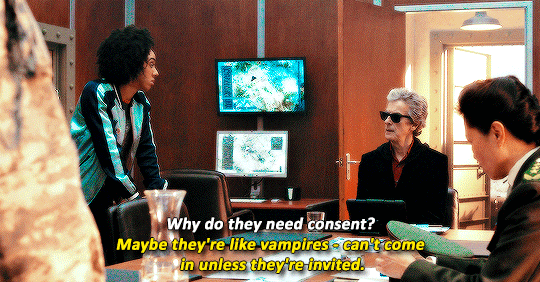 Doctor Who Series 10, Episode 7
"The Pyramid at the End of the World"
Posted by Sage
Bill Potts deserves better, to be honest.
The companion was painted into a corner of passivity this week, forced to surrender the Earth to the creepy corpse hands of the Monks. And the story that brought her to that point is dotted with plot holes. As if that weren't enough indignity to suffer, Bill's real date with Penny was also ruined by Doctor business. In this case, the moment of truth is rudely interrupted by highly-trained soldiers filing into her flat and training guns on the two women. Hanging with the Time Lord has proven to have a negative effect on most love lives, and I'm sure there was an intention to write Bill's romances the same as any hetero flirtation would be explored. But what is designed to be a cute, face-palm joke about the companion continuously being cockblocked (for lack of a better word) by her tutor's status, is not as clean as all that. First, it was the Pope, who represents judgment and patriarchal religious doctrine, walking in on two young lesbians of color just trying to have a conversation. Then it was white men with semi-automatic weapons. It doesn't come across as a malicious gag, but it does expose a big experiential gap between the writers and some of their audience. Context ruins it. And though Harness and Moffat aren't responsible for that context, they SHOULD be aware of it.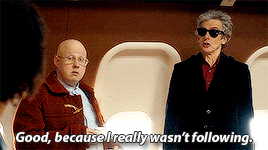 Source: basilwho
The best part of that running joke is easily how invested the Doctor is in Bill's date. He just wants his gay daughter to have a girlfriend, you guys.
I was coming down from a bottomless brunch when I first watched this episode, and I spent a lot of it demanding to see Kate Lethbridge Stewart. ("BUT WHERE'S KATE.") Perhaps Jemma Redgrave wasn't available to work "The Pyramid at the End of the World," but the "President of Earth" stuff doesn't work the same without her. I also have a sneaking suspicion that her presence would have put the kibosh on a lot of the episode developments that to me, made no sense. Then again, maybe not. Kate was around through last season's Zygon two-parter, which ended in a stirring speech but got there by making several compromises in its logic.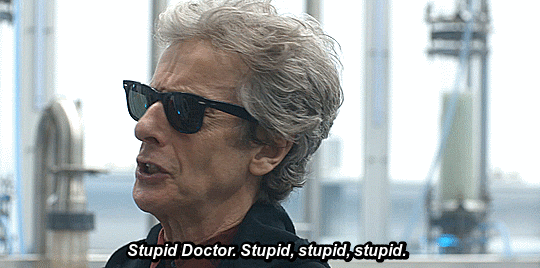 "Pyramid" is similarly determined to get to its Big Moment, common sense be damned. And because the story leading up to that moment is not air-tight, it feels unearned. Perhaps that's one of the reasons why forcing Bill to hand over the planet to the Monks rubbed many fans – myself included – the wrong way. And thusly, we arrive at the "consent" problem.
This episode was co-written by Peter Harness, who also wrote Series 8's "Kill the Moon" – possibly the Doctor Who episode that has filled me with the most rage. Ideologically at least. "The Time of The Doctor" just made me sad for Matt Smith. And Karen Gillan, because of that wig. Handles wasn't as cute as I was supposed to think he was. I'm getting sidetracked. "Kill the Moon," for some insane reason, presents itself as an abortion allegory, with the Doctor, Clara, and some scientists deciding whether to destroy an egg that's about to hatch in order to save the Earth or to let it live, because the contents are "innocent." Doctor Who can pull off sweeping declarations of morality when it's something simple. "War is bad." "Despots are bad." "Science is good." "Compassion is better." An issue like the right to terminate pregnancy is too complex to get this treatment. And maybe the patronizing tone that both the Doctor and the writing takes on in that episode burned me too bad, because knowing who has a co-writing credit on "Pyramid," as soon as the Monks started talking about "consent," I was ready to fight.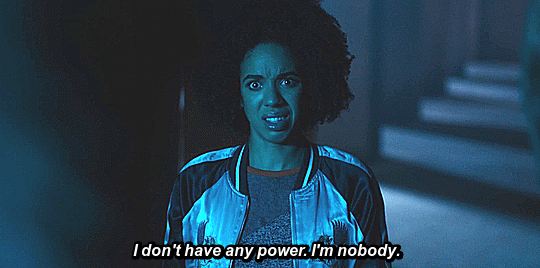 Look, it's like I was saying before about Penny, Bill, and the strike team that interrupts their date. You don't have to be a social justice expert to know that image is loaded with real world context. And in our culture, "consent" isn't entirely summed up by its dictionary definition. It's tied to sex, and discussions of assault and rape. Would that there wasn't so much confusion about whether consent matters and what actually constitutes it, but there is. So when the Monks push their definition of consent on the representatives of Earth, there's some discomfort there. I've had conversations in the days that followed where others have pointed out that the Monks are the bad guys (thanks, I know), and thus we're not supposed to necessarily agree with their take. But when Bill's consent is accepted as "pure," the story itself corroborates the Monks. And honey, no. Love does NOT equal consent. Y-I-K-E-S, yikes.
And I ask, what made Bill's consent so different from the generals', or the UN President's? To believe that none of them were acting out of love is impossible. Do they have no children? Spouses? Cats? Goldfish? Would they not have to love their own countries to rise to these positions AND to quickly come to a peace agreement in the face of this disaster? And if the Monks don't want them to act out of strategy, why did they set a timer? Any action – other than an attempt to root out the source of the coming apocalypse and stop it – would be a strategic move. How exactly did the Monks think they were going to win out here? As far as I can imagine, ONLY the contrived circumstances of the Doctor's inability to get out of that lab could lead to Bill making a plea that satisfied them. They're not particularly memorable villains because their own strategy is so muddled. Though the "you look like corpses to us" line IS killer.
I realize that I'm sounding really down on this episode, but I'm really not. It's middling, and especially with so few hours left with Peter Capaldi and coming off of a year hiatus, middling episodes feel like time wasted. What worked really well about "Pyramid," I thought, was the B-plot with Erica and Douglas in the biochemical lab. It's kind of a strange time to do a world peace fake-out and lay the destruction of the world on two scientists, but there's no denying that human error is a clear and present danger. I struggle to believe that with Erica being as competent as she is, that she wouldn't have urged Douglas to put his helmet back on as soon as they found the contamination. (And the episode could have done that and THEN gone the "it's too late!" route.) But the domino effect of a pair of broken glasses and a lads' night out nicely parallels the Doctor's failure to tell Bill that he cannot see.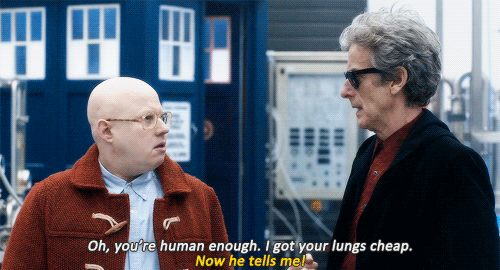 It's a terrifying concept, and I wish it had been the focus of the episode, instead of the Monks and their future-telling dorm room fairy lights. Doctor Who is normally obsessed with meaning. There's a recognizable cause for every tragedy: greed, loneliness, a withholding father figure. And by underlining the root causes of pain and destruction, the show offers hope that those things can be fought. But this episode – and the Doctor's speech about your impending death and mine – is refreshingly nihilistic:
"The end of your life has already begun. There is a last place you will ever go, a last door you will ever walk through, a last sight you will ever see, and every step you ever take is moving you closer. The end of the world is a billion, billion tiny moments. And somewhere, unnoticed – in silence or in darkness… It has already begun."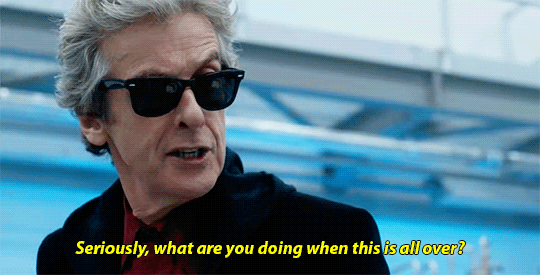 It's beautiful though, that the Doctor doesn't blame Erica or her colleague (RIP Douglas) for their mistakes. On any other day, her broken glasses and his hangover would have resulted in a spilled cup of coffee or a typo in an email. There's so much inherent risk in just being a human in the world, day after day, that at some point, you just have to let go of it. In all honesty, I'd rather go out because someone miscalculated a formula than because a bunch of men want to see whose nuclear weapons are bigger.
How will history look back on this episode? Well, it all hangs in the balance. On its own, it's a mediocre Doctor Who story. But maybe the conclusion will justify it.
Timey Wimey Observations:
Not my favorite of the season so far, but maybe my favorite Nardole episode? I don't like that the Doctor uses Nardole as an excuse to not tell Bill things and that his presence dilutes the Doctor/companion relationship in general, but their banter has grown on me. ("Tidy up your room.")
TELL THEM: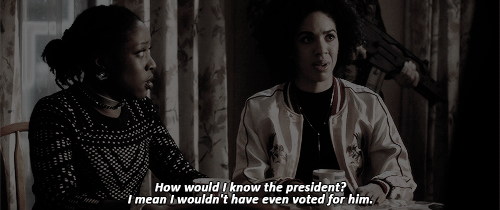 This week's "he's so hot I want to die" moment: "Bringing it."
"So, World War III, what do you think? Basically we're against it."
I lol-ed at the Monks flying the plane, I'm so sorry.
Has Bill always had that galaxy phone case, or did she just get it because she loves space?
"Lab goes boom. World is saved. You develop a pretty intense crush on me." TRUE.
Are you also meh on "The Pyramid at the End of the World"? Give us your take in the comments!
Featured Image Source: BBCAmerica