Editor's Note: When we first starting tossing around the idea of Bones Week, Sage and I both knew that we wouldn't be able to do it without our dear friend Kelly contributing. After all, Bones was Kelly's revenge on Sage for getting HER into The X-Files. Thus, Kelly and I sat down and listed our favorite episodes of Bones and lovingly fought with each other until we were in agreement on the 20 episodes we felt were the most definitive of Bones as a series. Here are the fruits of our labor. (And follow Kelly's extensive Bones finale coverage over at Entertainment Weekly! She fancy like that.) — Kim
This is where I'm supposed to tell you how I feel about Bones. Like I've ever had just one feeling about Bones at a time.
You could start with Billy Eichner's farewell sketch: a frenetically fond goodbye to a long-running procedural that most people think is a "CSI show." Yelling, "It's not a CSI show!" is part of my relationship with Bones. But then you'd have to imagine me in a dingy Dublin dorm room, an ocean away from my college and feeling unexpectedly alone, marathoning Bones at 2 a.m. because someone else I knew had just died. I studied abroad expecting an adventure that never came, so I spent my time with characters who understood adventure as I now wanted to know it: as a set of relationships and a sense of purpose. I thought I'd find myself in the city, but I found myself in the show.
It would be indulgent to list the actual, measurable ways Bones changed my life, both personally and professionally, but it did and still does, which is why there was never a question that I would stick with it until the end. Admittedly, for a few seasons there, Bones got so good at recreating what it did well that it lost some of the magic it had at its best, when it was still figuring out whether it wanted to be a comedy, a drama, or a romance, and so it was all of them. But in the last few years, Bones has found its way back to that sense of unpredictability. All but one of the episodes on our list are from seasons 1 through 6, but I'd be remiss not to acknowledge how much fun it's been to watch this show start taking risks again. They call this last season "The Last Chapter," but in classic Bones form, it feels like a look forward. We left out a lot of deserving episodes. There are a lot of episodes of Bones.
And listen: There is a reason why this show went on for so many years. Bones knows people. The argument that a procedural is "really about the characters!" is practically the TV fan version of "my dog went to a farm" at this point, but my family's dog LITERALLY WENT TO A FARM and also BONES IS ABOUT THE CHARACTERS. Booth and Brennan stand at the center, the intuitive man and the rational, scientific woman, and while that dichotomy is so obviously indebted to The X-Files that the pilot just got it out of the way and admitted as much, it's updated here for a more self-conscious era: Brennan a woman with peerless intelligence who fears coming across as cold, Booth an exploration of how traditional masculinity functions in our time.
Any show gifted with half the chemistry David Boreanaz and Emily Deschanel brought to the small screen each week would be lucky to back it up with characterization half as strong as Booth and Brennan's. But Bones did one better and made everyone feel real: the bug guy in anger management who's also a wealthy romantic; the artist and computer whiz whose dad is ZZ Top frontman Billy Gibbons (like, what); the kickass coroner boss who stays up late worrying about her friends; the whip-smart psychologist looking to replace the family he lost. The boy who went too far trying to belong.
Bones has a knack for making you like people. It's a byproduct of its empathy, which the show has maintained in the face of Hollywood peer pressure to make murder solving all flashy and soulless. Bones cares when it's uncool, and that refusal to detach makes the series so hopeful (as both science and Brennan teach us, imperviousness is not the same as strength). For a show about people with such difficult pasts and dark careers, Bones has mostly resisted the temptation to get more tragic over time, choosing instead to guide these characters toward happiness and then defiantly keep them there. (Except Sweets. RIP, buddy.)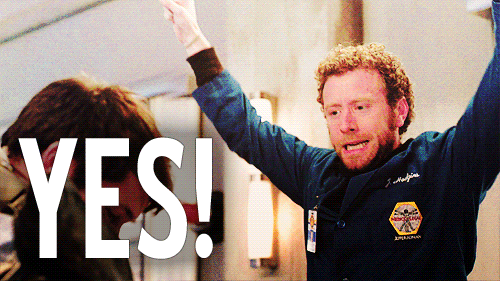 Optimism was this show's radicalism. Bones pushed boundaries by normalizing, and it normalized so well that its quiet challenge to the status quo was mistaken for the new status quo.That one guy on Billy on the Street was wrong when he said Bones didn't open any doors; it did, just not for some kind of hypothetical high-concept Breaking Bad 2.0. It was too busy paving the way for everyone else—the women who run government labs, the Iranian poet-doctors, the bisexual artists, the Army Rangers in therapy. Bones has never been properly recognized for the world it envisions. But maybe if you all just tie your friends to a chair and make them watch these 20 episodes, that'll be a start.
I meannnn recognition isn't what's important. –Kelly
Honorable Mention: "The Boneless Bride in the River" (2 x 16)
This may have been my first episode of Bones, but I didn't need context to know that in the end, Brennan would end up with that chisel-jawed guy who called out, "Ahoy the boat," and muscled his way between her and her also-chisel-jawed then-boyfriend. Sully never stood a chance. That's no knock on Sully, whose sensitivity to Brennan astounds me. Their relationship is new enough that he won't let it stop him from sailing off to the Caribbean, but it's already strong enough that he wants her to come with him—and deep enough that he knows what that request will do to her. (Catch me crying into the sleeves of a Sully-esque sweater when he asks Brennan if she wants to hug and accepts what he thinks is a no for an answer, only to find himself wrapped in her arms a second later.)
The case in "The Boneless Bride in the River" is not what I'd call good, but I've always had a soft spot for its character work. It's a study in Bones' purpose-based romanticism: the idea that one way to love the world is to dedicate yourself to a single cause. As both Sully and Angela know, that way of life requires missing out on a lot; even Brennan frames her decision to stay behind as a kind of failure, and one of the best things about this episode is its willingness to let the show's status quo seem suddenly bittersweet. Even work worth doing can be used as a crutch.
But what Booth and Brennan sacrifice, they sacrifice together. Angela might think Gordon Gordon is "full of it" when he claims Brennan stayed for her work rather than for Booth, but there's really no separating the two. Brennan doesn't stay for Booth, exactly, but she does stay with him—she stays because, like him, she defines herself by her job. When she turns from waving goodbye to Sully and finds Booth waiting behind her, you can feel her roots and his starting to tangle. They need to solve murders, and so they need each other. Booth's reminder that "everything happens eventually" is also the promise that, one day, she won't have to choose. Or at least if she does, the choice will be easy. — Kelly
Best line:
Booth: Give it time, Bones, okay? Give it time. Everything happens eventually.
Brennan: Everything?
Booth: All the stuff that you think never happens—it happens. You just gotta be ready for it.
Honorable Mention: "The Graft in the Girl" (1 x 20)

source: compactpersian.tumblr.com
Everyone has an episode that they have an almost inexplicable soft spot for and "The Graft in the Girl" is mine. Nothing momentous happens in this episode. It's not crucial to the Bones mythology, nor does it have any sort of big moment between Booth and Brennan. What it IS is a cracking good mystery/serial killer case that heightened by Booth and Brennan having a personal connection to the victim.
I think my favorite thing about "The Graft in the Girl" is that there is no Eleventh Hour cure for Amy Cullen. They say at the beginning that her cancer is terminal and they don't back down from that. Alexandra Krosney is pitch-perfect in the role, bringing JUST the right amount of bitterness to Amy and the life that's being snatched away from her, but she never crosses over into after-school special territory. But the real star of this episode is Michaela Conlin (who had an AMAZING back half of season 1, between this and "The Skull in the Desert"). Out of all our characters, Angela is the one who never dreamed that she would help solve murders for a living and the whole thing still feels very foreign to her. She lacks the clinical distance that Booth and Brennan have built up, so her heart is laid bare with the unfairness of the whole situation. Angela sees herself in Amy's passion for art and her longing for love. Michaela's performance is beautifully bittersweet as she tries to share of much of herself with Amy while she can. Her final gesture of creating the Louvre for Amy remains one of my absolute favorite Angela moments of the entire series. — Kim
Best Line: 
Angela: Look, we can solve hundred-year-old crimes…we can, we can track down serial killers and identify people when nothing is left of them but sludge. So, why can't we help a 15-year-old girl? All she wants to do is fall in love and visit the Louvre.
Hodgins: You can do that.
Angela: What do you mean?
Hodgins: You made a whole guy out of bone chips and lights. You can create the Louvre.


source: boothseeley.tumblr.com
20) "The Spark in the Park" (9 x 11)
What I want to know is how it took nine seasons before Bones centered a case in the world of competitive gymnastics, especially considering the toll it takes on the body.
"The Spark in the Park" is the only episode past season 6 to make this list and I lobbied hard for it because of the MAGNIFICENT guest performance by our boo Richard Schiff and because it is a beautiful episode for Brennan. Brennan sees a version of herself in Dr. Watters, the version of her before opening her heart to Booth and Angela and the rest of her chosen family; the person she could easily become were she to lose everything as Watters has. Brennan UNDERSTANDS Watters on a fundamental level, she gets how he turns to his equations in times of strife because they make sense and his daughter's death doesn't. It's so reminiscent of her 2 + 2 = 4 monologue in "The Devil in the Details." When they can't understand effects, people like Brennan and Watters turn to the things they know to be true. That's why when Booth sees a shady murder suspect (His characterization in this episode was a BIT off, but I'm letting it slide), Brennan sees a father crippled by grief. Her compassion for him is overwhelming and it makes my heart EXPLODE because look at how much Brennan has grown. Look how strong her heart muscle is. Look at how she trusts her instincts about people. Look at how she COMFORTS a man in pain. It's so beautiful.
Listen. All Richard Schiff has to do is show up on a show and I'm renting a plane to fly around the world with a banner declaring his brilliance. BUT THIS PERFORMANCE. It's a masterclass in restrained emotion, in introversion, and in someone collapsing in on himself. He comes off as callous about his daughter's death because he doesn't know how to comprehend it. But all you have to do is look in his eyes to see that he's devastated. Watters may not be a man of many words, but Richard Schiff doesn't need them to create a fully formed character.
And that final scene? GOD. Emily Deschanel is so fucking good (THE SINGLE TEAR. Her emotional build. She's SUCH a brilliant actress) as she realizes that Watters is painting a portrait of his daughter's life through the only thing he understands: equations. Cause and effect. Life may not be good again, but at least some sense of it can be made.  (Also a note to the editing of the episode because I LOVE how it ends in silence. Amanda really is at rest.) — Kim
Best Line: 
Brennan: Follow the logic. If you kill yourself, the authorities will be convinced that you did, in fact, abuse and murder your daughter. She took care of you so you could keep working. Not everyone understands people like us. Inertia demands that you keep going. For Amanda.
Watters: Find who did this. 

episode gifs via hamiltrashed.tumblr.com
19) "The Girl with the Curl" (2 x 07)

source: behindbrennanbooth-blog.tumblr.com
HODGELA.
Early season two was a powder keg of sexual tension, between Booth, Brennan, Cam, Hodgins, and Angela all bantering and making eyes at each other (now that's a fan fic I would read). SOMEBODY had to blow it and it was Jack Hodgins (because it was waaaaaaay too early for Booth and Brennan to go there). AND HE BLEW IT UP IN THE BEST WAY POSSIBLE. (Also when exactly did Jack Hodgins go from paranoid bug guy to dream guy? Discuss.)
Hodgins: We've been dancing around this for months now…like two pieces of neodymium caught in a magnetic field.
Angela: Is that good?
Hodgins: Yeah. But if the field weakens, they fly apart. Which is why I thought they should go on a date.
Ladies, your new standard. If you're not compared to neodymium, it's not good enough.
And THE DATE. Earlier in the episode, Angela talks about childhood and feeling free on the swings, so what does Jack do? He takes her to a park so they can swing. (END ME.) What gets me so much about this whole thing is Jack's confidence. I've seen this episode a billion times. I JUST watched it in preparation for this post. I KNOW it's coming and I still let out dying animal noises when Jack jumps off the swing and goes in for the kiss. It's perfect. Too perfect, since it sends Angela running for the hills because she was NEVER supposed to actually fall in love with the Bug Guy. I know it all turns out okay a few episodes later, but man that hurt. The women on this show and their emotional skittishness though. I live for it.

source: drtemperancebrennans.tumblr.com
The little girl in the last gif is me.
Take out the Hodgela of it all and this episode would still make my top 20. Season Two was LIT, y'all. I loved the dynamic that Cam brought to the group and I love how in these early episodes it's clear that these characters are still all figuring each other out. (The awkward girl talk scene is everything.) I'm here for Brennan awkwardly trying to understand the hierarchies of young beauty queens and I'm HERE for her rants against Western beauty standards and the sexualization of young girls. (THIS SHOW.) And THEN there's the infamous "well structured" scene with exactly ZERO personal space. (*panic laughter*) What blows my mind a little bit about this final scene is that Booth is sneaking around with Cam but he STILL can't resist the pull he feels towards Brennan. I think it speaks a lot to Camille Saroyan's character in regards to her reaction when Booth blows her off for Mee Krab with Brennan. She doesn't get huffy or cause a scene. She simply shrugs ("Your loss, buddy.") and goes on her way. It's a subtle moment but it's a powerful one. She knows. And you know what? She's fine with it.  — Kim
Best Line: 
Angela: I need advice.
Brennan: What — on a personal matter?
Angela: Yes.
Brennan: From me?
Angela: Yes.
Brennan: But romance is sort of…this is like me asking you advice on phylogenetic systematics.
Angela: Phylogenetic systematics. I have no idea what that is.
Brennan: Exactly.