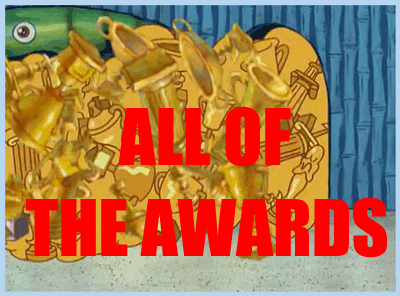 Welcome to The Second Annual Feelies, where we herald our favorites of the television season and seek to right the wrongs of the Emmy Nominations.  While there may have been less to quibble with in this year's nominations (TATIANA FINALLY), the Television Academy still shows an unbearable bias against genre shows, which are showcasing some of the best work on television.  There is no such bias here.  In fact, the only thing we could be accused of is TOO much bias towards niche shows.  What matters to us is not subject material but the EXECUTION of the material and how the actors and shows make us feel.
While we may have determined the nominees, the choice is in YOUR hands.  We encourage you to vote with your heart and NOT be like the Emmys and just click on a name because you like the show or the actor. Be discerning.  Be passionate about celebrating good work. Be better than the Emmys. We WANT you to struggle choosing a winner.  We very much sat cackling wickedly as we thought about asking you to choose between Tatiana Maslany and Hayley Atwell or between John Cho and Chris Messina.  That's the POINT.  May the best performances win.
Voting will be open through Friday, August 7th.  Vote hard, vote often, campaign for your victor.  It's all in your hands.
AND THE NOMINEES ARE….
**choices of header gifs in no way disclose preferences in each category**
Best Comedy Series
Broad City
Jane the Virgin
Parks and Recreation
The Mindy Project
Selfie
The Unbreakable Kimmy Schmidt  
Sage: Broad City continued its gleeful assault on comedy norms in its second season, with the girls – still the most loving, loyal friendship on TV – taking on consignment stores, dog weddings, oral surgery, and ("This is the greatest day of my LIFE.") pegging. We bid a fond farewell to Parks and Recreation, but not before an inspired look into the future of our dear Pawnee friends. April found her calling, Ron and Leslie finally acknowledged what they mean to each other, and Jean Ralphio (poorly) faked his own death. Meanwhile, on Netflix: Ellie Kemper, whose Office character I always found a little grating, stepped into the role she was born to play on Tina Fey and Robert Carlock's new series, The Unbreakable Kimmy Schmidt. Kimmy had all the wacky set pieces and inexplicable running jokes as 30 Rock, plus a dark and gooey center, a new and unexpected take on the rich and bored Upper East Side trophy wife, and some Peeeenoooo Noiiiiiiiiiiirrrrr.
Kim: The concept looked ridiculous on paper but Jane the Virgin delivered in spades, giving us a hilarious and ridiculous telenovela that had a HUGE heart that grounded it in reality.  The circumstances surrounding the characters may be farfetched but the exploration of family dynamics, the bonds between mothers and daughters, and the struggle of pursuing dreams versus adhering to responsibilities made them all relatable.  Selfie, as we have often said, was a show too beautiful to live on network television.  More than just a modern My Fair Lady, Selfie was about two lonely souls looking for connection in all the wrong places and it was a caustic takedown of our obsession with social media. It's truly the great tragedy of the TV season. The Mindy Project defied all the critics who worried that Mindy and Danny being in a relationship would kill the show.  Its third season seamlessly moved from a yearning romantic comedy to an honest exploration of what it's like to be in a relationship in your 30's.  TMP didn't shy away from showcasing Danny and Mindy's emotional issues that were stumbling blocks towards their happiness.  It was often raw and honest and tough to watch (yet never lost its sense of humor)…and that's what made it great.
Best Drama Series
Agent Carter
Broadchurch
Doctor Who
The Flash
Mad Men
Masters of Sex
Kim: The arrival of Peter Capaldi completely invigorated Doctor Who.  Series 8 saw the Doctor going through an identity crisis, questioning everything about what made him a "good man".  This crisis lent itself to Clara Oswald, free from the "Impossible Girl" device, becoming a fully realized character who brought strength to the Doctor's weakness.  Their journey from the Doctor being unable to tell her apart from Strax to "Do you think I care for you so little that betraying me would make a difference?" was a thrilling one that kept us glued to our screens every week. We said goodbye to Mad Men in style as we watched Don Draper wander the country aimlessly before a moment of zen helped him realize that he'd like to buy the world a coke. The Flash built on the foundation laid down by big brother Arrow, deftly balancing bad guys of the week with its overarching mythology. While Arrow faltered in its third season, Barry Allen and company hit all the right marks in their debut season, building to a finale that left us positively breathless.
Sage: Agent Carter's arrival wasn't as hyped as that other (and messier) Marvel Television production Agents of S.H.I.E.L.D., but damn if Tara Butters and her fellow EPs didn't show their colleagues a little something about storytelling. Carter is equal parts fun and sorrow; Queen Hayley Atwell regularly kicks the asses of full-grown men and trades banter with the real live Jarvis, but she also spent the season putting Steve Rogers to rest in her heart. The whole cast is terrific, but Peggy Carter is a character we need on TV right now. We can't wait to see her again. After the dismal American version finally took a step off those northern California cliffs, the original and far superior Broadchurch rose like a phoenix. A rumpled, grumpy phoenix. Alec Hardy finally solved the case that haunted him throughout the Latimer investigation, but let's be honest: Broadchurch 2 is about Hardy and Miller, the Former Detectives Club – now partners by choice. Masters of Sex dug deeper into its fathomless characters in its second season. More impressive guest stars were pulled into the wake churned up by the partners' research (Keke Palmer, Betsy Brandt, Christian Borle), as Bill and Virginia became more intertwined.
Best Actress in a Comedy
Karen Gillan as Eliza Dooley, Selfie
Ilana Glazer as Ilana Wexler, Broad City
Mindy Kaling as Mindy Lahiri, The Mindy Project
Ellie Kemper as Kimmy Schmidt, The Unbreakable Kimmy Schmidt
Amy Poehler as Leslie Knope, Parks and Recreation
Gina Rodriguez as Jane Villanueva, Jane the Virgin
Sage: Clearly, we were predisposed to like Amy Pond in anything she'd do after. But then Karen Gillan had to go and pick a nuanced romantic comedy and a stereotype-smashing reforming party girl character, both of which were doomed by their own quality. As Eliza, Gillan was funny, sexy, and vulnerable, and nailed her American accent which, frankly, Scots' usually mangle. (Sorry, guys. We love you anyway.) It hurts not to be able to co-nominate Ilana Glazer and her co-star Abbi Jacobsen, but such are the rules of the Feelies. On Broad City, Glazer is a bundle of filthy joy, an accidental style icon, and questionable life hero. In other words: yas, kween! Mindy Kaling has always been a phenomenal writer, but her performance leveled up in this past season of The Mindy Project. Dr. L realistically struggled with a potential cross-country move, an unplanned pregnancy, and a shoplifting Staten Island Italian, and she did it all in style.
Kim: Ellie Kemper's inherent sunniness makes her makes her a perfect Kimmy Schmidt, a character that in lesser hands would have been a one-note punchline.  Bedecked in her signature bright colors, Kimmy is joy personified, but Ellie never lets her fall into caricature and she lets you see the steely edge beneath the innocence. You can't help but cheer for her. Amy Poehler's Leslie Knope is both a feminist and television ICON and the fact that she only has one Golden Globe to show for it is one of television's greatest injustices. Leslie doesn't need your praise…she's too busy running the country.  Gina Rodriguez was the revelation of the TV season and is the giant heart at the center of Jane the Virgin.  She can have you rolling on the floor with laughter one minute and then weeping the next. Her performance is achingly honest and I had her marked to WIN the Emmy this season…and then she didn't even get nominated. Whatever.
Best Actress in a Drama
Hayley Atwell as Peggy Carter, Agent Carter
Caitriona Balfe as Claire Beauchamp, Outlander
Lizzy Caplan as Virginia Johnson, Masters of Sex
Jenna Coleman as Clara Oswald, Doctor Who
Olivia Colman as Ellie Miller, Broadchurch
Eva Green as Vanessa Ives, Penny Dreadful
Tatiana Maslany as The Leda Clones, Orphan Black
Kim: As Sage pointed out, Peggy Carter IS the character we need on television right now and Hayley Atwell embodies her so fully you can't tell where one ends and the other begins. She knows her value…anyone else's opinion doesn't matter. Lizzy Caplan continues to do incredibly nuanced work on Masters of Sex, defying the critics who had labeled her as solely a sardonically comic actress.  Her Virginia is a woman torn between traditional duties and her dreams of changing the world with her work.  She's truly ahead of her time. Speaking of characters ahead of their time, Caitriona Balfe imbues Claire Beauchamp Randall Fraser with ferocity and gravitas that grounds the fantasy of Outlander in reality. She's a heroine for the ages, staunchly uncompromising her beliefs to mold into the gender roles of 18th Century Scotland.  Olivia Colman's Ellie Miller is a wounded animal recovering from the devastation of her family.  She masks her pain behind a steely demeanor but is never afraid to let the cracks in her armor show.  Series Two is all about Ellie's journey BACK to the person she was before and Colman brings incredible depth and vulnerability to the role.  Never count out DS Miller, people.
Sage: With the character evolution of Clara Oswald came new opportunities to appreciate what Jenna Coleman is doing with the part. She clicked immediately with Peter Capaldi, but let's not give chemistry all the credit. Clara made some controversial choices this year and Coleman grounded those choices in palpable human emotion. Series 9 is a victory lap well-earned. Penny Dreadful might be too camp for some, but rest assured that former Bond girl Eva Green is doing work on that show. She approaches the haunted Vanessa with such intensity that you don't know whether to be scared for her or of her. Let's go with both, just to be safe. But maybe the hardest working woman on television is Orphan Black phenomenon (freak of nature?) Tatiana Maslany. She just keeps on slaying; we'll never not be flabbergasted by how fully she possesses so many completely rounded characters. And season 3 brought us a new Leda (and an immediate fan favorite): the perceptive and sweet nail technician Krystal.