Sure, it's 2016 now, but I'm still writing 2015 on my checks and I am still digesting all the great pop culture I took in over the past year, so we're still allowed to talk about what blew us away in 2015.  We've already discussed our favorite moments on television for 2015 (find those posts here and here) and now it's time to turn our attention to our favorite performances of the year. These are the characters who got under our skin. These are the actors who we would squeal in delight upon seeing their names in the credits. These are the performances that we'll still be talking about when 2015 is but a distant twinkle in our eye. Who made the cut? Read on to find out! –Kim
1) Taraji P. Henson – Empire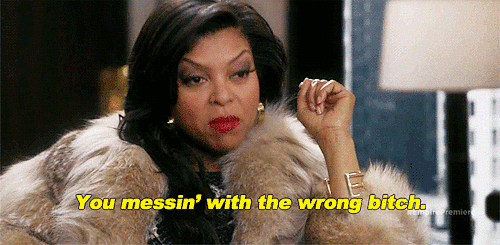 On paper, Cookie Lyon was ALWAYS going to be an amazing character. While the story of Empire may be about her sons, it's Cookie who has the redemption arc. She has the deep well of rage and the overwhelming to desire to take back what is rightfully hers and she has the razor-sharp wit to make every word that comes out of her mouth a catchphrase. Cookie was ALWAYS going to be great…but in the hands of Taraji P. Henson, Cookie Lyon became an instant icon. In every aspect of her performance, it is clear that Taraji has been waiting for Cookie her whole life. Watching Empire every week is like taking a masterclass in swagger. There is nothing more joyful to me than seeing an actor RELISH their role and Taraji does just that. It would be very easy to crossover into scenery chewing caricature with a character as LARGE as Cookie but Taraji never does. You always see the hint of vulnerability in her eyes behind the hurricane force bluster. Cookie is, after all, a woman who sacrificed everything for a man who turned out to be a shit. What's not relatable about that? You tell 'em, Boo Boo Kitty. –Kim
2) Michelle Gomez – Doctor Who
When it comes to Doctor Who, I usually prefer that ingredients like classic, recurring villains are sprinkled in with a light hand. But Michelle Gomez's "ba-na-naaaas!" interpretation of The Master, the Doctor's long-haul BFF (Best Frenemy Forever) has me singing a different tune. The series 9 opening two-parter, "The Magician's Apprentice"/"The Witch's Familiar," left me longing for Missy to take up residence in the TARDIS permanently. It's to Michelle's immense credit that much of the silly chatter following the Master's change in gender died down soon after she sunk her teeth into the part. And sink her teeth in, she did. Michelle makes the Missy/Master her own with controlled mania and scathing one-liners. ("Murdering a Dalek. I'm a Time Lady; it's our golf.") I'm always, always happy to see her, even if the Doctor feels a little more conflicted. –Sage
3) Sam Heughan – Outlander
When his costars Caitriona Balfe and Tobias Menzies scored Golden Globe nominations for their work on Outlander, I was FLABBERGASTED that Sam Heughan didn't. Perhaps the Leading Actor in a Drama field was too crowded (the likely culprit) or perhaps the voting body was just threatened by the fact that someone THAT PRETTY could be a damn good actor too (less likely but still probable). Jamie Fraser is unabashedly the stuff of fantasy and the fact that Sam Heughan LOOKS like he just stepped out of the pages of a romance novel, with the muscles and the chiseled cheekbones and the ginger curls and the ACCENT, just amps up the fantasy factor even more. It would have been easy for Outlander to just rest on Sam's looks and let him spout lines like "Does it ever stop? The wanting you?" or "I said I was a virgin, not a monk" and let us all swoon. But nope. Outlander is way better than that. Sam had already shown incredible depth as an actor in all of Jamie's flashbacks (who DIDN'T recoil when he was flogged until he passed out?) but he took it to an entirely different level when Jamie was tortured by Black Jack Randall. His single tear STILL haunts me. –Kim
4) Matt Damon – The Martian
Matt has always been my favorite, okay? (He needs to double-down on checking that privilege, but I believe in him.) He's my little Will Hunting, with the tight t-shirts and the "equations and shit." He's my shameless Owen, Jack's fiercest (and straightest) competition for the open spot in the New York City Gay Men's Chorus, in the most outstanding episode of Will & Grace ever produced. And he's my Jason Bourne, soon to return to the HQ spy franchise that doesn't name its female characters after their own vaginas. He surprised me again in Ridley Scott's The Martian as stranded astronaut/botanist Mark Watney. The Martian is Matt's Castaway moment. He's sans scene partner for the majority of the film. Even when he's engaging with an actual person, it's through some kind of device. And yet, Mark is flesh and blood to the audience, defined by his own determination and the humor he holds on to like a life preserver. The movie's thesis is that any human life is worth preserving, even in the face of preposterous odds. But consider that his crew, the entire space program, and the whole planet may have rallied around Mark Watney just because Matt Damon made him such a deadass great guy. –Sage
5) Bill Hader – Trainwreck


God, I want to live in a world where the Adam Scotts and the Joel McHales and the Bill Haders are our romantic leads ALL THE TIME. I was so glad I was surrounded by girlfriends on either side of me when we saw Trainwreck in theatres because I made dying animal noises every time Bill Hader's Aaron Conners was onscreen.  I had always been a fan of Bill's (Stefon for LYFE) but his performance in Trainwreck made me see him in an entirely new light. Aaron is devastatingly sexy yet adorably awkward. He's confident but not afraid to make himself vulnerable. He watches Downton Abbey with LeBron James. He sees through Amy's bullshit and is not afraid to call her on it. He's so REAL it almost hurts. But the best thing about him is that he says what he WANTS, for God's sake.  There are no pretenses with him. Observe and imagine my very vocal reaction to this exchange…
AARON: Off the record, do you want to go grab some dinner?
AMY: Yeah, Aaron I think you are so great. But I'm a writer, I'm your writer and you're my subject. From now on we need to keep it professional. You know?
AARON: No. I think we really like each other and we should start dating.
AMY: No. I'm saying– I'm confused. Am I not communicating this right?
AARON: No, I hear you. I'm saying I disagree. Do you like me?
AMY: Yes.
AARON: I really like you, so we should be a couple. 
DREAM MAN. May 2016 bring us ALL the Romantic Leading Men like Aaron Conners. The world will be a better place. –Kim
6) Krysten Ritter – Jessica Jones Nothing about Jessica Jones is comfortable. There are no reminders that everything's going to be okay, and even the people you want to trust can be turned against you in as little time it takes Kilgrave to grind out a few words. Krysten Ritter stands in the middle of that fire, leather jacket collar turned up against the flames and defiance dialed to 11. And even when she's scared out of her mind and second-guessing her every action, she makes you want to stand there with her. I can't imagine anyone but Krysten in this part; the rest of the ensemble is fearsomely well-cast and the writing and directing are tops, but this performance is the lynchpin. Krysten does Jessica justice, not just as a sloppy recluse turned low-key superhero, but as a rape survivor and a real, live, functioning adult dealing with mental health issues. One season in, and she's already an icon. –Sage
7) Gina Rodriguez – Jane the Virgin
I can't emphasize enough what a treasure both Gina Rodriguez and Jane the Virgin are. JTV swept the Feelies for a reason and it's not just because Jaime Camil plugged us, though it certainly helped. (Thanks for the love, Ro!) It swept because Jane the Virgin is the most heartfelt, warm, outrageous, and FUNNY show on TV right now. It has helped fill the giant hole that Parks and Recreation left in my heart. Jane the Virgin would absolutely not work without the terrific performances of its cast and Gina's Jane is the anchor. Her performance is one of the most fully realized on television right now and I feel sorry for anyone who HASN'T experienced it. Jane is spirited and Jane is funny and Jane is strong and Jane is brave. Gina breathes such LIFE into her from the sparkle in her eyes to her delightful cackle to her gleeful dance moves. But she also brings a beautiful vulnerability to the role (please to see the above gif). Gina can go from laughing to having tears in her eyes in a matter of seconds and she takes the viewers on that journey with her. You root for Jane and you want her to succeed in all areas of her life. It's all just real and warm and I want Jane/Gina to be my best friend. If she's not nominated for an Emmy this year, I'll be leading the riots. –Kim
8) Charlize Theron – Mad Max: Fury Road
I love Mad Max: Fury Road so much? Like, a straight-up action movie has never meant so much to me, a connoisseur of Hugh Grant rom-coms and corseted literary adaptations. But then again, no other action movie has given me Charlize Theron sporting a buzz cut and a metal arm, driving the getaway "car" for a harem of freed sex slaves. The movie treats Imperator Furiosa like it would any male hero, except when it doesn't. She's stoic and dogged, and has no problem barking out orders to Max. But this fight is personal for her in a way that she knows it can't be for him. I'd love to see Charlize get an Oscar nomination for this, actually, in the hopes of creating more Amazonian warrior roles for women in the future. (Please.) But I suppose I can settle for seeing Mad Max on the top of so many critics' end-of-year lists and some fierce Furiosa cosplays at Comic Con. –Sage