WE DID IT YOU GUYS. The end of 2016 is nigh. Everyone take a deep sigh of relief.
It is a truth universally acknowledged that 2016 was a dumpster fire of a year. It was brutal with the celebrity deaths and it felt like the world was on the verge of imploding every time you turned on the news. I can't help but think of Samwise Gamgee at the end of The Two Towers when I think of 2016. "How could the world go back to the way it was when so much bad had happened? But in the end, it's only a passing thing, this shadow. Even darkness must pass. A new day will come. And when the sun shines it will shine out the clearer. Those were the stories that stayed with you." These end of year posts are the stories that have stayed with us. We hope you enjoy the memories as much as we do. –Kim
1) Michael Phelps swims the 200 Butterfly – The Rio Olympics
Michael Phelps did not come to the Rio Olympics to play. After being disappointed with his performance in the London Olympics (you know, a measly six medals, four of them gold), Michael returned to the pool as a man on a mission. The most important part of that mission? Getting back the gold medal in the 200 meter butterfly that South Africa's Chad le Clos had taken from him. As fate would have it, Phelps and le Clos were in the same semifinal, swimming right next to each other. It's the perfect sports story, really. The undisputed King of the Pool and the younger and cockier rival who had lorded his victory over Phelps for four years. Who would triumph? Here's why I love the Olympics so fucking much: the completely pure and unstaged moments of human emotion. As cameramen in the holding room focused on the two rivals they caught le Clos showboating and shadowboxing in front of Phelps. And there sat Michael, his hood up over his head and his trademark headphones on making a FACE OF DEATH. Seriously…laser beams were about to shoot out of his eyes. Thus, the greatest meme of 2016, #PhelpsFace, was born. (It's also the default facial expression to describe the year.)
Was le Clos trying to psych Phelps out? Was Michael truly just in the zone, as he later claimed, or was he making the face at the obvious showboating? We'll never know, really. What we DO know are the results in the pool. Phelps and le Clos qualified 2nd and 3rd in that semi, which set up an exciting final that was packed with contenders for the Gold. There was something about Michael's swimming and attitude in Rio though. While he never looked MISERABLE in previous Olympics, it was clear that Michael had always been focused on winning and shattering records alone. In Rio, he seemed to have rediscovered the JOY of swimming and it showed in his interviews and his emotions on the podium. Michael shaved off nearly 8/10ths of a second off his semifinal time to take back his precious Gold Medal and his jubilation was reminiscent of a certain end zone dance by Rod Tidwell. One might say that Michael Phelps found the Kwan in Rio and we all got to see it. — Kim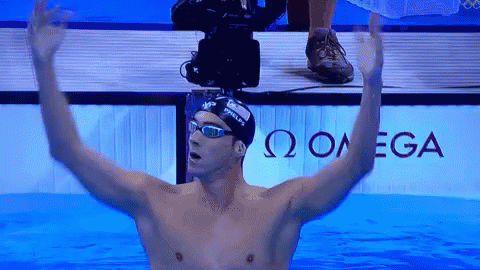 2) The #HamilTonys
Look, Hamilton was going to come into the Tonys like a wrecking ball. Everyone knew it. Hence the joke in the opening (Hamilton-themed) number: Leslie Odom Jr., Daveed Diggs, Anthony Ramos, and Okieriete Onaodowan advancing on a Tony-toting James Corden, who stops them by singing, "Just you wait, just you wait…"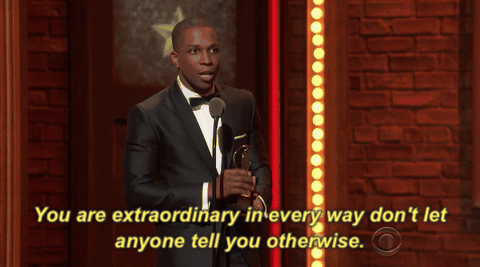 The Best Musical award was a foregone conclusion. (In any other year, Waitress. Any other year.) Score and Book were too. The tightest races in a couple of the acting categories were actually BETWEEN Hamilton castmates. And though no choice would have been the wrong one, the Tonys – in our opinion – played it just right. For once, Alexander Hamilton didn't spoil an Aaron Burr victory; Leslie accepted the Leading Actor Tony he deserved. There was no controversy, since Lin went home with a wheelbarrow of other awards. Broadway veterans Christopher Jackson and Jonathan Groff looked on proudly as newcomer Daveed Diggs was handed the Featured Actor Tony. It's safe to say that being in Hamilton would change anyone's life, but of those three, it changed Daveed the most. And come on, the guy plays one character per act, spits RECORD-BREAKING fire, and delivers the best asides in the show. (Whaaaaaaat?) Renee Elise Goldsberry cried as she gave her Featured Actress acceptance speech. And if it hadn't been for the unstoppable Cynthia Erivo, Phillipa Soo would have been on that stage too.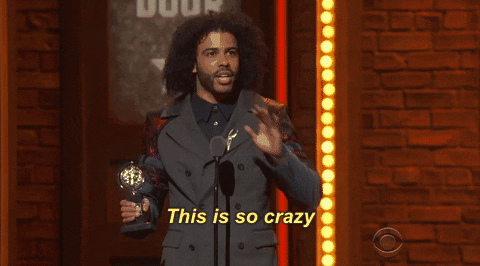 All told, Hamilton took home 11 Tonys, falling just short of the The Producers' record. But that wasn't the whole story. Hamilton in its very existence is a statement. In the same awards cycle when #OscarsSoWhite trended worldwide, Hamilton contributed to the Tonys' incredible diversity achievement of all four musical acting awards going to non-white performers. The show made this the hippest Tonys (is that a thing??) in recent memory. The 2016 telecast was the highest rated in the last 15 years. And those new viewers were tuning in SPECIFICALLY to see Hamilton – a piece of art that's reinvigorated and redrawn the medium by prioritizing inclusion, truth, and a ridiculous amount of work.
A dark shadow was cast on the Tonys. Early that same morning, the Pulse massacre occurred in Florida. The telecast was dedicated to the victims and their families. One of Lin's speeches was a quickly composed sonnet honoring them too. And Hamilton's producers made a decision to alter their performance. There were no muskets in "Yorktown." The actors and the ensemble mimed their presence. And that image – two dozen people in Colonial garb pointing invisible guns into the audience – will stay with me for a long time.  –Sage
3) The Origin of The Big Three – This Is Us

source: thisisusedits.tumblr.com
I was fully on board with
This Is Us
from that first trailer that featured guaranteed tearjerker "I Won't Give Up" as the soundtrack (and because it had Mandy Moore). But I was also completely aware that a great trailer by no means makes a great show and that
This Is Us
could easily be saccharine overdose. I was lucky to get to see an early screening of the
This Is Us
at the Paley Center a couple of weeks before it premiered. I was immediately taken in by the sharp and funny dialogue and the tightly drawn characters. (Sterling K. Brown gets Randall from the GET GO, guys.) I was so drawn in by the four principle stories of the pilot that I forgot to look for the twist of how they were all tied together (SILLY ME). I ignored niggling questions like why in the hell with triplets did Mandy Moore's Rebecca NOT have a c-section scheduled? I missed the hints of Randall saying that he was abandoned at a fire station and adopted by a wonderful couple. I COMPLETELY missed it…and so did most of the people in the Paley screening room.
A collective GASP swept through the room when Milo Ventimiglia's Jack, mourning the loss of one of his triplets, stood at the nursery window smiling at his two babies and started talking to the fireman standing next to him, who pointed out the baby who had been abandoned at his fire station. "OH MY GOD," I quietly (or not so quietly) exclaimed, as the camera panned back to reveal people in period clothing wandering the halls of the hospital. "THEY ARE A FAMILY." It was in that moment that we KNEW that This Is Us was going to be a special kind of show: unabashedly sentimental, expertly acted, and one that would take us along on the journey.  — Kim
4) The Blood Threesome – Penny Dreadful
Rest in peace, Penny Dreadful. You crazy bitch.
Showtime's literary horror masterpiece pulled out all the stops for what we didn't know would be its final season. We didn't get this gory orgy not in the finale, oh no. This was episode THREE.
I have some issues with the way it was resolved. But overall, I am all about Penny Dreadful turning the horror of being a woman of no consequence in Victorian London around on the godless men who exploit them. It facilitated some jaw-dropping Billie Piper monologues, that's for sure. It also facilitated this consummation: Lily, her benefactor Dorian, and their bloodthirsty protege Justine celebrate Justine's first kill by indulging in the most indulgent act possible. Lily and Justine are celebrating being masters of their own bodies for once. And Dorian? Well, Dorian's just a hedonist.
The camerawork, the candles, the score: it's all so over-the-top and UBER-DRAMATIC and not really that necessary for the plot. I love TV that will throw over subtlety when necessary, and go to these places just because it's FUN. –Sage
5) Murtagh gets his vengeance – Outlander
When I look back at Season Two of Outlander, I can sum it up with a singular text I got from Sage whilst she watched episode 11, "Vengeance is Mine": "THIS SHOW IS SAVAGE." Season Two was a LOT, from all the shenanigans in Paris to the emotional wallop that was the entire episode of "Faith" to Jamie stabbing BlackJack Randall IN THE DICK to a pregnant Claire being sent back through the stones. The entire season was a masterclass in pacing and storytelling because we KNEW the ending in the opening moments of the season premiere, yet the show managed to keep us on our toes and have us HOPING that said ending would not come to pass. But sadly, I can't single out the entire season for this post. Thus I settled on the moment that prompted Sage's text message: Murtagh's savage beheading of the Duke of Sandringham. Because as a book virgin, I did NOT see that one coming.
Let's face it: Murtagh is the unsung hero of the series. He faithfully stands by Jamie and Claire's side in France, even though every expression on his face says "I MISS SCOTLAND". His only reaction when Jamie FINALLY told him the truth about Claire was to punch him in the face for not trusting him with this information sooner. He pulled a "I'm with you till the end of the line" with Jamie at The Battle of Culloden when Jamie tried to send him away. (SIDE NOTE: MURTAGH BETTER BE ALIVE IN SEASON THREE BITCHES.) Murtagh is good people. So it was devastated to see him wracked by guilt over not being able to protect Claire and Mary when they were attacked (and Mary was brutally raped) on the streets of Paris. HE WAS UNCONSCIOUS WHAT COULD HE HAVE DONE? Nevertheless, his promise to avenge Claire and Mary was one he took to heart. The last minutes of "Vengeance is Mine" were absolutely thrilling, from Red Jamie storming in ready to kick some ass to Mary grabbing the knife and stabbing her attacker once Sandringham's complicit involvement in the attack came to light. But it was all capped off by Murtagh grabbing a fucking AXE and taking a swing at the Duke. Off came his head and he grabbed it and placed it at Claire and Mary's feet as they looked on in shock. "I lay my vengeance at your feet," he said, kneeling before them. That's Murtagh for you. Taking things literally. — Kim