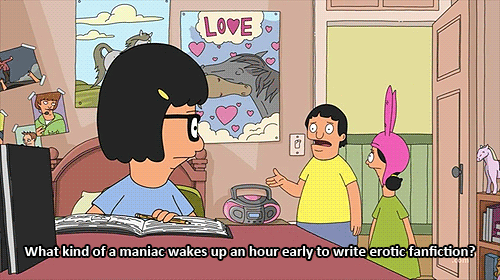 Sage: I have a problem with people telling me to be embarrassed about things that aren't a source of personal shame. That problem being…I can't. And it's one of the great joys of being in my 30s.
I've been reading fic since I was 14, and never have I ever felt bad about myself while I was doing it. I used to be much quieter about it; it was something I shared with a select few friends if and only if I was sure they wouldn't take the piss during morning announcements or something. I'm now more open about my preference for "original works based on existing media franchises" for two reasons: 1) I don't care (I don't caaaaaaare), and 2) I've seen how fan works of all kinds are used as ammunition in an ongoing attempt to erase the power and validity of certain fandom demographics.
And that was the impetus for this post, really. Last week, entertainment media collectively decided to canonize Eric Richardson, who is the author of a WIP fic based on Beyonce's (perfect, groundbreaking, world-saving) visual album Lemonade. Vulture calls him "a fabulous human." EW wrote a similarly worshipful profile. Meanwhile, talk show hosts are out here forcing James McAvoy and Michael Fassbender to read Cherik fic to each other and showing Benedict Cumberbatch and Martin Freeman explicit Johnlock fan art to provoke what they hope will be an amusingly horrified reaction. I'm so confused…did Richardson single-handedly validate the fanfic industry, or is he just excused from the regular mockery because he doesn't fit the perceived author profile? (Female, dorky, sexless, sad.)
So we asked some of our readers and friends to send us their fanfic testimonials, whether they create or just consume. How did they discover their community? What do they get out of fic that they don't get out of canon? And how do they feel about the fact that one of their main sources of joy and creativity is considered in many spheres to be taboo, or at least a very low form of expression?
Keep on reading for those brilliant reflections, but first, you'll have to hear from us. Sorry. Co-editor privileges.
Like I was saying above, fic has been a part of my life since my family's first dial-up internet connection. I've gone through intense phases, and I'm the kind of reader who sticks primarily with one pairing at a time. (No, not all fic is romantic or sexual, but like…I'm not here to fuck around, you know?) I love the democracy of fanfiction. Hop on any major archive and marvel at how many thousands of stories and millions of words are right there for the taking – stories that writers have spilled blood, sweat, and tears over. Those are free. Fans create for other fans, and then the portal is open. Writing itself can be a solitary activity, but less so here. Scenario: A reader sends a writer a prompt. The writer writes it. Hundreds of new readers read, comment, and form a fandom AROUND the fan work. Some of those readers create moodboards, gifsets, playlist, and trailers to go with that story that just made its way onto their favorites list. And that happens over and over again, until I can't remember what a real book looks like.
There's something equally comfortable and thrilling about starting a brand new story when you're already intimately familiar with most of the characters. When I find something I love, I want to stay in it forever. But I also want to look at it from every angle, to have someone show me what would happen if these people were actually astronauts or baristas or reality show contestants or spies or a different gender. Which brings me to the elephant in the room: NC-17 fanfiction, or as the kids call it: "smut." This post isn't exclusively about the fic that would make your 1st grade teacher blush (though maybe she's written a few of them, YOU don't know), but the stories that come with an adult content warning are worth talking about, specifically. The ridicule that women especially get for reading or writing the sexy bits is born out of confusion and fear. There's this whole underground UNIVERSE of literary exploration of sexuality happening where girls are largely in charge. And that scares the shit out of some people. People who liked it better when they could pigeonhole an entire gender into what they are and are not "into." WE ARE COMPLEX. GET ON OUR LEVEL.
Kim: I was 19 when I fell in love with The X-Files. The movie had come out that summer and the show had just hit syndication and in typical fashion, I fell hard and fast for Mulder and Scully and all their sexual tension. I spent hours on the internet, devouring everything I could about my newest obsession. I don't even know how it happened but I stumbled upon The Gossamer Archive and it was like a whole new world opened to me. People wrote FICTION about Mulder and Scully?! Fiction where they kissed?! Fiction where they had all sorts of sex?! WHY HAD NO ONE TOLD ME ABOUT THIS BEFORE?!
What I love the most about fan fiction is that it fills in those in-between character moments that just can't be squeezed into a 42-minute episode of television. Want to know just what Mulder and Scully got each other for Christmas in "How the Ghosts Stole Christmas"? There are literally hundreds of stories that will tell you. (My favorite is one where Mulder got Scully a star because OF COURSE.) Is your OTP taking their sweet-ass time getting together on the actual show? Pick a pairing and I guarantee there are fics a-plenty waiting for you on AO3. Hell, fanfic is how I SURVIVED seasons 4 and 5 of Bones where Booth and Brennan were so painfully and obviously in love with each other yet too afraid to actually DO anything about it. People who read and write fan fiction are my type of fans. They are the fans who love things so deeply and passionately that they can't help but go deeper and explore characters from every possible angle. Some of my dearest friends (many of whom contributed to this post) are women that I initially connected with BECAUSE of their fan fiction. I fangirled their Jeff and Annie fics from afar and then started talking to them on Twitter. 5 years later, we're all friends IRL and planning vacations together. All because I desperately needed to read stories where Jeff Winger and Annie Edison fell in love.
Despite the wonderful trove of stories and authors, some prejudices within fanfic-dom exist. People get real prickly when it comes to "Real Person Fiction" or RPF. For some people it is one thing to read original stories about someone else's characters but it's an entirely different thing to read stories about actual celebrities or specific co-stars or band mates. That's CREEPY, detractors say. They are real people, not characters. Me? I'm of the mind of why the hell not? Sure, Harry Styles may be an actual person (well…the bit is debatable. Someone that pure could only possibly be an alien.) but we don't actually KNOW him. Harry Styles is as mythical a character to me as Fox Mulder. Hell, his own team has spent YEARS crafting narratives for him and his bandmates to sell them to the masses. (A POX on the marketing executive who coined Harry as "adorably slow". HOW VERY DARE YOU.) At least fan fictions tend to show his character more respect than the people actually managing his image.
So yes, my iPad is full of Larry fics and I've lost countless hours of sleep reading stories where those boys fall in love over and over again. Why do I do it? Because it makes me happy. It's for ME. I'm not going to go up to Harry and Louis and shove a copy of Escapade in their hands (though let's be real, you know they own a copy) because that's not why it exists. Fan fiction exists for just that: FANS. It's a way for fans to explore the things they love and it's a way for authors to hone their writing skills. I've had fanfics reduce me to tears and I've had fanfics bring a smile to my face when I've had a shitty day. It enriches my fandom and it enriches my life in the best way.
PS Have I mentioned the Larry fic where Harry is a cowboy and Louis is the paralegal trying to get him to sell his land? You'll never cry so hard over a cow being born, mark my words.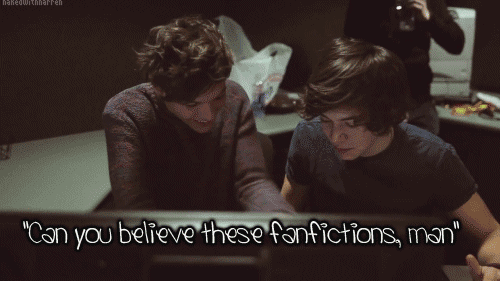 Taylah: English is my second language, so I started writing Doctor Who fanfiction as a means of improving my English writing. I thought if I used characters that I was already acquainted with, it would be easier for me to write situations around them. When I look back at it, it wasn't really good, but I had a small following and good feedback, so I continued writing for other fandoms (Glee, Community, Pushing Daisies, Gossip Girl, etc.) Eventually I gave up on writing but I have never stopped reading. I consider it a great way to explore your creativity, to improve your language skills, to test how open your mind is (and to know your limits, which is always good) and to be critical of the fiction we consume.
There is a lot more to it than mockery and parody, even though that is also great. Listen, I have read as much crackfic as anyone. I love the absurdity of it. I enjoy bad fic for what it is, and I would never tell someone "this was so terrible it made me laugh until I cried" (unless it was intentionally bad), but it is not a representation of all fanfic writers. Some of everyone's favorite book authors, male or female, have written fanfic at some point in their lives, even long before the internet provided a platform to post it. There is a lot of good writing in fanfiction, and though I wouldn't like the media to focus on it (because fanfic, good or bad, should belong in fandom and it is always awkward when someone decides to tell public figures about it), I wouldn't like media to portray fic as just a joke. It doesn't seem fair.