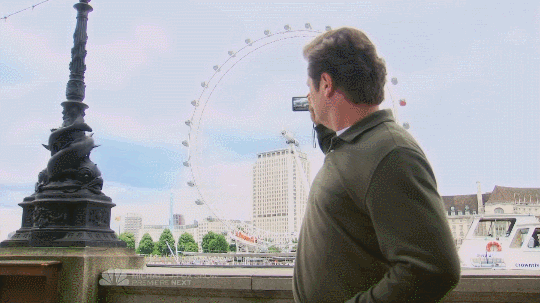 A true American like Ron Swanson may not understand the constant pull we fetish-izers of British culture feel to return to the Motherland. But anytime I'm not in London, I'm usually wishing that I were, scone in one hand, umbrella in the other. This January, thanks to the fine people who price the flights at USAirways, I was able to make a UK pilgrimage for what I usually drop in a couple of Etsy sprees. And you know I had to do it up fandom-style.
As you know, the British Isles are home to many fictional characters we adore. Not only that, but – until we can seduce them over to Broadway – several of the actors who play said fictional characters can usually be found treading the boards in London. So, to sum the goals of my trip up in just a few words: 1) pay appropriate homage to British fandoms 2) watch the men I know as super villains and cheeky aliens stretch out their ample theater muscles and 3) eat all the pub food I can find. All of it.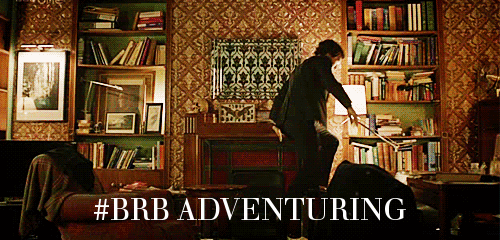 Here's what I found when I crossed the pond, plus a few tips for getting the most out of your UK vacation.
American Psycho at the Almeida Theatre
Blasting straight through my jet lag, I spent my first night in London at the 325-seat Almeida Theatre in Islington. I'd known of the musical adaptation of the Bret Easton Ellis novel for quite a while – since its successful Kickstarter campaign, really – and had it on my "probably" theater list for months. That is, until the morning that the Almeida announced that Matt Smith's first post-Doctor Who role would be that of Wall Street psychopath Patrick Bateman. I hightailed it to the ticketing site immediately and snagged the last seat for this performance.
Adaptations are just that – with heaps of artistic choices dictated by their medium. So, while not expecting American Psycho: The Musical to look exactly like American Psycho: The Novel or American Psycho: The Christian Bale Movie, I did have high expectations. The book by Roberto Aguirre-Sacasa pins down the particular humor of the existentially bleak source material; and Duncan Sheik's original score, with the exception of one or two extraneous numbers, successfully leverages synthy '80s pop to drive home the glossy and gothic materialism of Patrick's world. Actual hits from that decade were inserted sparingly and to great effect, especially when Bateman commutes to work with "Everybody Wants to Rule the World" blaring through his Walkman.
And what of Matt? Respectable American accent, serviceable singing voice, imposing stage presence, and really quite exquisite abs. You may have heard that he makes his entrance in a "tanning bed" wearing nothing but tighty whities. I'm glad I was able to mentally and emotionally prepare myself to watch that in the middle of a room full of strangers. Add some cool graphic direction by Rupert Goold and a supporting cast full of cute boys (special shout out to Jonathan Bailey of Broadchurch who played Tim Price like the young version of McConaughey's character in The Wolf of Wall Street), American Psycho kept a weary traveler awake and excited about the future of musical theater. Did I mention that Matt Smith was totally in his underwear?
Coriolanus at the Donmar Warehouse
The hottest ticket in London right now is to a 251-seat theater for a little-produced, late-career Shakespeare play. Possibly because, under Artistic Director Josie Rourke, the Donmar has been consistently popping out work that makes a splash at home before an almost guaranteed West End or US transfer. Well, that…and Tom Hiddleston.
My brain and body were practically humming after seeing Tom on stage for the first time and in such a tour-de-force. But one thought rose above the general clamor: this is the beginning of his career. This man is 33-years-old. Think about the body of work he has ahead of him. It's unfathomable.
I don't want to be that jerk and say that Hiddleston was just so present in his role. But I'm going to be, because he was. Like I wrote in our "Entertainer of the Year" tribute to him, Tom approaches every role with the same amount of careful preparation and gusto. And in this part, he gets to rage, sass, patronize, kiss a boy, kiss a girl, sword fight, take a shower onstage, and break our hearts with wet eyes and a single speech. In the climax of the play, Coriolanus's mother pleads with him to spare Rome. Until this point in the scene, Coriolanus has been cold and unmovable, even to his best friend and his wife. He faces the audience, his back to his mother. As she talks and without moving a single muscle, he just starts weeping. Full on, snotty-nosed, wet-faced weeping. I could not breathe. GET THEE TO BROADWAY, HIDDLES.
The rest of the cast give knockout performances too, particularly Deborah Findley as Coriolanus's steely mother, Hadley Fraser as his sworn enemy, and the one and only Mark Gatiss as – obviously – a dry-witted intellectual. Mark was battling a cold and didn't come out to sign after the performance. A disappointment, since I really just wanted to shake his hand, thank him for Sherlock series 3, and get a Mycroft bitchy-resting-face picture with him. We were told by the staff that Tom was no longer able to come out to sign post-performance. It makes sense, since the Donmar doesn't have the space to put up barriers, set up extra staff, or do much really to keep overeager fans from ripping his clothing to shreds. This is why we can't have nice things, you guys. Behave yourselves.
So no Me + Hiddles 4Ever picture to show you all, sadly. It's cool though, since I happened to be sitting just two seats away from my sun and stars, Billie Piper.
Being that I usually refer to Bills as my future wife, you'll be impressed that I stayed relatively cool. She's a featured guest at Gallifrey One in Los Angeles next week, so I decided to save the fangirling till then and satisfied myself with acting like a normal person in her presence. I did notice her take a photo and chat to a fan, so rest assured that she wasn't putting off "leave me alone" vibes. She's luminous and perfect and wonderful, always. So.