By Saturday, we felt like SDCC pros. We were getting into all the panels we were wanting to see. We had scored the exclusive merchandise we had lusted after.  We had partied the PERFECT amount to where we didn't feel like zombies the next day.  We were, in a word, killing it. Would Saturday proved to be as charmed of a day as the first two?  Read on to find out!
Walking the Exhibit Hall
After walking the now familiar route around the top floor of the convention hall (Me: "Let's do a lap before we commit to a location") to settle into the line for the Exhibit Hall, we had one goal in mind: getting to the Legendary Booth for a chance to win a ticket for the Crimson Peak signing (HIDDLES) later that afternoon. The autograph culture at SDCC is much different from the one at NYCC.  At NYCC, as long as you have the money and the willingness to stand in line, you can get the autograph you so desperately need.  Not all of the talent attending NYCC (especially your A-Listers) does the autograph booths, but if the object of your desire does do them, you can get your autograph for a sum ranging from 20 to upwards of 100 bucks.  (This also applies to paid photo-ops, also known as what currently decorates my kitchen walls, also known as that time Stephen Amell caught a bit of Sage's side boob.)  At SDCC, all the autographs are free and the A-list talent DOES participate. The catch? It's all based on a lottery system.  That's right…some people will line-up in the wee hours of the morning for a chance to DRAW A TICKET to win a chance to get autographs from the Game of Thrones or Arrow casts.  I have a hard time comprehending that, to be honest. When we camped out for 21 hours, we at least KNEW we would be guaranteed to be in the presence of Peter Capaldi.  I digress.
Once the exhibit hall opened, we made a beeline to the Legendary Booth, taking full advantage of our New York City honed power-walking skills (NOT RUNNING!).  Alas, the line to draw a ticket was capped by the time we made it there.  Clearly, the universe knows we aren't ready to be face to face with Tom Hiddleston.
Since the majority of the early morning crowd was occupied with getting exclusives, we took advantage of the lighter traffic flow and walked the exhibit hall from end to end. I highly recommend anyone attending a major con to do this.  There are so many unique booths and vendors to discover outside of all the licensed merchandise. The degree of creativity displayed in the hall is astounding, from traditional comic book art to handmade toys to prints inspired by various fandoms.  These are the best souvenirs, in my opinion, because despite the "exclusive" merchandise, these are the things that are truly unique to each con.  Before I came to SDCC, I had vowed not to buy any fan art due to the fact that my available wall space was rapidly decreasing. On the exhibit floor, however, my attitude was thus: "GIMME ALL THE ART".  I was on the hunt for a good gift for Kelly, who was graciously watching my dog for me.  In the course of doing so, naturally things like this happened…
These were going to be for @_kellyQ till I found something better. Now they are mine. #SDCC #DoctorWho pic.twitter.com/XgIkKG3FI2

— Head Over Feels (@HeadOverFeels) July 11, 2015
Honestly, as soon as I bought those Rose and Nine prints, I knew I wanted to keep them. I knew deep in my heart I wanted to find something X-Files themed for Kelly anyway. One would think that X-Files art would be easy to find. Nope. Whenever we would ask a particular booth whose style we enjoyed whether or not they had any Mulder and Scully, the reply was always the same: "No, but I should TOTALLY do them!!"  Yes.  Yes, you should. I expect there to be an abundance of Mulder/Scully art next year people. We did find that Joe Harris, who illustrates the comics for The X-Files, had a booth. He had a limited edition (there were only 100) print of Mulder and Scully for sale. I was unsure about getting it because I knew we had NO time to go back to the apartment that day and I was concerned about toting a print around all day without damaging it. He saw me waffling, grinned, and pulled out another print that he had limited quantities of.  I immediately forked over my money without giving it a second thought.  Why? Because this one had Mulder, Scully, AND Skinner.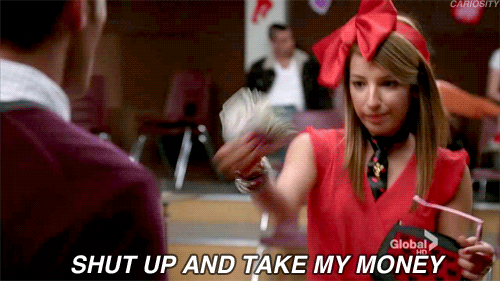 Joe also recognized Kelly's blog series, "Times Mulder and Scully Should Have Made Out This Week" ("It's so clever!") and wrote her a personal message on the back of the print. Thus, I left the exhibit hall with my wallet lighter but secure in the knowledge that I had scored an amazing gift for my friend. Mission accomplished.
On our way to our brunch destination, we had to pass through the crowds of protestors that had amassed outside of the convention center. Yep. Every day there were radical Christian and Anti-Abortion protestors outside the center with their bright yellow signs and fliers.  Perhaps they were taking advantage of the massive crowds or perhaps they really DID think we were all hell-bound for attending Comic Con. I'm not sure which. I'll leave what Sage oh-so-eloquently said to a person who tried to shove an anti-abortion flier into her hand to your imagination, but just know it was amazing.
Then we ran into what I consider to be one of the most brilliant publicity stunts I've seen. Well done, Team Damien. WELL DONE. (They often stood with their signs right next to the legit protestors, these guys were just on their break.)
Brunch with OJ and a side of BAMF
It goes without saying that we were devastated when Sleepy Hollow pulled out of SDCC because of production conflicts. Not only because the show missed out on some much-needed exposure (When someone on the floor saw Sage's Ichabbie shirt we overheard them say "Is Sleepy Hollow still ON?" #promoteSleepyHollow) but because we had been counting on getting into its press session and getting face-time with our beloved cast.  We were delighted when our friend Terena informed us that she was coordinating an intimate offsite brunch event with Mr. and Mrs. BAMF themselves, Orlando Jones and Lyndie Greenwood. Time with two of our favorites, plus delicious brunch food (Crab cakes Benedict!! Chocolate pancakes!!), PLUS legit bottles of champagne for only 8 bucks? SIGN US UP.
I love that even though Orlando is leaving Sleepy Hollow (I can't talk about it yet, you guys), he's still the biggest ambassador to the fandom. Some performers THRIVE on interacting with their fans and Orlando is clearly one of them. Orlando didn't sit down ONCE during the 2 hour event, instead choosing to visit every single table and spend a good amount of time with every attendee. When he arrived, he literally bumped into our waitress, whose hands were full of plates for another table. She was absolutely paralyzed with delight at seeing him and he promptly took the plates out of her hands and personally delivered them to the proper table. That's the kind of guy he is. When we later teased him about how he worked the room, saying "Dance, monkey, dance," he BELLY LAUGHED, teasing "I don't appreciate your choice of animal!" Basically, he's the best and we're best friends now.
Lyndie Greenwood arrived a little late because she walked over to the restaurant on her own, rather than taking the car offered to her (she is THAT down-to-earth). She also arrived in a handmade cosplay of an obscure comic character that was SUPER HOT. She had tweeted earlier in the week that she had cleaned Party City out of its stock of mini-skulls, so it was awesome to see the fruits of her labor. We asked her if she was planning to walk the floor after brunch and her response was a giddy "Hell yes!"  She squealed with delight when she noticed that my phone case was Abbie and Ichabod (which I had completely forgotten about until the moment we took our picture together) and flailed when I showed her a picture of the Ichabbie prints I had bought at the Sherlock party the night before. "You don't see NEARLY enough Sleepy Hollow art," she exclaimed. "Tweet me the name of that artist!" ONE OF US.
It was neither the time nor place to try to get any scoop about what's to come on Sleepy Hollow (we didn't want to be THOSE people), so sadly, we have nothing to report on that front.  (Hopefully Sleepy will have a big presence at NYCC and we'll be able to bring you all the scoop then!) We were just grateful to be able to have some time to celebrate our show and to hang out with fellow Sleepyheads. We should do this every year…someone get it on Tom and Nicole's calendar for next July!
Seth MacFarlane Animation Panel
Let it be known that SDCC is all about sacrifices and hard choices. Saturday afternoon's schedule was jam-packed with everything from the offsite official Doctor Who meet-up to John Barrowman in a room with a microphone to the EW Women Who Kick Ass Panel and Crimson Peak (HIDDLES) in Hall H.  And where were we? Suffering through an HOUR AND FORTY FIVE MINUTES of Seth MacFarlane and company all in the name of getting good seats for Outlander and Hannibal.
And that's all I have to say about that.  However, I will begrudgingly admit that it was pretty impressive when they did a live-read of a few Family Guy scenes.