A few weeks ago, I woke up to another must-see Amy Schumer sketch gone viral. And it brightened my day significantly. "Girl, You Don't Need No Make-Up," is typical Schumer wit: bouncy and bright, but with a razor-sharp edge of social commentary. I strongly suggest you watch the clip if you haven't yet, but here's the gist: As Amy gets ready to walk out the door and face her day, a boy band accosts her with an upbeat tribute to her natural beauty. As they sing about how much they prefer the "real" her to all the trappings of woman-dom, she cheerfully dismantles her entire morning routine. Faced with an actual au naturel lady, the band changes their tune, shoving pressed powder into her hand and crooning worriedly about how they can't date "the ghost from The Ring." It's magnificent. A proper critique of the impossible standards that women face practically from birth.
Though if you only read the headlines that accompanied the clip, you wouldn't take it that way. "Amy Schumer Skewers One Direction." "Watch Amy Schumer Make Fun of One Direction." Okay. While the song in the video is absolutely a parody of "What Makes You Beautiful" and there's a bargain-basement Harry Styles present, that's not the end of the story. Methinks that Amy Schumer has better things to do than to write and produce scathing takedowns of four-year-old boy band songs. The song was the vehicle; the target was larger. Yet the same outlets that participate in promoting the very standards that Schumer is protesting decided to lump the blame on one harmless pop group, both to refuse accepting any responsibility and because, hello, clickbait. The headline "Amy Schumer Unleashes Giant Squid-Monster On One Direction" would also garner a lot of hits, but that doesn't mean it's true.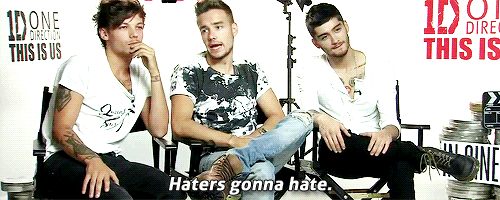 The weird mass-framing of this sketch got me really miffed, and not just because I'm in the middle of a One Direction obsession spiral. (Nice to meet you, I'm 32.) It's because the internet responded to a sketch calling out media sexism with more sexism. Boy bands are traditionally viewed as a feminine interest. Even less acceptable, they're typically an interest of women who are young, one of the demos that's given the least credence in pop culture and in society at large. Amy Schumer's parody was about the relentless and contradictory appearance policing that women face; where filmmakers are barred from a Cannes red carpet for wearing flats at the very same time Midwestern teens are tossed out of prom for baring their shoulders; where magazines scream that yes, men will still want to have sex with us even if we don't go to bed in eyeliner – as if that's the be-all, end-all permission that we need to do whatever we damn well please with our own faces – at the very same time they're running Kate Hudson's professionally lit make-up-free "selfies" next to full page ads for $200 jars of La Mer. The media turned Schumer's sketch into something petty, and, in the process, got their jabs in once again on young girls. This thing they like? It's stupid. It's stupid and silly and it doesn't matter.
Except that it does. ("It DOES." – Ross Gellar.) Boy bands matter. They certainly mattered to me. (And continue to. Louis Tomlinson has many important tattoos.) This whole shitshow got me thinking about why that is; what, beyond a flurry of stampeding hormones, makes us love them so god damn much?
Falling in love with a boy band unlocks a chamber of your heart that, until you do, lies cold, dark, and empty, aside from the cobwebs. It is a fierce love, both unimaginably generous and perfectly selfish. I think part of society's sneering attitude to teen girls comes from fear – fear of our intensity, of how hard we dedicate ourselves to things. That's why every boy band who's ever sat on a late night couch gets the question, "What's the craaaaaaziest thing a fan has ever done to you?" Those raging lunatics, amirite? Animals, all of them. How is it less acceptable for Directioners to feel personally part of the band's success than for fully grown adult men to beat each other up in parking lots over professional football games? At least those bitches picked up their phones and text-voted for the VMAs.
It's FUN, though. It is fun as hell, let me tell you. Loving a thing is so much more of a trip than feeling meh about a thing. When I think about it, I can still conjure that pleasantly cavernous feeling that developed in my stomach when *N Sync appeared on stage for the first time at the Pittsburgh stop on the "Ain't No Stoppin' Us Now" tour back in 1999. They were there, and so was I. I loved them so much, I felt sure I would die of it. I would drop dead on the sticky floor of the Star Lake Amphitheater, in my platform sandals and baby blue American Eagle tank top. (Justin's favorite color, natch.) I've heard people speak similarly about the birth of their first child, which, okay. But how often does that happen? Once. I saw *N Sync in concert six times and that feeling never faded.
This heart-breaking, earth-splitting love just takes over. And it can survive any cynicism thrown at it. I was repeatedly told as a teenager that I was "too old" for boy bands, while action figures and video games lined my brothers' shelves, generating no comment. If anything, my interests were the more adult ones. They were born of a fascination – the siren call of boys. Cute boys, who could dance. (And I will come at anyone who tells me that boy band love doesn't jive with a feminist identity. There's nothing about paying five beautiful men to dance for me that's not the very best of feminism. Carry on.) Nursing a band obsession satisfied my unquenchable interest in boy world, a place I still find exotic as an adult. Boy bands give us the opportunity to observe boys in their natural habitat, without fear of judgement or rejection. Because it starts with the music and the videos, but then it expands. It wants everything. We want to know these guys, beyond the Tiger Beat details. (Though those are still important. Apple Jacks are Justin Timberlake's favorite cereal, pass it on.) No minutia is too boring. No brief interaction un-mined for personality traits and patterns. There's a reason why girls flocked to see Never Say Never, The Jonas Brothers 3D movie, and This Is Us. Those movies give girls the opportunity to be both a fly on the wall and the center of everything. "We wouldn't be here if it wasn't for the fans," they say, and that's you, oh my god. But also you're one of the guys, there in the hotel room when Big Rob shakes Joe Jonas awake and in the venue when Louis rolls through on a skateboard and grabs a bucket of popcorn off a table. Being a teenage girl is the most terrifying. There's humiliation around every corner. But not here. Not with these guys. They will never make you feel bad, or let you down.
Like any entertainment delivered on such a massive scales, boy bands are marketed to within an inch of their lives. We know, okay? We just don't care. Knowing that backstage machinations have been orchestrated to sell us "The Hot One," "The Shy One," "The Bad Boy," etc. does nothing to stop the spread of our fervor. Because as soon as said band gets a foothold, they belong to us. The ownership changes. I don't care how many focus groups have been held to discuss which one looks best with a goatee.