Way back in the infancy of this website (February 2013 was SO LONG AGO you guys), I wrote a post naming my Top 5 TV Boyfriends. Number one on that list? Seeley Joseph Booth. My TV Crushes come and they go, but Booth remains a constant. He's THAT guy, you know? He's the Alpha Male who is a gigantic mushball. He believes in romance and fate and soulmates. He laughs at fart jokes and sexual innuendo. He's dark and twisty and wrestles with his own demons. He loves strong and intelligent women who challenge him. He's just…SO MUCH. And there are very few leading men on TV that are as well-rounded as he is, so let's appreciate him, shall we?  — Kim
1. LOOK AT HIM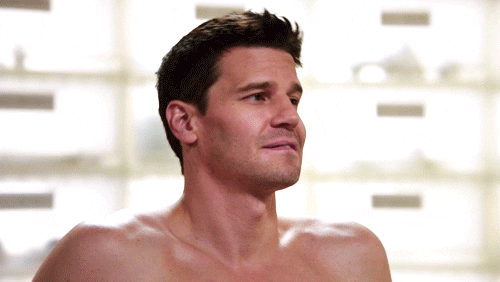 Look, I get that this is a TV show and the goal is to always cast the most attractive people possible because it's always more interesting to see pretty people solve crimes and have interpersonal drama every week. But damn if Bones didn't hit the genetic lottery with David Boreanaz as Booth. Boreanaz is your classic tall, dark, and HANDSOME leading man.  As Booth, he KNOWS he's handsome, with his sparkling eyes and mischievous smirk. But the knowledge of his handsomeness is not off putting…it's just a state of being. You know what? I think I'm just going to let the characters speak for themselves here. –Kim
Brennan: I believe that dopamine and norepinephrine stimulate euphoria because of certain biological triggers like scent, and symmetrical features.
Booth: Symmetrical features?
Brennan: Yes it's an indication of a good breeder. You appear to be a very good breeder.

source: drtemperancebrennans.tumblr.com
Angela: Hey, listen. He is very cute.
Brennan: Well, I do respond to the breadth of his shoulders and strong jaw line.
Brennan: [admiringly]: You have a perfect acromion. [Booth looks pleased]
Brennan: I don't understand, what way do I look?
Booth: Well, you know. You're structured very well.
Brennan: As are you. 
Angela: Booth is a big, strong, hot guy who wants to save your life. I mean, you actually have a knight in shining FBI standard-issue body armor, so cut him some slack.
Booth: Now you're looking at me like I'm some piece of meat.
Brennan: I would never look at you like that. I'm a vegetarian. 
Angela: Uh, are we doing experiments on Booth? Because if so, I'd like to help.
Margaret: His eyes are too small to be really handsome.
Brennan: Well, I have to admit, I…find him pleasing to look at.
Booth: That's like me saying I don't want to be a sexy FBI agent. We can't change who we are. (YES I KNOW SAGE USED THAT ONE IN THE LAST POST, IT BEARS REPEATING.)
2. His Strong Moral Code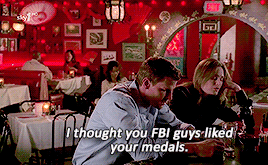 Source: 206bonesaddicted
Sure, they make good movies. But there's only so much loose-cannon cops can get done.
Seeley Booth is the polar opposite of that archetype, though he has had to go outside the law on occasion. This is a guy who returned to FBI service even after he was framed for murder by an inside man. He believes that the ideals that law enforcement represents are bigger than any one person, including him. There's a lot of self-preservation in his dedication to these higher callings. We all hold tight to the things that ground us.
Unlike his partner, Booth doesn't take any pleasure in violence. (And thanks for reversing THAT generalization, show.) He's not a pacifist – not by a long shot. But he does only what's necessary, and he usually drowns himself in guilt afterwards. Bones never put Booth in one of those male hero situations where the by-the-book officer gets emotional and Loses Control™, giving into some inner wealth of manly rage and animal bloodlust that's been there the whole time. Booth isn't an angry guy. He's not teetering on the brink at every second. He thinks the world is a fundamentally good place and that he's in a position to make it better. Force is available and sometimes required, but only as a last resort.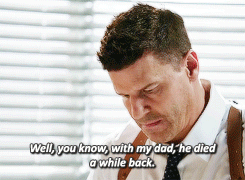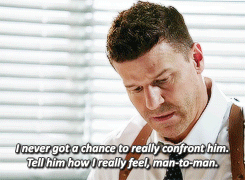 Source: becauseyoulovemebb
Booth has never used his stormy childhood as an excuse. For anything. (In general, the Jeffersonians are NOT complainers.) Instead, it was a catalyst for his constant pursuit of fairness and nobility. Booth's father taught him everything that he didn't want to be: selfish, pathetic, unreliable. Vicious. So if there was anything in Booth's life that could put him at odds with FBI protocol, it had to be his family. That's the other golden rule that he lives by: a man takes care of his family. And feeding them and keeping a roof over their heads doesn't cover it. (Brennan makes more money than him anyway.) It's being a partner and a parent, someone Brennan and his kids (and Hodgins and Angela and Cam and Jared and…) can count on in every possible way.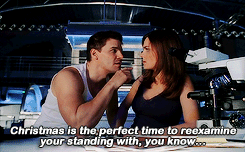 Source: donoteattheyellowsnow
Booth's faith usually comes up when it's comically at odds with Brennan's pragmatism, but his Catholic roots are a big part of who he is. It's really important to me that Booth sees the divine in other people, even if they (like his wife) aren't believers. Take the chapel scene at the end of "Aliens in a Spaceship":
Brennan: I'm okay with you thanking God for saving me and Hodgins.
Booth: That's not what I thanked him for. I thanked him for saving…all of us. It was all of us. Every. Single. One. You take one of us away, and you and Hodgins are in that hole forever. And I'm thankful for that.
God didn't reach a magic hand down to pull Hodgins and Brennan out of their early grave. As far as Booth is concerned, he gave Angela her skill and Booth his determination and Zack his brilliance. He gave them all this fierce love for Jack and Brennan that wouldn't let them quit. And that's why they survived. It's the same faith that Brennan has in all of them, it just comes from a different place. And though she can't share Booth's beliefs, she'll always respect them. –Sage
3. He's Got Flair
Yet for all his strong moral code and belief in the SYSTEM, Booth likes to assert his individuality and set himself apart from his peers. How does one stand out when your job requires you to wear suits every day? Accessories, of course!!! Wacky socks. Ties with pin-ups on the back of them. THE COCKY BELT BUCKLE. These are all the little bits of flair that Booth uses to set himself apart. Do you want to feel some pain? The very reason Booth even works in these small rebellions is because Temperance Brennan gave him the confidence to do so.
Booth: The shoes, they're part of my uniform. The FBI, they just have a way of doing thing.
Brennan: Well, anthropologically speaking, para-militaristic organizations tend to constrain individuality.
Booth: That's for sure.
Brennan: But any group, no matter how restrictive, the free thinkers, the mavericks, rebels with leadership quality, find ways to declare their distinctiveness.
Booth: I'm a free thinking real rebel.
Booth always had the desire to assert himself and set himself apart from his colleagues, but Brennan gave him the means of doing so. Booth's flair is a non-aggressive means of declaring himself the alpha male. He's saying "I'm different and you should pay attention to me."
Booth: Oh, hey, Doc, Doc, Doc, um…W-why is it that the, uh, the belt buckle is provocative?
Wyatt: Oh, it's a modern-day codpiece. It forces the eye to the groin.
And if his flair is also a way that he can peacock for Brennan, then's that's just that. — Kim

source: drtemperancebrennans.tumblr.com
4. He's Hot-Blooded
I suggested this bullet point without really thinking about what it means. Booth's hot-blooded! Check him and see. Everybody loves Foreigner, but this is their SONG.
The first time Booth and Bones dance to "Hot-Blooded" is in "Two Bodies in the Lab" when Brennan is shot at on her way to a blind date and Booth steps in as her personal bodyguard. As such, he has to come home with her. And since it's the best way to get to know anyone, he rifles through her music collection. His selection leads to a premium Booth goofball moment, but he's not being as spontaneous as it might seem. He's taking Brennan's mind off the threat that's outside her door, that's obvious. But he's also making an idiot out of himself to make her more comfortable with him there, in her inner sanctum. Booth knows Brennan values her privacy, and if he has to intrude, he's at least going to make it fun for her.
So I guess that's what I mean with this one: Booth is FUN. Sex-on-the-washing-machine fun, even. –Sage