Sarah: I don't know anything about this episode other than that it maybe involves family drama. I'm still mad at SPN for last ep's cannibal bullshit.
Dawn: This is a Kripke ep, so it's all mythos and dysfunction, all the time. Also there is likely to be some John-rage on my part. Let the angst begin.
This week's gif theme is Sleepy Hollow. Because a) why not, and b) Tom Mison.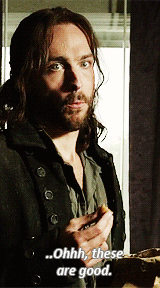 Apparently, three hot Winchesters aren't enough for us. So shall we?
Season 1, Episode 16: The Benders
Written by: Eric Kripke
The Story So Far: brothers, fathers, dysfunction, bickering, and a crazy blonde who is not to be trusted. Also, never let her make a phone call.
The ever-helpful chyron tells us we're in Chicago, IL. A slim brunette in an outfit last seen in the 90s (were the 90s retro in 2005?) walks down a dark street with both earbuds in, because this episode was directed by a dude. A guy shoulder-checks our presumably Deadshirt!RockerChick on an otherwise empty street. She continues on, listening to a guitar solo as she rounds the corner onto another dark street. When her sound suddenly cuts out, she stops in the middle of this deserted, dark street, annoyed.
Sarah:Does SPN even have a woman in the writer's room? Because I will suspend my disbelief and be all about the monsters, but shit like that is covered in Lady Street Survival 101.
Dawn: Clearly it's been a while since you've seen the idiots in heels they don't know how to walk in heading down the street. I still see this shit far, far, far too often.
Anyway, the music cuts out and the wind screams, MEREDITH, which is probably Deadshirt!RC's name, and not a subtle admission that Grey's Anatomy is popular in the demon world.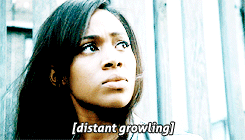 Deadshirt!Meredith keeps hearing her name called, and she tries to respond. Eventually she realizes that she's being chased by the world's creepiest talking shadow and she RUNS all the way home to her alarmed apartment, where she finally relaxes, though she probably shouldn't because this is, after all, Supernatural. While Deadshirt!Meredith checks her messages, the world's creepiest talking shadow creeps across some walls and kills her by Wolverining her shadow. There's even blood spatter on the shadow.
One week later. The boys park Baby across from Deadshirt!Meredith's building and prepare their Alias of the Week– alarm company employees, complete with costumes Dean cannot stop bitching about. Sam looks chuffed. That's really the only word for it. Dean is all freaked about the cash ("You think credit card fraud is easy?"), while Sam is pleased as punch to have a uniform to back up their sure-to-be ridic story.
Sarah: Dean just called Our Town "cute." ::grumbles::
The boys easily talk their way inside. The landlady is none too impressed with their company's services, seeing as how the system had stayed armed the entire time D!M was being torn to pieces inside her apartment. Landlady is kind of awesome in her crabbiness. She gives them a chance to look around, as they want to make sure it "never happens again." Sam is even more pleased because he isn't having to lie to make his alias work.
Once the landlady departs, Dean and Sam get to work. They chat about what Dean was able to glean from his perky, officer-of-the-law friend (Amy, who is charming and perky and a Sagittarius who loves tequila and has a tattoo, because priorities). She couldn't tell him anything they didn't already know…except for one little detail they kept out of the papers: D!M's heart was missing. Dean thinks maybe werewolf, which is a neat little tidbit to tuck away in the back of your SPN mythos file, since actual werewolves won't show up in this show until Season 2. Sam is convinced it's a spirit. This seems to spark some kind of idea in Dean's formerly tattoo-and-tequila-stuck mind, because he takes another look at the blood-spattered carpet and asks Sam to find some masking tape.
All that Sam is apparently able to find was some kind of black tape (Sarah thinks electrical tape, but Dawn thinks it tears way too easily for that), but that's fine because all the better to make a weird symbol stand out when Dean starts taping the blood spatter together. Neither of the boys have ever seen that symbol before. Nor does anyone explain how Dean knew exactly what spatter to connect to what spatter, since it didn't appear that any of them were numbered. Or why some of the spatters didn't get connected. Maybe Scary Demonbits has a special section that works like Connect the Dots. Or maybe that was a skill Dad taught his boys when they were kids. Seems very John Winchester. "Ok, boys, it's family fun night! Daddy splattered pig's blood all over the motel room wall. See how it's like a bunch of dots? Here's some tape. Make some shapes for Daddy." That's John Winchester. Putting the fun in dysfunctional.
Anyway. To the bar! (Which is probably where John was while the boys were playing Connect the Spatters. Dawn is still mad at John.)
At the bar, Dean is chatting up a very pretty bartender. That's probably an SPN Life Lesson. Been a while since we had one of those! SPN Life Lesson #34: Dean's priorities are 1) Sammy, 2)hot chicks, and 3) the case; in the event (1) being in danger, (2) & (3) mean NOTHING, along with the rest of the world and everyone in it. But as long as Sammy is ok, bring on the chicks and the weirdness.
Anyway, Priority #1 walks through the door, so Dean leaves pretty bartender behind. Sammy, Scary Demonbits in hand, is all about the research. But he also knows his brother, so he asks if Dean got anything other than her number. Dean can't resist for more than a minute before flashing a grin. And the number. Sammy responds with one of the best lines of the night:
Other than said number, Dean's come up empty. Meredith was a regular waitress with a regular life, right up until the moment she got Deadshirted. Sammy also doesn't have much — Dad's notebook has nothing resembling the symbol they found/entirely made up. They back-and-forth about the first victim, a banker, and then Sam's attention is suddenly elsewhere, to the point where he gets up without saying a word and make his way across the bar to a blond, sitting alone.
Hey there! It's Meg! From "Scarecrow!" Good old "I need to make a call can I borrow blood from your jugular" Meg. She's super, huh?
Well, Sam sure thinks so! Because he has no idea she's a darksider yet. She flashes him a super innocent a grin and acts totally surprised to see him and he falls for it. Possibly because of the big hug. He's all kinds of perplexed to discover her in Chicago when she said she'd be in Los Angeles. She has a ready story, and he buys it, eagerly. "Gosh, Sam, what are the odds we'd run into each other?" And Sammy is just smiling away. Oh, Sammy. She MAKES the odds.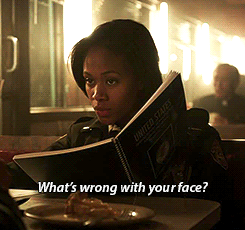 Dean clears his throat and Meg snarks at him instantly, causing Sam to have to introduce them. Meg proceeds to lights into Dean for dragging Sam around and treating him like luggage. Dean is understandably WTF and he makes his exit, presumably to go talk to a chick who actually wants him around.
Once Dean walks away, Meg "apologizes" for snarking at Dean, but is also sure to add that if she were in Sam's shoes, she'd kill Dean. YEP, SHE SURE WOULD. She oh so subtly suggests they get together while they are both in town, because she will show Sam a "hell of a time." YEP, SHE SURE WILL. This chick is dropping hints like ANVILS, ffs, but Sam is seemingly oblivious. He takes her number and we also get her last name — Masters. Meg Masters. Get to know her, kittens. She never quite becomes a series regular, but she'll be popping her infernal little head up for several seasons. She gets better, though, and eventually way more interesting. Winchester's Honor.
We leave the bar. Dean understandably wants to know who the hell that was. And hooray! Sammy is not as gullible as we thought. In fact, he thinks it's crazy weird that he'd run into Meg in Illinois. Way to go, Sam! For the record, it's because she's a crazy weird demon lady. You're welcome!
Sadly, Sam can't hear us. And also there is something more pressing at hand, because Dean is pissed. HERE COMES THE FAMILY DRAMA!! Dean asks Sam if he's being kept against his will and Sam reminds him that back in Indiana (all those episodes ago), they were having a pretty huge fight. And since that's all over now (it's never over), Sam wants to get back to the case, which he is sure is their kind of "weird." And also that Meg is their kind of weird, since he doesn't buy that her random coincidence is all that random (that's our Stamford Sammy!) So he suggests a role reversal — Dean does the research while Sam watches the hot (demon) chick. He doesn't put it that way, of course, but Dean mocks him about it anyway, with a nice call back: "Maybe you're thinkin' a little too much with your upstairs brain, huh?." But he agrees, because priorities. And off they both go to their respective duties.
A few hours later, Dean calls Sammy. He found Meg Masters in Andover — even her high school photo. So nothing useful there. But he was able to find the symbol, which is Zoroastrian magic meant to call up something called a Daeva (which sounds like Beyonce or Lady Gaga but is actually more akin to a "demonic pit bull," making it nasty in the traditional sense as opposed to the Ms Jackson sense). According to Dean's research — which included a call to one of Dad's hunter friends, it takes a major player to control a Daeva. Dean clearly thinks there's trouble a-brewing.
Dawn:Do you think the Hunters have lodge meetings where they all sit around drinking cheap whiskey and comparing notes, and instead of watching skin flicks, they watch horror movies and talk about all the things they would have done in place of the dumb teenagers in the movie? Fan ficcers, get on that for us, would you?
So. Nasty ancient demon, super dangerous to control, requires a major player. We all pretty much know that's Meg, right? Right.
And by "we all," we mean all of us but the Winchesters. Because Dean is totally trying to wingman for Sammy, who hangs up on him.
Sam is parked outside Meg's apartment, where there HAPPENS to be an open window, where she HAPPENS to be standing in front of when she HAPPENS to take off her shirt. Screw it, let's call that SPN Life Lesson #35: Demons are not subtle. (Yet.) Sam watches and is rightfully interrupted by a woman who calls him a pervert.
By the time he's recovered from his shock at being called out on behavior that is normally Dean's domain, Meg is dressed and on the street. Sam tails her to a seemingly abandoned building. He tries the door, which is locked and somehow he doesn't have his lockpick kit on him, so instead he finds an elevator shaft and begins to scale it. You know, like you do. And also it's kind of hot to watch Sam scale a metal cage (SO much better than last ep's cage, gotta say).
He climbs all the way to Meg's floor, where creepy mannequins and a lot of melty black candles abound. He watches and hears Meg's bloody phone call home, which makes it very clear that she a) is not who she claims she is and b) knows exactly who they are. Neither he nor we have any idea who she is talking to — certainly someone higher up the demonic food chain than she is, though.
Meg hangs up, as it were, and blows out the black candles. She leaves the room, which gives Sam the opportunity he needs to squeezes through the grate and get a good long look at her black altar, which comes complete with Meg's dial-a-demon bowl, all kinds of nifty brass goodies, the Daeva-controlling symbol drawn in blood, and oh look! A burnt human heart.