She's as intelligent as Dana Scully; as mission-driven as Buffy Summers; and as capable as Olivia Pope. The Jeffersonian Institute's crown jewel and the world's foremost forensic anthropologist should be as celebrated as any of those iconic characters. For the next chapter of Bones Week, we're going what we two bloggers can to right this wrong. Let's appreciate the hell out of Dr. Temperance Brennan.
It wasn't easy to keep this post to the top ten reasons that we love her. Brennan is a superhero, as far as we're concerned. Her powers are her massive intellect and heart, and fools of all kinds are her Kryptonite. As played by the absurdly underrated Emily Deschanel, she's also hard-luck case with a fierce resilient streak, funny as hell, and a somewhat unintentional bombshell. If all women on TV were written as well as Temperance Brennan, this world would be a better place. We're going to miss her always, except for those four hours a day Bones reruns air on TNT. –Sage
1. LOOK AT HER
It's not the most interesting thing about her, but Temperance Brennan is beautiful. Breathtakingly so.
Source: alexevah
It would feel wrong to talk about it if Brennan weren't so aware of it herself. We get so offended as a culture if a woman who's attractive dares acknowledge it, even if that's the basis of her career. But Brennan knows from Western beauty standards and she's well aware that she fits most of them. She's collected empirical evidence of the way people respond to her. Her beauty is a fact, and facts shouldn't be clouded with emotion. It's never occurred to Brennan to be modest about her looks, though she also doesn't want to trade in on them to the point where her accomplishments are diminished. ("I don't want to be a sexy scientist." "That's like me saying I don't want to be a sexy FBI agent. We can't change who we are.")
I marathoned Bones HARD this year, and part of what kept me going is that I never got tired of looking at Emily Deschanel. Runway models would murder for that bone structure: the high cheekbones and strong jaw that any number of master portrait painters would like to get their hands on. That shiny, chestnut-brown hair looks good in even the most dated haircuts of the Brennan canon. Her striking blue eyes sparkle with intelligence and curiosity. And she rocks lab coats and hazmat suits as hard as she rocks a cocktail dress. No wonder Booth is always already looking at her when she tries to sneak a peek.
Sometimes female characters are so stuffed, shellacked, and stifled into sex-object-as-defined-by-studio-exec territory that watching them feels like looking at beauty that's behind glass. Brennan fits the bill of the gorgeous female lead, but everything about her is so ALIVE. She's Elizabeth Bennet after she walks through the mud to be with her ill sister at the Bingleys' and gets Darcy SHOOK. She's Athena – the goddess of wisdom – wearing some hideous necklace she picked up her travels. It's that spirit that goes along with her loveliness that makes people gravitate towards her, even though she's "odd," by certain social standards. Brennan lights up a room, even when it's filled with dead bodies. –Sage
2. She's an Actual Genius
Source: becauseyoulovemebb
 Let me repeat that: Temperance Brennan is an ACTUAL genius.
When I sat down to reflect on just what has made Bones so damn special, I always came back to this point: the protagonist is a female genius, whose intellect stands unparalleled. Think about it. Mulder, with all his fancy Oxford degrees, was always on the same intellectual level as Scully. Cristina Yang is a genius ("Screw beautiful, I'm brilliant. If you want to appease me, compliment my brain!") but Grey's Anatomy was never HER story. From the very first time we see her in the pilot, Bones has always been Brennan's story, with Booth serving as the interloper/catalyst for change. So often the role of the "Difficult and Misunderstood Genius" is assigned to male characters, especially in a procedural type of show, so Bones subverts the entire genre by casting Brennan in this role. (That's not to say that Booth is stupid, because he's not. His smarts lie elsewhere, and even he acknowledges that he's ordinary standing next to her.)
Booth: It's too early for math, Bones. It's too early.
Brennan: It's never too early for math.
Sage touches on this in our next point but the most important thing about Brennan's genius is that she never apologizes for it or downplays it. Brennan RELISHES her genius. Being the smartest person in the room is a point of pride for her and she never lets anyone FORGET that she is that person. She always uses that beautiful brain of hers to her advantage, be it distracting some Men in Black with science jibber-jabber or clinging to her intellect as a shield against the high school bullies who didn't understand her curious nature or desire to find something BEYOND the insular world she found herself in. In a world where so often women are told to downplay their intelligence as to not threaten The Men, Temperance Brennan stands tall like a tower of strength and for that I am so so so grateful. — Kim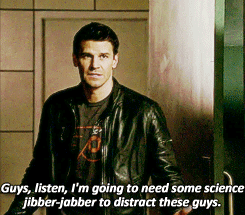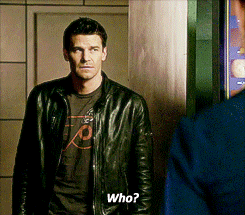 Source: booths-squints
3. She Takes Up Space
Source: becauseyoulovemebb
Nothing is more threatening to weak people than a woman who knows exactly how powerful and smart she is and is not afraid to own it. What can be confused for arrogance is trust, in Brennan's case. She trusts that her colleagues, friends, and partner can handle it and that they will accept her for who she is. And Brennan isn't just fearless and guileless with them. That's how she goes through life, and it's a damn inspiration.
To my ladies reading this: pick a day to be really conscious of how many compliments you deflect, how many times you refuse to take credit, and how many unnecessary apologies you make just for existing. Then implant this filter into your head: What Would Brennan Do? She'll say she's sorry, but never for asking someone to do their job. She expects the best out of people who work with her because she's damn sure giving hers. She doesn't let impostor syndrome make her feel unworthy of being the boss. And her Squints love her for it, because her high expectations make them better. Modesty is fine. False modesty is not, and neither is culturally mandated negative self-talk.
Booth: Hey, excuse me, you know what, you really need to learn how to speak to human beings.
Brennan: I speak six languages, two of which you've never even heard of.
Bones has stayed alive for so long because at its heart, it's about how book smarts and emotional intelligence inform and complete each other. But everyone is stronger in one of those areas. Imagine how frustrating it must be to Brennan that, though she's achieved everything she's wanted to professionally, there are people (including Booth, on their first case) who will ignore those achievements and only focus on where she falls short. When that happens, can you blame her for asserting her extraordinary brilliance?
Source: zhapata
Brennan's femininity is so significant. You couldn't gender swap this character and get the same impact. Booth is the heart and Brennan is the brains – we know this. And though rationality is often incorrectly labeled as a "male" trait, Brennan has never been painted as "one of the guys." She's proud to be a woman and never hesitates to bring up the matriarchal societies she's encountered in her globetrotting, if they're relevant to the conversation. Her life experience as a female scientist and crime novelist – fated to have to answer more interview questions about her plans to start a family than her work – is an intrinsic part of who she is.
But Brennan isn't a one-note superwoman character who's completely impervious to self-doubt. She has no fear in her professional life. The emotional obstacle that she sets up for herself is so poetically expressed in this exchange between Brennan and self-proclaimed psychic Avalon Harmonia from the Season 5 premiere, "Harbingers in a Fountain":
Avalon: No, the riddle you can't solve is how somebody can love you.
Brennan: *chuckles* Well, I'm beautiful and very intelligent.
Avalon: The answer to the question that you're afraid to say out loud is yes. He knows the truth about you. And he is dazzled by that truth.
First of all, holy shit. Secondly, Avalon helps us mere mortals to understand why Brennan takes so long to make herself completely vulnerable with Booth and how much courage it must have cost her to finally do it. –Sage