Thought I'd run out of things to say about Parks and Recreation? You thought wrong. This show is a gift, and I find something new every time I watch it.
I've been ruminating on a best-of Parks list since we found out that season seven would be the last. It's a show that has several low-key phases: the female Michael Scott era; the pre-Ben and Chris era; the Beslie build-up era, etc. I did my best to treat all those stages fairly in my rankings. I'm happy with the mix I ended up with. I tried to include an Honorable Mention or two, but ended up with an set of extra picks that was 6-episodes long and growing. So I cut it, and limited myself to a flat 15. It was a tough task, but ruthlessness is the name of the game. Or, as Leslie might say: go big, or go home.
Read on for episodes 15-8, and look out for Part 2 early next week.
15. "Pie-Mary" (Season 7, Episode 9)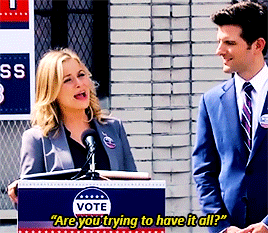 I don't know if there's ever been a piece of television that feels as specifically created for me than this one. During Ben's run for Congress, he and Leslie decide to skip a traditional bake-off between the candidates wives. Thanks to Marsha Langman and the "Male Men," their logistical call sets off a ridiculous "family values" debate, wherein Leslie's commitment to her husband and children is publicly questioned. I'm always here for it when Parks comes into a timely (and in this case, ETERNAL) political issue through a side door. Though the pie-baking competition is a piece of fiction (unless it isn't – if you've got this in your town, let me know so I can come picket it), the uproar that the Knope-Wyatt's "boycott" of it causes is too, too real. ("Can we have one conversation about feminism where the men are in charge?" – the entire Internet.) In addition to the spectacular takedowns both of our heroes give to "meninists" and the gender roles police, the Pie-Mary competition also loops in old friends and running jokes like Elise Yarktin of the Indiana Organization for Women and Ben's calzone obsession, which, in my opinion, is the real insult to the pie-making housewives of Pawnee. Stay in your Cal-zone Zone, Ben. Pies are delicious, and this is not their fault.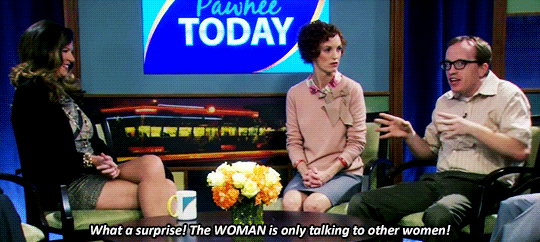 Elsewhere in the episode, Parks did what it did best in the final season, putting sentimental caps on the relationships between its characters. April has always been the cold, distant daughter Ron never had, so of course the news that she and Andy are leaving town would be hard on him. Instead of mourning her loss, Ron loops April in on one last quest – a scavenger hunt for a key that doesn't even unlock any doors. (The hunt does, however, remind everyone what a giant crush April had on Andy. Woof woof.) I remember writing in some recap or other that Ron always enjoys the doing, and solving a puzzle that offers no reward would seem pointless to so many who need a reason to get out of their chairs and engage their brains. April claims she doesn't care for feelings, but what she really hates is people who magnify theirs for attention and who pull other people into their problems. Ron is the opposite of that. He wouldn't dream of making April feel guilty for moving on.
And finally, the unsung BrOTP of Jerry Gergich and Donna Meagle get their moment. Donna notices things about her coworker that the other's don't, and she's got a big, ol' soft spot for him. And though she takes pleasure in watching him stumble through his days, she knows that Jerry's perfectly content in his small, bumbling life. And it least she takes the time to thank him for the entertainment. "You're one of a kind, Garry," is a pitch-perfect compliment for him. He's not the smartest or the strongest or the most confident or even the kindest (that honor goes to Ann, I think); to say that he is would be a lie. What he means to me as a character is that it's okay if the only superlative you can boast among your friends is that you're the biggest mess. You're still unique, and you still have value. And there are people who will recognize that, even if they don't mention it at the time.
Favorite Quote:
Leslie: You're ridiculous, and men's rights is nothing.
14. "Woman Of The Year" (Season 2, Episode 17)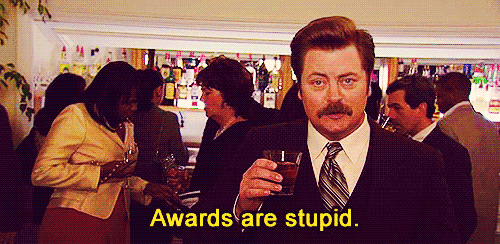 Ron and Leslie became such good pals over the course of the show that it's kind of a treat to go back and remember what an antagonistic relationship they had in the early years. Leslie was the padawan in those days; begrudgingly receiving Ron's advice on life, work, and being true to herself no matter how he chose to dish it out. In this season two episode, he can't resist tormenting her with his Dorothy Every Time Smurf Woman of the Year award, even though he thinks it's worthless. As was usually the case then, Ron isn't as right as he first assumes, which hints at the mutual mentor/mentee thing he and Leslie would get going later.
Leslie becomes much more discerning; but as a younger woman, she gives honors and traditions more value than she should. She's the ultimate sentimentalist. If something has been on her bucket list since the age of 9 (when she became a dues-paying member of the I.O.W.), then it's damn sure going to stay there and she's damn sure going to get it. ("Winning is every little girl's dream, but it's my destiny.") Before I rewatched this episode, I was primarily remembering Ron's justified dismissal of awards in general, but I'd forgotten how "Woman of the Year" also boldly calls out false feminism. The I.O.W. doesn't much care that Leslie is the actually brains and brawn behind Camp Athena; choosing a male recipient will bring them more press. The politicizing of an "ism" so near and dear to Leslie's heart is unconscionable. When she learns that the organization is more concerned with raising their own profile than doing the work that they claim to be doing, Leslie mentally snatches the membership card out of her past self's little hands. ("The I.O.W. is a bunch of sexist jerks who need to get back in the kitchen where they belong and leave the real feminist work to actual feminists like Ron Swanson. Oh my god, what is happening?")
Leslie isn't the only Pawneean with big dreams in this episode. Tom has an opportunity to buy into the Snake Hole Lounge, the town's "hottest" club. (And there's a fun Easter Egg in one of his talking heads, wherein Tom christens his imaginary future hotspot "Tom's Bistro," because "the word 'bistro' is classy as shit.") This entrepreneurial ambition leads to what is, in my opinion, the iconic Jean Ralphio scene. We'd met him once before, when he interviewed to be Ron's new assistant. But JR, we didn't truly know you until this moment:
What up, Big Teeeeeee…stop. This must be the lovely Donna. Enchanté. Listen beautiful, let's cut the bull, alright? You want this. I definitely want this. T.H. wants this. Let's seal this devil's threeway right here, right now.
Mike Schur said once that the peripheral characters in Parks were inspired by the The Simpsons stable of enemies, friends, and neighbors. And while there are dozens of Pawneeans who I'm pleased to see in every one of their cameos, Jean Ralphio is the crown prince of all of them. He's the most despicably lovable and adorably clueless; plus, his friendship with Tom gave the audience a baseline for Tom's future development as a person who could be realistic and upstanding, while not giving up his dreams of fame and fortune. There's also an interesting contrast between Jean Ralphio and Andy in this episode. Those two don't share the screen much, but we see the stark difference between their worldviews when it comes to helping a brother out. Jean Ralphio invests more in Tom's share of the club, but he also wants more out of it. (Lest he be forced to stand in the street and wait to be hit by another Lexus.) Andy gives up his aspiration of moving into his own apartment without a second thought, because his thousand dollars would be better spent making Tom happy. We live in a world where people who don't regularly act in their own self interest are assumed to be stupid. Fortunately, April doesn't buy into that. This selfless act is pretty much the last straw for her in terms of falling for her human golden retriever of a future-husband, and who among us could ever blame her?
Best Line:
Tom: Jay-Z. Rihanna. Audrina Patridge. Jon Gosselin. Lady Gaga. Snooki….
Jerry: Are these real people?
Tom: …Cash Warren. And Dennis Rodman. These are just a few of the celebrities that wish they could invest in Pawnee's hottest club. But they caaaaan't! And you can for the small price of only [echoing] $1,000. The only question is, who's gonna be my partner? [singing] Mark, I'm talking to you. Donna, I'm talking to you. Jerry, I'm talking to you. Mark, I'm talking to you….
13. "Halloween Surprise" (Season 5, Episode 5)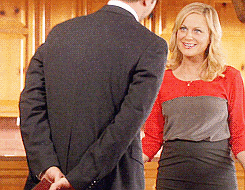 As I put my shortlist together for this post, I got frustrated with myself for picking so many "event" episodes. But hey, it's not my fault that Parks nails these milestones so hard. I didn't choose "Halloween Surprise" because Ben proposes to Leslie in the final act; I chose "Halloween Surprise" because all of Ben's character development leading up to that point made proposing the only reasonable action he could take in that moment. And it happens after Leslie's made peace with the idea of an extended separation. At least Jerry's near-death experience was good for something.
Anyway,  the Beslie relationship has been wrapped up in career, basically from day one. It was their devotion to their individual callings that first drew Ben and Leslie to each other, or rather, how both of them used their positions to better lives. (Even when Ben was cutting budgets, he was doing it in the name of saving entire towns.) They're so in tune with each other; it's usually outside circumstances that threaten their happiness bubble. In this case, it's opportunity that Leslie would never – not for a billion dates with Ann Perkins, the most beautiful woman in the world – ask Ben to turn down.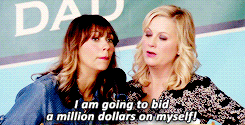 For Leslie, it's never been a question of trusting Ben. It's a question of missing, and of putting their life on hold. I love the Jen Barkley character so incredibly much – not just because Kathryn Hahn is a treasure, but because this is a couple with potential who need to be pushed. Jen eventually adopts them both; and her ruthlessness and straight-talk deserve a lot of the credit for where Leslie and Ben end up professionally by the series end.
"Leslie, you don't have to plan your future," Jerry tells her. And Jerry is the patron saint of rolling with the punches. Several characters end up facing physical manifestations of their fears in this episode; and they embrace them, like Chris does his paunchy, older self. Leslie's fear is loss of control. It's a beautiful, empty house that's waiting for life to fill it up. Ann's is her "ex" boxes lined up next to each other, and the thought that she might have let her own interests go unexplored in favor of being a good girlfriend. And Ron's is a pair of shrieking children that drive him way outside of his comfort zone but are part of the package if he wants to be with Diane. Donna's, like mine, is pesky Twitter trolls accosting her in person.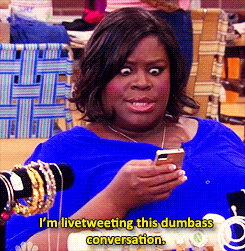 Leslie stops Ben before he can pop the question so that she can take a mental picture of a perfect moment. Those perfect moments are few, but holding on to them can offer a lot more stability than a daydream of what comes next. In conclusion, Adam Scott's face will be the death of me. Mark my words.
Favorite Line
Donna: Getcha foot outta the water, dumbass. It's BLOOD LAKE.
12. "Road Trip" (Season 3, Episode 14)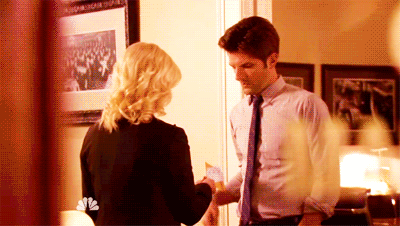 Ben and Leslie are sent by Chris on a work field trip and subsequently hit their breaking point. The sexual tension is so real, I'm sure it's about to sprout legs and start walking at any minute. Ann is a pathetic obstacle to their getting together, being more pro-Beslie than lit-rally anyone in the state of Indiana and in the dorms at Johns Hopkins University, probably. I truly hope that everyone reading has been in a situation like this, where time is perpetually in slow motion as you wait for the other shoe to drop and every innocent conversation is as stupidly electric as Leslie-min and Benjamin's on the couch in Chris's condo.
Ben and Leslie's love is as pure as can be, so I'm so pleased that we got an episode that's dedicated to how badly they're dying to jump each other's bones. We are all Ann Perkins watching the mating dance happen ("I've got an idea: why don't you ask him about his penis?"); it's gone so far that a confession is hardly necessary. But a confession we get anyway, and it happens long before the two victorious public servants sit down for their celebratory dinner. Leslie morphs into the heart-eyes emoji as she watches Ben recommend Pawnee to the Little League board. She's so used to being this town's sole champion and defender, and her love for it is a part of Leslie. It's thrilling for her to find out that this outsider sees what she sees. And if Ben can understand what's incredible and unique about Pawnee, then he must really know her. (He does.) The inevitable fireworks are delayed when Chris shows up to congratulate his dream team. But sly Ben calls Leslie in on a pointless chore later in order to make his move, and god damn, but that's a good TV kiss. Quite worth all the build up, I'd say.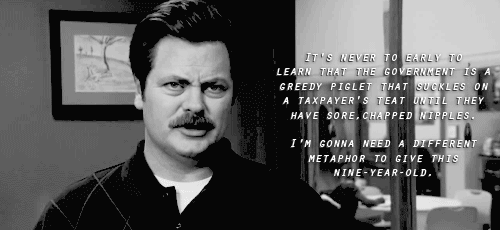 One of the episode's B-stories is a personal favorite Ron plot. A fourth grader on a City Hall field trip wanders into Ron's office in the name of a school report, and gets the full Swanson download on the futility of government. For as little as Ron thinks he cares for children, his instant and obvious fondness for this girl is so telling. ("Don't sass me, Berkus.") He talks to her like an adult; she preens at the attention. And when Ron has to backtrack his Libertarian teachings, he still assumes that Lauren will hold onto those views that they agreed upon – not because he wants to be right, but because he knows after one afternoon with this kid that she's sharper than her "cute reports," "gold stars," and patronizing teachers would like her to be. I have a lot of Berkus head canons, but most of them include her growing up to join Ron's National Park staff.
Finally, Tom challenges the office to "Know Your Boo," his new rip-off game show. Andy and April deal with newlywed growing pains and argue about Neutral Milk Hotel. The rift is so scary to April that she actually consults Ann ("I'm sorry, my instinct is to be mean to you.") and makes up with Andy via an adorably monotone cover of "In the Pit." And once again, Andy shows that he understands how to be with someone better than anybody else on this show: "Maybe April doesn't think that we're the greatest band in the world, but, man, she loves me. And I love her. So, you know, who cares?" Who cares?
Best Line:
Leslie: I'm gonna go see a man about some porcelain, you know what I mean? I'm not buying cocaine. I'm going to the bathroom. The whiz palace, as I like to call it. And I'm not calling Ann, so…