"Remember how crazy you used to be about Friends?" People ask me this, and I wonder who told them that anything's changed.
Vulture recently did a series on the 1994 TV season – possibly the last great one for network TV. And I devoured every word of it, because that was the year that signed, sealed, and delivered my soul to the television gods. I was 11 years old the first time I saw Friends, and I was long gone before the episode even ended.
Today, we celebrate the 20th anniversary of the little show that became a behemoth. The odds were against it from the start. Courteney Cox was barely a name – the other five actors, nobodies. And you thought Seinfeld was about nothing? Meet six people who hang out. And do stuff. Yet something about the show hooked itself to our insides and didn't let go. Blame it on the unforseeable chemistry among the ensemble or the sharp, yet totally accessible writing. Friends was a juggernaut and a world we wanted to live inside of. Watching the show once a week wasn't enough. We bought soundtracks and mugs and that awesome Windows 95 instructional CD-Rom. My Smelly Cat shirt was the crown jewel of my wardrobe.
I drove my entire family crazy with my wild-eyed commitment to never miss an episode. I still have VHS tapes filled with episodes that I can't bear to throw away, even though I haven't owned a VCR for five years. My grade school classmates printed in the school newspaper that in 15 years, I'd be playing Phoebe in the Friends movie. Well, the movie didn't happen and I'd hope Lisa Kudrow would be back anyway, but I appreciate the thought. Two decades later and Friends still wrote the language that I use to relate to life and people around me. ("It's like in that episode where Chandler…" has started many a conversation with someone I barely know.) The life I saw in the show and wanted for myself isn't the only reason I stay in New York City, but it is one of the reasons I came. Friends wasn't perfect, and few things worth loving with everything you've got are. We can analyze the places where it fell short without minimizing its impact, cause that's how progress works. I don't want to return to a world where network sitcoms are my only comedy options. But even if our options had been as varied then as they are now, Friends would have still risen to the top.
But you already know all this. That's why you're here. Today, on its platinum anNevadaversary (its anniVegasry), we give you our Top 10 episodes of Friends.
–Sage
10) "The One with the Prom Video" (2 x 14)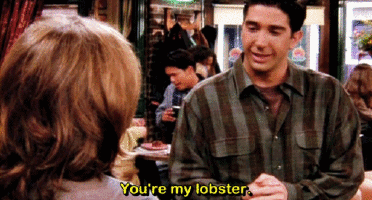 I know, I know.  "The One with the Prom Video" is one of the most iconic episodes of the series.  Ross and Rachel finally get together for good.  We meet the joy that is Fat Monica for the first time.  Chandler and Joey become bracelet buddies.  Rachel's hair is at its Rachel-iest peak.  So why is this episode, which is near the top of many other lists, ranked at number 10 for us?  Because for most of the episode, Ross is a pretty big jerk.
And that's not the Rachel/Joey shipper talking.
Don't get me wrong.  I pined for Ross and Rachel back in the day.  I was devastated by the events in "The List" (More on that later) and I longed for those two crazy kids to get their shit together.  But for someone who was supposed to be his Lobster, Ross didn't always treat Rachel right or give her enough credit for being able to make her own choices.  I do think Ross was driven by the fact that Rachel HAD fallen for him and he was so desperate to fix things between them that he often made them worse.
ROSS: I was saving you.
RACHEL: Saving, saving, saving me from the pleasant conversation with the interesting man, saving me?
ROSS: Oh, see from where I was sitting I uh. . .
RACHEL: OK, Ross, listen to me, I am not yours to save.
ROSS: But, you are.
RACHEL: What?
ROSS: Uh, uh, well you're, umm, you're my lobster.
RACHEL: OK, you know what, are, are you being like, the blind date guy again?
ROSS: No no, you're uh, you're my lobster. See um, lobsters, uhh, in the tank when, when they're old, uhh, they get with, uhh, they walk around holding the claws. In the tank, ya know, with, with the holding and. . . Uhh, Phoebs you wanna help me out with the, the whole lobster thing?
PHOEBE: Do the claws again.
ROSS: Rach. OK, forget, forget the lobsters OK. We're, let's talk, what about us?
RACHEL: Ross, there is no us, OK.
ROSS: No, but. . .
RACHEL: No, listen to me. I fell for you and I get clobbered. You then fall for me and I again, somehow, get clobbered. I'm tired of being clobbered, ya know, it's, it's just not worth it.
ROSS: Well, but, but. . .
RACHEL: NO but Ross. We are never gonna happen, OK. Accept that.
ROSS: E-except, except that what?
RACHEL: No, no, ACC-cept that.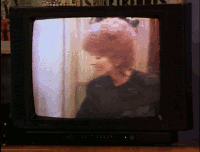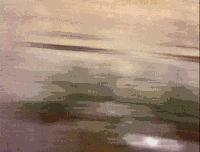 I do think the ending is justified and wonderful.  Ross had loved Rachel his entire life and the prom video made her realize that.  Whose heart didn't break for him when he turned the corner of the stairs, in his dad's tux, clutching flowers, ready to take Rachel to the prom, only to see her running off happily with Chip (who we learn later was most definitely not worth Rachel Green's love)?  I love how you see everything click on Rachel's face in that moment.  Suddenly, none of the bad things Ross has done in the past when it comes to their relationship matters to her anymore.  All she sees is a guy that was always willing to stand-up for her and love her even when she didn't see it herself. So there is nothing left to do BUT kiss him.  The kiss is both a "Thank you for loving me" kiss and it's also an affirmation that she SEES him.  She sees that she hurt him too in the past (even if she didn't realize it) and she sees that maybe they should just stop hurting each other and just BE together already.  I love the delighted screams of the audience as Rachel grabs his face and plants one on him.  I am sure those screams echoed in every home that watched the episode that night.
I think Rachel's reaction to the video is compounded by knowing that Ross couldn't bear to watch the video with the gang, instead standing by the door wallowing in his impending humiliation.  Because that's what he expected.  He expected all of them to laugh at Sad Sack Ross, rejected once again.  He's got it all wrong, of course, because he never gives his friends and his sister enough credit.  Honestly, my favorite reaction after Rachel's was Monica's "I can't believe you did that!".  Courteney delivers that line with such pride and you truly see that for all the ways he makes her crazy, Monica truly loves her big brother.
(It still doesn't make the List okay, but that's neither here or there when you're a character on a sitcom)
On to the other less complicated aspects of this episode…I wrote at length in my Monica Appreciation post about how much I loved Fat Monica.  I have to say again that it could have been very easy to make Monica a sad sack without a date to the prom.  Instead, she's joyous in her red taffeta polka dot gown ("Some girl ate Monica!"), clutching a sandwich and excited to go to the Prom with the guy who was in the paper for seeing Star Wars 317 times.  Monica is the kind of friend who will also give up going to Prom, even after Roy touched her boob while pinning on her corsage, because her best friend's date stood her up ("Oh, I'm gonna kick Chip's ass!").  Everyone needs a Monica Geller in their lives.
One of the things I love so much about the early seasons of Friends is that such a great effort was made to give every plot thread great moments.  The episode opens with Monica having to dirty talk her way through a job interview ("I think that fifth shower actually got the interview off me.") which forces her to go to her parents for money (which is how the prom video gets to the apartment in the first place) and it also has the Joey/Chandler "Bracelet Buddies" ("THAT'S WHAT THEY'LL CALL US") story.  It's a jam-packed episode.
To show the lasting impact of this episode, let me share with you what my sister gave her husband on their wedding day.  She gave him a painting of a lobster, with the inscription "To MY lobster" painted on the back.  You know…cause they mate for life.
Do the claws again.
— Kim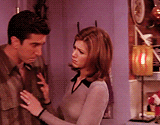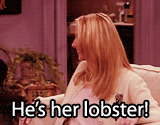 Best Line:
Joey: How come you have two?
Chandler: Well this one's for you.
Joey: Get out.
Chandler: No, I can't. No no, listen, I, I know how much this means to you and I also know that this is about more than just jewelry, [puts bracelet on Joey] it's about you and me and the fact that we're best buds.
Joey: Wow, is this friendship? I think so. Check it out, we're bracelet buddies.
Chandler: (to Rachel) That's what they'll call us!
9) "The One where They All Turn 30" (7 x 14)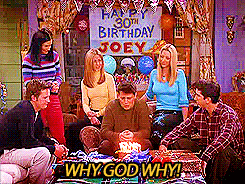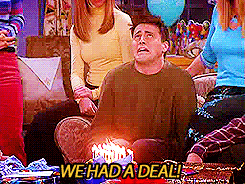 30 seemed so distant when I first saw this episode. Now I can appreciate it in a new light. "TOW They All Turn 30" is a rare non-linear episode of Friends, bringing us snapshots of all our favorite characters hitting the milestone. Some take it on the chin; some get scha-wasted; and some had already been 30 for a full year. It was fitting for a show who counted "twenty-somethings" as being one of its few defining characteristics to mark the passing of each Friend into that next decade. I thought about it a lot on my 30th, particularly between the third and fourth shot. Kim can probably clarify this for me, but I might have yelled a Joey up to the heavens. "WHY, GOD?" (Note from Kim: Yes, she did.  While singing "Walking in Memphis" at karaoke.)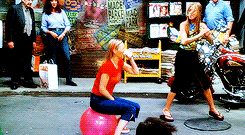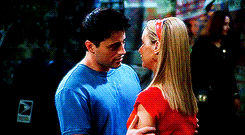 Birthdays are a son of a bitch. They inspire you to impose ultimatums on yourself, even if your life is pretty damn good to begin with. Phoebe is distraught when she learns from her cold sister Ursula that she's actually turning 31. She lost a year – a year in which she could have met some Portuguese people, went to sniper school, or had the perfect kiss. Would that we all had a hot, sweet friend like Joey to assist us in checking the one box that he can. ("Plus, uh, I'm 1/16th Portuguese.") I won't argue with Mike being The One for Phoebe (he's Paul RUDD), but honestly, wouldn't Joey have done in a pinch? (Let's talk about that hand on the back of her head, pulling her in even closer. Guh.)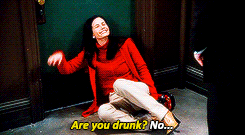 I was given a surprise party once and I spent the whole night stressing about how I wasn't dressed for pictures. So I can identify with Monica, who is woefully unprepared for the fancy 30th Chandler's thrown for her. Much like drunk Rachel Green, drunk Monica Geller is a total gem. The bus boys know it, Chandler knows it, and now the whole party knows it, cause she's not exactly hiding it well ("I'm telling you, it's like watching Bambi learn how to walk.")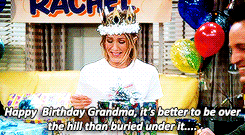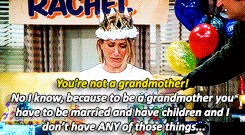 Rachel's 30th spells the end of her and her cutie assistant Tag, whose thumbs up during his scooter ride is my favorite part of the entire episode. The candles and a poorly chosen card by an oblivious Chandler send her on a spiral about her biological clock. ("All you had to do was buy the card!") Little did she know that a surprise pregnancy was coming her way soon enough. Who needs a timeline as long as condoms only work 97% of the time?
–Sage
Best Line:Tag: Ms. Green would like to establish some ground rules before she comes out. She would appreciate it if you don't use the words "old" or "downhill" or "they still look pretty damn good."
Joey: They do!
8) "The One with Chandler in a Box" (4 x 08)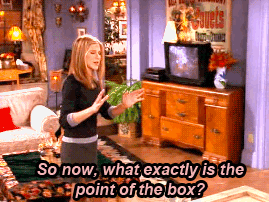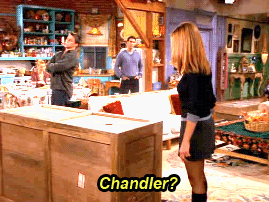 We very easily could have had nine Thanksgiving episodes on this list (Trivia Alert, the only season without a dedicated Thanksgiving episode is Season Two).  The Thanksgiving episodes of Friends became one of the cornerstones of the series and an event episode every year.  They are a big part of the reason that Thanksgiving has become my favorite Holiday because, like Monica, I cook every year for my friends.
So why "Chandler in a Box"? Let me count the ways….
1) Matthew Perry ACTUALLY spent the whole episode in the box.  I'm sure he did some real good thinking in there.
2) Cutie-cute baby Micheal Vartan as Timothy Burke.  He's so cute, I would have wanted to shove the pen in my eye too.  I have to side with the gang though…as cute as Timothy is, it's super creepy that Monica attempted to go out with Richard's son.  Thank GOD it only went as far as a really gooooooooood kiss.  However, Monica's rant to all her friends about judging her is golden.  And she DOES have a point…after all the wacky things her friends have pulled in the name of love, it IS a bit of a "throwing stones in glass houses" moment for the rest of them.
3) I love how the gang draws for Secret Santas and then immediately can't keep things secret as they try to trade-off for who they really wanted to get gifts for.
4) The Secret Santa story also wrought a great Ross and Rachel conflict as Ross discovered that Rachel had exchanged most of the gifts he had given her over the course of the relationship.  Ross and Rachel are always better when they are bickering and this argument was one of the rare times I came down on Ross' side.  I take gift-giving VERY seriously and I would be devastated to find out if the person I loved and picked the gifts out for returned them.  (Of course, this would never happen because I have a gift when it comes to picking out presents.) Ross' anger leads to some deliciously awkward moments around the dinner table…
Rachel: Ross, can you pass me the yams?
Ross: Sure! Oh, and Joey's got the mashed potatoes if you want to exchange them.
Rachel: Would you stop?! What is the matter with you?!
Monica: Oh-ho-ho, we've got company.
Ross: There's nothing the matter with me. See, I'm not completely devoid of sentiment, see I have feelings.
Rachel: Okay, fine. (She gets up and walks into her bedroom)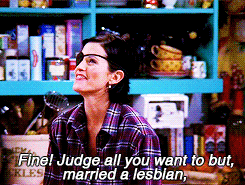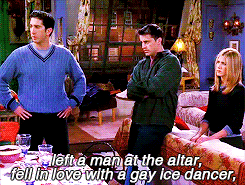 Rachel being Rachel though proves once again that Ross never gives her enough credit for being the wonderful person that she is when she storms BACK into the living room toting her memory box (She and Mindy Lahiri would get along SO WELL) filled with the sentimental mementos of their relationship.
Rachel: Don't say that I have no sentiment! (Starts to show Ross what's in the box.) This is a movie stub from our first date! This is an eggshell from the first time you made me breakfast in bed! (Holds up a bone) This is from the museum from the first time we… were together. Okay, maybe I exchange gifts sometimes, but I keep the things that matter!
Queen Rachel Green wins again.
5) The main reason we chose this episode is the Joey and Chandler conflict.  The Ultimate OTP of the show, Joey and Chandler had squabbled over mundane things like armchairs but had never faced a true threat to their friendship until they both fell for Kathy.  It was a pretty monumental moment for Chandler to kiss Joey's girlfriend and even though he did the right thing by fessing up quickly (well…after trying to bribe Joey by refurbishing their recently robbed apartment, that is), Joey had still decided to punish Chandler for 5 years ("Don't do the crime if you can't do the time").  It's incredibly upsetting to see these two best buds at odds and the audience feels a genuine sense of peril that they may not be able to get through this after Joey runs into Chandler and Kathy at Central Perk.  That is until Chandler gets in the box to prove to Joey how much he means to him.
Rachel: So now, what exactly is the point of the box?
Joey: Chandler?
Chandler: The meaning of the box is three-fold. One (holds a finger up through the air hole), it gives me the time to think about what I did. Two (holds up another finger), it proves how much I care about my friendship with Joey. And three (holds up a third finger), it hurts!
Of course, the box seems silly at first as Chandler doesn't take his punishment seriously, cracking jokes by attempting to moon the gang and knocking on the box to make it seem like someone is at the door.  However he shuts up when he realizes just how seriously Joey is taking this punishment, which is used to devastating effect when Kathy comes to take herself out of the picture.  Chandler's sad little finger waving goodbye to her is so heartbreaking and Joey, big-hearted lug that he is, finally realizes just what he is asking Chandler to give up.  His tormented "OPEN THE BOX" makes my heart soar every time.  And because he tries to maintain his cool guy facade, he plays off his reaction as his Secret Santa gift to Chandler.  But we all really know why Joey lets Chandler out of the box.  Because he wants HIS lobster to be happy.
— Kim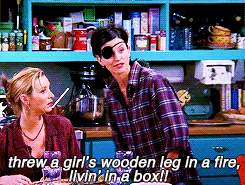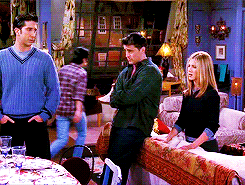 Best Line:
Ross: He's coming here for Thanksgiving!?
Rachel: I know, it's sick.
Monica: Why is it sick?
Rachel: Because it's Richard's son! It's like inviting Greek tragedy over for dinner!
Monica: Okay, if it were Greek, I'd be blind in both eyes. Come on! I like him because he's handsome and he's nice and he's smart and…handsome. Come on, Phoebe, you understand don't you?
Phoebe: Yeah, I can see where I'd be your best shot but, no. I'm sorry, but I think it's twisted.
7) "The One Hundreth" (aka "The One where Phoebe Give Birth") (5 x 03)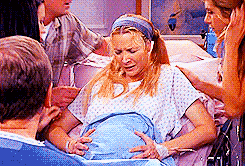 This is the episode that locked down the Emmy for Lisa Kudrow. See? There used to be some justice at that ceremony.
The show celebrated its hundredth episode (in season five, because network schedules are insaaaaane) with Phoebe giving birth to Frank and Alice's triplets. We got a lot of mileage out of Phoebe being pregnant with her brother's kids. ("I am so going to miss watching you freak people out like that.") But her choice to do this for the family she worked so hard to find embodies everything that's wonderful about Phoebe Buffay. She's capable of great selflessness, and she doesn't give a damn about what anybody thinks.
Before our hearts are ripped – still beating – out of our chests, there's some really funny stuff in this episode. Phoebe's actual doctor fell in the shower ("Oh my god, she's so stupid!") and her replacement has an interesting obsession. ("I'll be back in a minute to do your internal, in the meantime, just relax because everything here looks great. And also, I love Fonzie.") Joey ends up upstairs, holding Ross's hand, and giving birth to kidney stones. ("They're so small!") Frank Jr. is nervous and endearing, as usual. And Chandler and Monica are forced to define whatever it is that they're doing when Rachel procures her and Mon a date with some cute nurses. It takes Chandler a while to realize that he can't screw up with Monica like he has with other girls. She knows him too well, and his awkward mis-steps are insignificant to her compared to his good intentions. It kills me to watch him realize it. You can actually pinpoint the moment he stops holding his breath.
Chandler: So, are you really gonna go out with that nurse man?
Monica: Well uh, you and I are just goofing around, I thought, why not goof around with him.
Chandler: Y'know, I don't know if you've ever looked up the term goofing around in the dictionary… Well, I have, and the technical definition is, two friends who care a lot about each other and have amazing sex and just wanna spend more time together. But if you have this new fangled dictionary that gets you mad at me, then we have to, y'know, get you my original dictionary. I am so bad at this.
Monica: I think you're better than you think you are.
Chandler: Really? Okay, so-
Monica: Know when to stop.
Phoebe is a friggin' titanic spirit – she's so, so strong. But still, her resolve wavers when the end of this grand experiment is in sight. She really is going to have to hand over these babies…unless she has some success with her crackpot, last-minute plan. ("I want to keep one." "Ohhhh, I'm gonna be on the news…") Of course the babies go home with Frank and Alice, who are elated (and making out in the waiting room, natch), and Phoebe deals with her heartbreak like she always does…by looking on the bright side. Frank and Alice have their children, she's an aunt to three beautiful babies, and everything's gonna be cool. The Fonz would be proud.
–Sage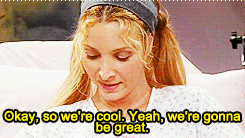 Best Line:
Phoebe: So, here you are. It seems like yesterday I was talking to you in that little petri dish. Everyone said labor was the hardest thing I'd ever have to do, but they were wrong, this is. Oh, I had the most fun with you guys! I wish I could take you home and see you everyday. Okay, I'll settle for being your favorite aunt. I know Alice's sister has a pool, but you lived in me. Okay, so we're cool. Yeah, we're gonna be great. Little high fives! (Imitates the high fives.) Ahh! Ahh! Ahh! (One of the babies begins to cry.) Well, if you're gonna cry…