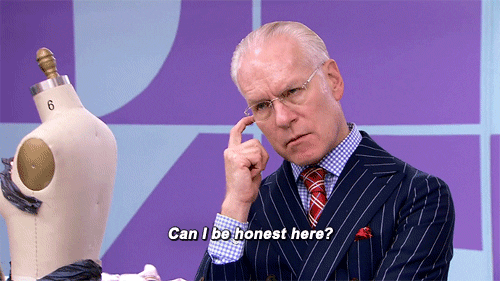 We couldn't let awards season come to a close without Maggie offering her final thoughts and dress rankings.  Who won Awards Season 2015?  What were the best and worst looks? Take it away, Maggie! –Kim
MVP: LUPITA NYONG'O
This was an interesting awards season with strong contenders but just about everyone whiffed it somewhere except for LUPITA, queen of the red carpet and my heart. Lupita brought it hard every time, just to present — no nomination, no one particular project to promote. I couldn't have blamed her for phoning it in this go round, but that's not our girl's style. No one works color like Lupita does, from the burst of purple at the Golden Globes to the insane technicolor dream gown at the SAG Awards. But she doesn't need color for a wow moment, as proven with her sleek, rich pearled white gown at the Oscars. She has an innate sense of what works well on her, yet her looks never feel safe. Truly, Lupita is in a class of her own. She's my clear winner for Overall Best Makeup of the season and how does any one person look as good as she does on stage in eyeglasses? It hardly seems fair, except that she comes across as such a genuinely nice person who's worked hard, and is grateful, for her success. Congrats, Lupita. We can't wait to see you again next year.
TOP FIVE LADIES
1) Rosamund Pike, Oscars
It was a rocky debut season for this Hitchcockian blonde, but she brought it when it counted. Unlike some of the other looks we've seen from her, this gown (finally) did her justice. Stunning shade of red. Perfectly fitted corset. Gorgeous neckline. She has class for days, yet that slit serves as a subtle reminder that mothers gets to be sexy too. There was no one better suited to shatter the cool girl ideal, and no one better suited to this dress. As Sage put it, she finally looked like a contender.
2) Julianne Moore, SAG Awards
I think we can all agree with Kim that Julianne should have saved this gown for Oscar. It is perfection on her. I die for this shade of green with her complexion and ginger hair. And the beading. Seriously, the BEADING. She's a red carpet mermaid here, and honestly that is the highest compliment from me. I think her hair looks lovely, although a simple updo would have worked just as well, and I just love the purple earrings, they were such an interesting complement.
3) Reese Witherspoon, SAG Awards
I think Reese went into this season knowing she wasn't going to be the big winner, but determined to do right by Wild. She somehow managed to bring her A game while sticking to mainly subtle whites and silvers (don't worry, we'll get to that amazing purple BAFTA gown further down) so as not to pull too much focus. This is another classy, yet decidedly sexy look. It's fitted like a dream. I love a one shoulder, and the cap sleeve pulled the whole look together for me. And I mean, she wore a sassy ponytail. I can't resist a sassy pony.
4) Tatiana Maslany, SAG Awards

I'm not much of a pusher, but I will Ms. Norbury the crap out of you if you haven't watched Orphan Black yet. Tatiana slays every episode and some recognition is overdue. Sadly, Tatiana only had one outing this awards season but she made it fucking count. I am insane for this look, head to toe. I repeat, I can't resist a sassy pony. Earrings? Amazing. Red lip? Perfection. And this black and white striped gown seriously renders me speechless. It is just. It's everything.
5) Jessica Chastain, Golden Globes
You cannot deny the sheer impact of this look. I think everyone watching the Golden Globes red carpet sat up a little straighter upon first seeing Jessica in this gown. This is a moment. The bronze color. The old Hollywood glam. The fit. Everything about this just works, including her ginger locks over one shoulder. It's definitely one of the more memorable looks of the season and the more I look at her, the more I love her.
WORST FIVE LADIES

1) Rosamund Pike, Golden Globes
When we first thought of doing a red carpet wrap-up post, I had no idea that my number one best look and number one worst look would be from the same person, but here we are. Now, I love Rosamund Pike, she is so talented — and beautiful. I thought she could pull off just about anything, although I was worried she would go too edgy on the red carpet. And, well. I just still can't believe Vera Wang did this to her. This was the first major look of the first red carpet of the awards season and it remains one of the most significant bummers of my life. Nothing works here. Nothing.
2) Amanda Peet, SAG Awards
I look at this and all I can think is that I hate so much about the things that you choose to be. Why, Amanda? You seem like the loveliest person, why do you insist on doing this to yourself?
3) Julianna Margulies, SAG Awards
I don't understand how Julianna left the house like this without a get-a-grip friend stopping her. The hair is… unfortunate. (She's the clear winner for Overall Worst Hair of the season, especially when you take into account her hair at the Golden Globes was equally as… unfortunate.) The color is beautiful! But the gown is horrible. The shoes don't even work. This look is a mess, start to finish.
4) Marion Cotillard, Oscars
I don't really understand this look. Is this just too high fashion for an awards show red carpet? I mean, I love a polka dot as much as the next girl, but this texture-y pattern is not working for me. From the front, it's kind of okay if you squint, but you look at her waist, you can tell something's not right. And then this just… swath of fabric for no discernible reason. I just don't get it.
5) Kerry Washington, Golden Globes
I've said it before and I will say it again: Star Trek Prom.
THE MEN
I'm sorry it hasn't exactly been raining men in these posts, you guys, but let's be honest. Even when men on the red carpet are exciting, they're still pretty boring.
Some of my favorites from this year are Jared Leto and Common, who managed to mix it up a little and have personality without going too far off the deep end. I mean, admit it: even Jared's Oscar look pretty much worked on him, right?
I think the absolute worst of the season was probably John Travolta at the Oscars. Actually, I don't know how I managed to forget this creepy vampire in the Oscars post, but maybe it's better if we block it out entirely.
SUPERLATIVES

Ladies Supporting Ladies
GIRL POWER!
The support and mutual admiration among this group of Best Actress nominees really made this awards season special. If you haven't watched Julianne's acceptance speech at the Critics Choice Awards, you need to. Immediately. And just as a bonus, that picture from the nominees luncheon makes my life.
Boss Bitch
ScarJo won the season in one fell swoop at the Oscars, that's all there is to it. I repeat, when are we getting our Black Widow movie??
Best Brit
Eddie Redmayne. The season wouldn't have been the same without this saucy little minx mixing it up with velvets and blues.
"Like any great love, she keeps you guessing…"
Emma Stone. She went unexpected every time. I was dead wrong about what kind of look she would go for at each and every red carpet. From pants to a blazer/sheer skirt combo to a 30s inspired Chartreuse (did we decide on Chartreuse?) long-sleeved gown, she kept it interesting and kept me guessing.
VICTORY IN OUR TIME

God bless every A-lister who rebelled against the dreaded mani cam at the SAG Awards, because it was thankfully absent from the Oscar red carpet. Maybe check out the #askhermore campaign instead of forcing stars to "walk" a tiny red carpet for their manicures, E!.