We've named our Top 20 moments of 2014 (re-live those moments here and here) and now it's time to turn our eyes to our favorite individual performances of the year. As usual, we make the disclaimer that we are but two modest bloggers and cannot see everything, so try not to get too worked up if your favorite isn't here. Still, we live for nothing if not to celebrate great work when we see it. Help us do that, won't you?
1) Julianne Nicholson – Masters of Sex
Guys, I don't understand why EVERYONE isn't talking about Masters of Sex.   I'm still in the midst of watching season two (I watch it on my iPad at the gym, which must make for amazing over the shoulder watching for whoever is on the machine next to me.)  While Michael Sheen and Lizzy Caplan's performances carry the bulk of the weight, Masters is incredibly rich in its supporting and recurring characters.  I love Julianne Nicholson's Lillian DePaul because she is the anti-Virginia.  Where Virginia is warm and emotive, Lillian is awkward and tenacious and to the point.  Lillian is abrasive and seems to always be clawing her way up, believing her intelligence should stand on its own, whereas Virginia smoothly slides herself into the places she needs to be, unafraid to use her feminine wiles.  These women are two sides of the same coin, which is why they gravitate towards each other (even if Lillian does it kicking and screaming).  Obviously, the relationship between Virginia and Bill is the driving force of the show, but the unsung relationship of the show is Lillian and Virginia and what these two women learn from each other.  Virginia helps soften Lillian and teaches her that sometimes intelligence and passion isn't enough to get you where you want to be, while Lillian, in her incredibly rigid way, teaches Virginia to expect MORE from herself and respect her own intelligence.  It's a fascinating relationship and I love how Lillian isn't afraid to call Virginia out for the way the affair with Bill is offensive to her.
"Don't you understand what you've done makes it harder for every woman who comes after you?  Easier for every man that has designs on that same woman?"
The best friendships are the ones where one is not afraid to call the other out.  "Giants" is a spectacular episode for that very reason, as Lillian and Virginia end up screaming at each other in her office.  Neither is in the right, as Lillian disregards Virginia's emotions, while Virginia refuses to admit that she is doing anything WRONG. ("We're participating in the study" is the LAMEST excuse ever.)  It's the kind of fight that would end a weaker friendship.  But when Lillian's cancer flares up at the end of the episode and she passes out, who does she call?  Virginia. ("I am scared though, for what's ahead, which means I can't really afford to be upset with you now, can I?") And Virginia comes because her friend needs her. FRIENDSHIP.
Don't even get me started on when Virginia tucks Lillian into bed and kisses her forehead like one of her children.  The pain is too real right now.
Nicholson is so wonderful in the role because she allows you to see the woman behind Lillian's brittle exterior.  It could have easily been a one-note character, but instead you see a woman terrified that she is losing the one thing she has always counted on and the only thing about herself she's always prized: her mind.  Lillian has so many wonderful unexpected moments, like when she pulls a bottle of liquor out of her desk to have a post-work drink with Austin or when she slyly refuses to outright apologize to Virginia after their fight (acknowledging the non-apology IS the apology).  Given her character's diagnosis, I always knew Julianne's time on the show was limited…but that doesn't mean I didn't sob like a baby when Lillian died.  Because she did it on her own terms, blazing her path on her own, like she had always done.  HERO.
— Kim
2) John Barrowman – Arrow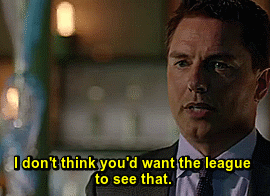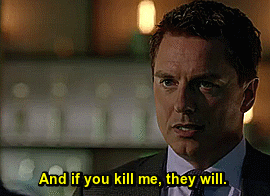 You all know that John Barrowman can do no wrong in our eyes and we love Arrow for bringing him back to our television screens on a regular basis.  There is little to nothing redeeming about Malcolm Merlyn.  He's a ruthless business man and an even more ruthless assassin.  His only loyalty is to himself.  Just when you think there might be hope for him in the form of love for his daughter, he turns around and drugs Thea, forcing her to murder Sara (with no memory of doing so) for some reason I'm STILL not entirely sure of other than fridging one female character whilst taking away the other's agency. (Seriously, writers.  This is supposed to one of the most pro-lady shows on TV and you are failing this gender.)  It takes an actor with an innate sense of over-the-top theatricality to make all of these dastardly deeds seem grounded and realistic.  Luckily, John Barrowman has that in spades.  What elevates Barrowman's performance is the fact that you can SEE how much fun he is having bringing this bastard to life.  He chews all the scenery with a fervor usually reserved for meals at five-star restaurants.  It's nothing short of delightful.
— Kim
3) Jenna Coleman – Doctor Who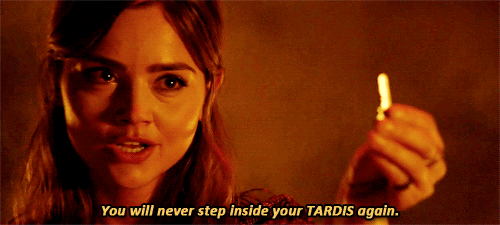 2014: The Year of Clara Oswald.
Before Series 8 premiered, I was very lukewarm on Clara as a character.  This is not a slam against Jenna Coleman at all…she's always been wonderful on the show, she was just saddled with bad writing and being reduced to a plot device.  Clara was a cipher, a puzzle for The Doctor to figure out, which did not do much for her in terms of a personality.  She showed flashes of who she was outside of being "The Impossible Girl" in "The Day of the Doctor" but that was lost in "The Time of the Doctor".  Then Matt Smith regenerated into Peter Capaldi and EVERYTHING changed.  In the wake of having the Doctor go through an identity crisis, Clara's personality solidified and what emerged was WONDERFUL.  Clara became a Type-A control freak who desperately wanted to "have it all" in her life.  Gone were the days of her being a nanny (really…what was that?) and she blossomed in her position as an English Teacher.  She moved past her hero-worship of The Doctor and became unafraid to push his buttons and call him out on his shit.  She demanded more of him because she KNEW the type of man he was capable of being and she did not accept him being any less.  She fell in love but refused to compromise herself or bend to Danny Pink's demands of the relationship.  She is passionate, she is self-assured, she is empathetic, and she is ruthless.  She is devoted to The Doctor to a fault and she's addicted to the life that he has shown her though their travels.  She is incredibly difficult and complex.  She's not an easy woman content with simple pleasures, and I love her all the more for it.
With better material, Jenna emerged as a brilliant actress who was capable of bringing incredible pathos to Doctor Who.  In Peter Capaldi, she got a scene partner who pushed her to bring her A-Game every episode…and she did.  Their chemistry is electric and unexpected and thoroughly watchable (and shippable WHOOPS).  If you had asked me a year ago if I was ready for Clara to move on, I would have probably said yes.  Now?  I screamed with joy and almost flailed off my bed when she was confirmed for Series 9.  Don't ever leave me, Jenna.
— Kim
4) Jesse L. Martin – The Flash
I'm still grappling with the notion that Jesse Martin can play a character with an adult child. For heaven's sake, who's holding down the anarchist movement at MIT??
Regardless. With Coach Taylor out of the game, Jesse's Detective Joe West is the best dad on TV right now. Built on the sturdy base of Arrow, The Flash hit the ground running (hee) this year. The series boasts quality writing and very un-cheesy effects. But The Flash's ace in the hole? Its superhero casting. Grant Gustin is a find – heroic and unequivocally good, but without laying on the "gee, whiz" routine. I love the ingenuity of casting erstwhile nice guy Tom Cavanagh as the ambiguously unsavory Dr. Wells. And then, there's Jesse. He's just so WARM, you guys. I want him to bear-hug me into a coma.
I'm a sucker for a father/son relationship, especially a non-traditional one. And with Barry Allen's biological dad (heeeeeey Mitch Leery) taking the rap for his wife's murder, it's Joe who's held that position for most of Barry's life. Like its sister show, The Flash wins at humanizing its heroes by focusing on the people who build them up and give them a reason to do what they do. In Joe, Barry has a boss, an ally, a possible future in-law, and the family he needs to keep on being that light. He's the guy behind the guy.
When you first moved in with us, I thought it was going to be too much. I was already a single dad, finances were tough and you were a little boy who just lost his mother. But, man, I was wrong. Within two weeks you changed the whole dynamic of the house. Suddenly the house was filled with this light, this energy. I mean, you brightened up everything. You've seen more darkness than any man will in a lifetime and you never let it dim your soul. So there I was thinking that I'm changing your life by taking you in, but the truth is, you changed mine. So don't lose that light, now, Bar. The world may need The Flash, but I need my Barry Allen. Let's go home.
I think there's something in my eye…
–Sage
5) Rosamund Pike – Gone Girl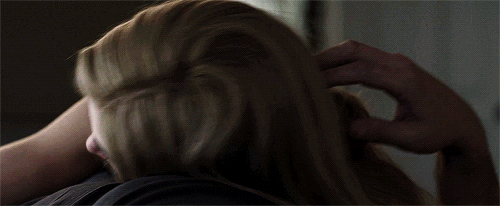 While everyone hemmed and hawed over the casting of Ben Affleck, Rosamund Pike situated herself comfortably in the title role of this whole nasty business. (Also, Ben Affleck is an actor. He's going to do movies. You may as well get used to it.) And she nailed it. Amy Dunne is a Hitchcock blond on Adderall. She's cunning, merciless, vulnerable, and utterly insane. She scared the bejesus out of me. But because she also did that to every man in America, I root for her. Just a little bit.
–Sage
6) Eddie Redmayne – The Theory of Everything
The only thing I can compare Eddie Redmayne's performance in The Theory of Everything to is Daniel Day-Lewis in My Left Foot.  Both are extraordinary PHYSICAL performances that could easily feel gimmicky or like a blatant awards grab…but they are so rooted in the humanity of the men that they are portraying that they feel nothing but completely natural.  The difference in the performances is that Christy Brown was BORN with cerebral palsy, while Stephen Hawking went through a gradual decline thanks to ALS.  This gives Redmayne the opportunity to also grapple with the incredible struggle of being a healthy and brilliant young man being crippled by a horrible disease.  It's a daunting challenge for any actor and Eddie Redmayne immerses himself in the challenge fully. The result is extraordinary. Physically, I don't know how Eddie managed to contort his body for hours at a time…just looking at that gif makes my neck hurt.  The best part is how, despite the deterioration of his body, Eddie always keeps Hawking's MIND alive.  It's an incredibly aware and alive performance.  The wheels never stop turning, his eyes never lose the sly twinkle, even after he is no longer able to use his voice.  That's right. In the final act of the movie, Hawking loses his ability to speak, leaving Eddie Redmayne with only his FACE to convey all the things going on in Stephen's mind.  It's mind-boggling.
— Kim