The time has come! Welcome to the prestigious (in our opinion) Feelies award ceremony, where we announce the winners of our second annual reader poll! Voting opened last Monday for several categories in TV drama and comedy. (You can check out the nominee post here.) The competition has been fierce, especially where our nominees' official social media accounts got involved (what up, Jane the Virgin?!), and, in some cases, the leaderboards have been constantly changing. But in the end, each race could only have one winner. We're proud to bring you those winners today.
The Feelies go to….
Best Comedy Series
The nominees were: Broad City, Jane the Virgin, The Mindy Project, Parks and Recreation, Selfie, and The Unbreakable Kimmy Schmidt
THE WINNER IS: Jane the Virgin
Kim: Much like last year's winner (and this year's runner-up) Parks and Recreation, Jane the Virgin is a comedy that is driven by its heart.  On paper, the premise is a little ridiculous (a virgin is accidentally inseminated when going in for her annual check-up) but Jane the Virgin is so much more than its telenovela roots.  At its core, Jane the Virgin is about family, both the family we are born with and the family we choose. It's about three generations of women being there for each other no matter what. It's about love. It's about the eternal struggle of balancing reality and dreams (I FEEL you and your writer dreams, Jane!). It's about the choices we make and how they define us. It's the most delightful show I've watched in a long time and I am so proud that it won.
What makes Jane the Virgin so special is the way it deftly balances the comedy and the drama.  It plays with telenovela stereotypes and fully commits to every outrageous twist and turn. It gives you the giant romantic gestures we all want to see on TV (who DOESN'T swoon when Rafael and Jane finally kiss?) and then turns around and drops truth bombs everywhere (the Immigration issues with Alba).   The show is peppered with fantastical elements like posters of Rogelio coming to life and talking to you. And yet the outlandish is always grounded in the reality of Jane's journey.  There is not a weak link among the ensemble.  The writing is the definition of sharp.  Every character is fully realized…and has been from the very first episode.  This is clearly a show whose team knows what they are doing.
It would be so easy to make fun of Jane's choice to save herself for marriage or to make her insufferably sanctimonious about it.  The show does neither. I love how the show doesn't judge any of its characters.  They are just who they are and no one makes apologies for it. Jane struggles with her choices on a daily basis and that's what makes her so REAL.  That's really the best word to describe this crazy little telenovela that should have never translated to American audiences. REAL. That's why it's connected with audiences.  All the female empowerment and pretty men are just a bonus.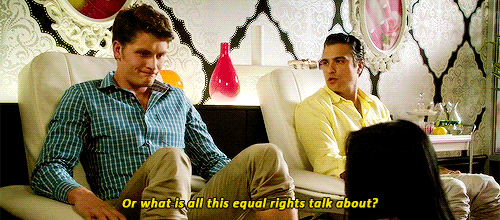 Best Drama Series
The nominees were: Agent Carter, Broadchurch, Doctor Who, The Flash, Mad Men, and Masters of Sex
THE WINNER IS: Agent Carter
Sage: Everybody say, "Heeeey, Miss Carter…"
The voters have spoken, and they know Agent Carter's value. In eight short episodes, this freshmen Marvel series courted a devoted fanbase with tight plotting, dope period costuming, elegant ass-kickings, and true emotional beats. Peggy Carter isn't an Avenger. There isn't a SHIELD to speak of yet. But her story is one worth telling. Why? Because she says so.
As we reported in our SDCC posts, Agent Carter was being repped all over San Diego this July. Red fedoras were the headwear of choice. Peggy fan art was selling out all over the place. And any mention of the show received more enthusiastic Ballroom 20 cheers than its panel mate, Agents of SHIELD. The love that Agent Carter has engendered is passionate. Because this is what the people want: Hayley Atwell's holy light, sexual tension that knows no gender, and the most feminist piece of art in Marvel's collection.
Best Actress in a Comedy
The nominees were: Karen Gillan (Selfie), Ilana Glazer (Broad City), Mindy Kaling (The Mindy Project), Ellie Kemper (The Unbreakable Kimmy Schmidt), Amy Poehler (Parks and Recreation), and Gina Rodriguez (Jane the Virgin)
THE WINNER IS: Gina Rodriguez, Jane the Virgin
Kim: What a GIFT Gina Rodriguez is. She's so refreshingly pure in her performance as Jane.  She just IS Jane.  We don't see any seams in her performance.  It's rare to see an actress know her character so thoroughly from the VERY START of a series and that's what Gina Rodriguez did this season. It's one of the most honest performances I've ever seen and I can't WAIT to see what else she is capable of doing.
What's amazing about Gina is her ability to deftly switch between the comedy and drama of Jane the Virgin without skipping a beat.  She's not afraid to fully commit to her performance and that's WHY everything about the show works. Because while the circumstances may seem ridiculous to US, they are not ridiculous to Gina (and therefore Jane), so we the audience is willing to go on the journey with her. Plus, girlfriend can cry on command and do it BEAUTIFULLY. Teach me your secrets, you wizard.
Like Peggy Carter, Jane Gloriana Villanueva is a character we NEED on TV right now.  She's just so GOOD but not insufferably so.  She believes in herself and she always wants to see the good in others. She dreams of being more than she is and she struggles with her sense of responsibility.  She's devoted to her family. She demands the best out of those around her.  She's both sass and compassion.  She's sunshine and rainbows.  She's a character that you root for and a character you truly want to find happiness and success. Basically, she's perfect.
Best Actress in a Drama
The nominees were: Hayley Atwell (Agent Carter), Caitriona Balfe (Outlander), Lizzy Caplan (Masters of Sex), Jenna Coleman (Doctor Who), Olivia Colman (Broadchurch), Eva Green (Penny Dreadful), and Tatiana Maslany (Orphan Black)
THE WINNER IS: Caitriona Balfe, Outlander
Sage: Following in the footsteps of last year's winner (and this year's runner-up) Tatiana Maslany, Cait Balfe is another brunette force of nature. Outlander itself is technically genre, but it doesn't really feel like it. That's because its leading lady (and man, we're getting there!) deliver the material that they're given with all the ferocity and gravity that they'd offer to the most A-list, Oscar-bait costume drama. The time travel conceit is almost beside the point; there's so much else to know about nobility, commitment, and survival.
Cait is everything that she needs to be. And that's a lot, since Outlander is essentially her story. She meets Claire's challenges with courage when necessary and humor when it suits her. Claire stands up for herself and for the downtrodden, but still listens and respects her place as a newcomer to this culture and this time. There are "strong women," composed entirely of sassy comebacks and barely concealed damseling, and then there are just women, who deal as best as they can with the shit they're given and enjoy some good 17th-century castle oral every once in a while.
So thank you, Sassenach, for being at the forefront of one of TV most pro-lady shows. While I'm sure the paychecks and those love scenes with your costar are reward enough for your efforts, now you've got a Feelie to go along with them.