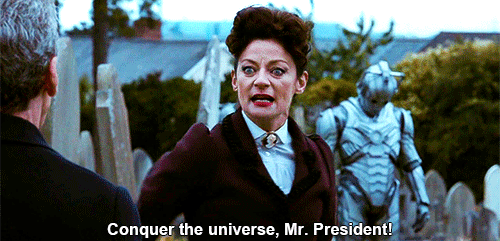 Series 8, Episode 12
Death in Heaven
Posted by Sage
Pain is a gift. Fear is a superpower. And the only man you'd possibly want in charge of all the world's armies is an idiot.
I watched "Death in Heaven" on a bed full of friends in my hotel room at L.I. Who, with a sippy cup full of wine in my hand and Paul McGann, Colin Baker, Nicola Bryant and other Doctor Who royalty just a few doors down the hall. And no matter their content, I almost always enjoy the episodes I watch in company more than those I watch alone. This is a series that's meant to be shared. So, kindly indulge my rosy take on things and blame it on the 3-day Whovian love-in.
I'm not alone in my feelings. After the episode, we booked it downstairs to an instant reaction panel moderated by our girl Deb Stanish (and almost got kicked out, but that's a story for another post) and the response from our fellow fans was pretty positive, across the board. Maybe it's because Moffat was working with an established villain, but the series 8 finale buttoned up story in a way his past season-enders have not. There are ends that remain untied, but time will tell which are continuing mysteries and which are plot holes, cheerfully skipped right over. Obviously, we're all hoping for more of the former.
After the show totally went there with Danny Pink and revealed Missy as the Master, the time came to reveal her devious bat-ass-shit-crazy-as-frick plan. And in the TARDIS team (and friends) response to that threat, all the questions swirling around this series joined hands and formed a giant chain of THEME. Is this regeneration a good man? What does being a soldier tell you about a person? What doesn't it tell you? Why are we so obsessed with the concept of an after-life? Why do people without a clue continue to call this a kids' show?
We've been teased with visions of the Nethersphere all season. (And wondered right here on this blog why only people who gave their lives for the Doctor or to ensure his eventual victory seemed to end up there.) Now we know that this place is actually a data cloud of consciousness – "hell" to some, "the promised land" to others. Missy has been traveling (presumably since John Simm's Master dusted himself off after "The End of TIme") back and forth along the Doctor's timeline, "saving" unwitting accomplices to her Cyberarmy. ("Bit of an upgrade.") She preys on vanity, on fear of death, and on sacrifice. While the Doctor is constantly chasing opportunities for humans to surprise him, the Master uses what she knows of humanity against us. She's good.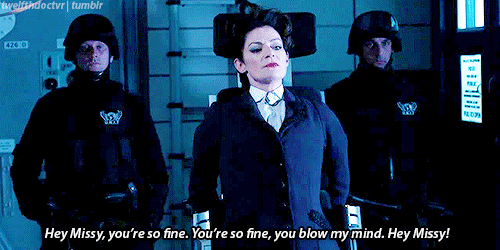 But why, the Doctor keeps asking. Why, why, why? He needs motive. Motive is usually his way in. Most of the villainous species he runs up against are trying to survive, to protect, to grow. But The Master? The Master only ever thinks of the Doctor. ("I need you to know we're not so different. I need my friend back.") She has no other motive. Not money, not power. Her plans are always designed to draw the Doctor in, which makes them difficult to avoid and impossible to predict. I wrote in my "Into the Dalek" recap that if anything, the Doctor defines himself by what he is not. And every one of his personal codes is tested when he runs into his childhood friend. Because, on the other hand, the Master is the only creature in this dimension who also knows what it's like to feel the turn of the Earth.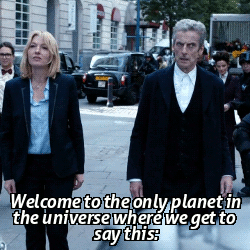 Missy had to have foreseen UNIT's getting involved in this whole global Cyberman takeover, though I'm not sure that she anticipated the President of the Earth business. Me? I'm just happy to see lady Earth defenders extraordinaire Kate Lethbridge-Stewart and Osgood swoop in for their first (and in SOME horrible cases, last) adventure with Twelve. Ingrid Oliver remains adorable, especially since Osgood has traded her multi-colored scarf for a new, more streamlined accessory.
Osgood's death hurt like hell. I'd never pretend otherwise. She represented the fan girl in all of us and we could have used her clear-headed assistance a few dozen more times. Some audience response has decried her death as pointless and cruel. Well…yeah. Isn't that just the Master's way? I do believe that's the point – that she didn't go out in a blaze of glory, and that Missy didn't need to kill her to advance her scheme. "Why does one pop a balloon?" Missy asks her. "Because you're pretty." One might also pop a balloon to ruin a child's day. The Master sees the Doctor's companions as his distractions – his playthings. And she's forever jealous of them. Osgood died because the Doctor admired her, and we have yet another TARDIS pair that could have been but never was.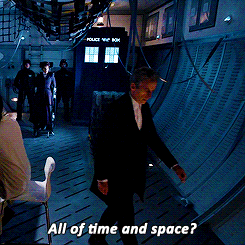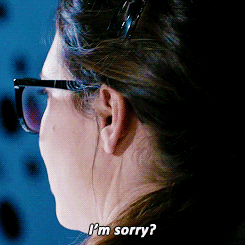 Frankly, it's the
only
item on my bucket list, Doctor. Anyway, Osgood's death is quick and dirty because the real linchpin of Missy's operation is Miss Clara Oswald. Moffat knew
his
"master" plan (rimshot please) at least as early as series 7B. Missy was the "woman in the shop" who gave Clara the Doctor's number in "The Bells of St. John" and the "needy ego-maniacal game player" who placed the "Impossible Girl" advertisement in the newspaper in "Deep Breath." Since she's been stomping all over the Doctor's timeline, isn't it possible that Missy saw several shades of that impossible girl along the way? She hand-picked Clara for this job, just like The Moment hand-picked Rose Tyler as its interface. This was the one who would lead the Doctor right where Missy wanted him.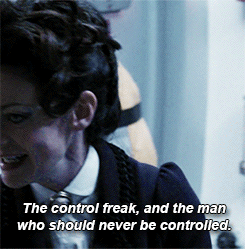 And here's where all the "control freak" comments pay off. My mom said to me on the phone the other day, "You have high standards for people, and sometimes they're impossible to meet." That's the kind of control freak
I
am, and the kind Clara Oswald is as well. It's why she puts the Doctor through his paces like few companions have and why she won't sit and be chastised by Madame Vastra when she smells hypocrisy. Missy knew that Clara simply wouldn't accept the death of someone she loves, especially one so mundane and unworthy of him. This means that Missy or one of her "boys" definitely killed Danny Pink, right? I imagine her behind the wheel, looking like something like
this.