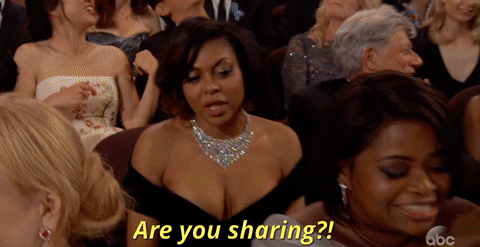 I'm as intrigued by the details of the Best Picture mix-up as everyone else, but the real mystery is WHO WAS THE GUY ON THE RED CARPET IN THE PINK TUX?
Listen, I hurt my wrist trying to pause the TV at just the right angle to capture him so please do me a solid and help identify him because I love him. Hands down, fave male look of the year. Okay, let's talk dresses.
BEST
Taraji P. Henson
Does it get any better than this? Sleek, sexy, elegant. Navy velvet, darlings, not black. The slit. That neckline. And those diamonds.
AND GOD BLESS HER FOR MAKING RYAN WAIT. She's well worth it.
Auli'i Cravalho
This is quite possibly the best Oscar debut I have ever seen. I am in love with this dress and she wears it so well. I preferred this to the performance gown:
It has some structural issues with the bodice, yes? But I think that only stood out to me because the white and gold is flawless.
Ruth Negga
The queen has arrived to greet her subjects. No, seriously, check out the crown headband:
GORGEOUS. My only nitpick with the entire look is the earrings, which I noticed she took off at some point during the ceremony, so I feel validated.
And one last lingering look for the train.
Brie Larson
Look at her, she knows she nailed it. FINALLY. Where has this flair for the stylish dramatic been hiding?
This is the kind of moment I've wanted for her, I loved it.
I think we all felt for Brie when she had to hand the award to the problematic (let's say) Casey Affleck for the second time this season, so let's pause to appreciate this lovely moment between her and Emma Stone after Emma's Lead Actress win:
Supportive female friendship always makes me feel better. You?
Emma Stone
Speaking of Emma, here we have another FINALLY moment. I wasn't into the literal City of Stars gown for the Golden Globes and it's best not to remember the SAG Awards look, but showing up in gold to collect your gold statuette? That I can get on board with. The top looks a little to me like the shape of a vintage bathing suit, but in a way that I respond really well to. And the fringe! I love a dress that has movement.
Viola Davis
Hello, gorgeous. Now, I don't know how I'd feel about this neckline on someone else, but she's pulling it off. I love this shade of red on her and the gold accessories were the perfect complement. I don't even mind no red lip is how much this whole look is working.
Side note, is that her actual engagement/wedding ring because I absolutely love when people do that.
Meryl Streep
So at first you think, "Wow, Meryl looks amazing in this Elie Saab, suck it Karl Lagerfeld."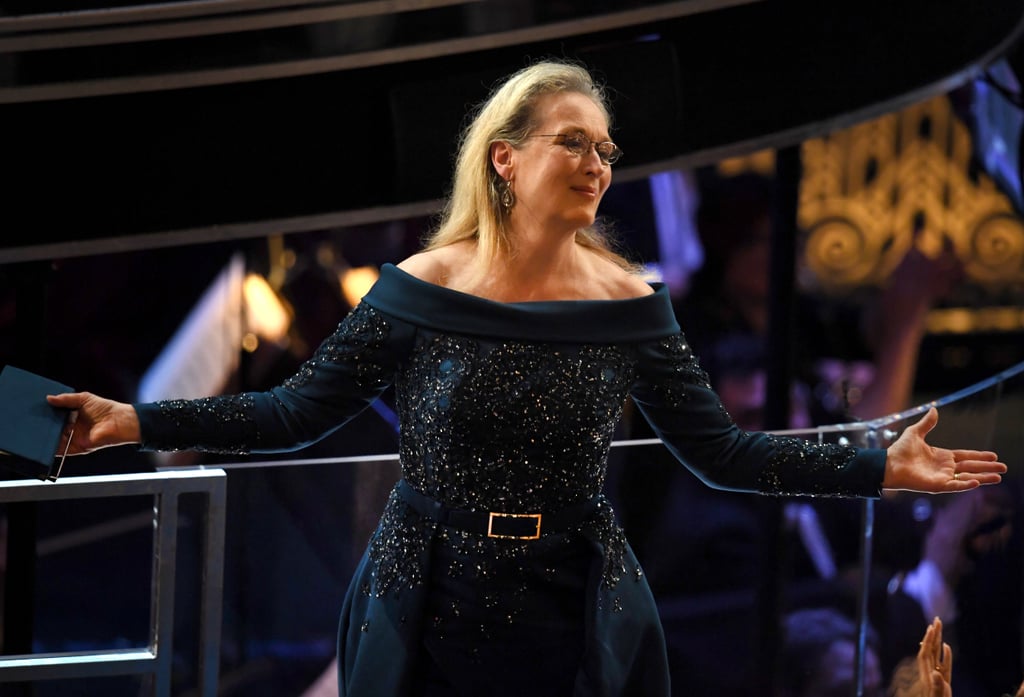 To which, of course, she's like "thank you, thank you."
BUT WAIT:
PANTS YOU GUYS IT'S PANTS IT JUST GOT SO MUCH BETTER.
And THEN you think maybe your love for Meryl has reached peak levels for the night.
And you would be wrong.
Kirsten Dunst
B O M B S H E L L
I love the necklace.
The SHAPE of this gown, my god.
Pockets!
Red lip!
Shoes!
She killed.
Amy Adams
Tom Ford finally came through for Amy Adams, you guys. Look at this shimmery perfection.
This construction detail at the back interests me, I want to see more of it but I think she skipped the carpet because she didn't get the nomination (which I've heard she absolutely deserved for Arrival).
But she's not letting it ruin her good time. Cheers!
Chrissy Teigen
I love almost everything about this, but I think it was the sheer sleeve that really sold me. Honestly, I would change up the bodice a little, but the white and gold sparkles are so great on her and I'm really into the cape and the slit and the everything. Also, her earrings were definitely my favorite of the night.