Another red carpet season with Maggie has come to an end. She's spent the past month sorting through countless photos of every awards show in existence in order to determine her favorite (and most hated) looks of the season. What did she choose? Read on to find out! (Also, your moms are so proud of you, Marshmallow.) –Kim
FIVE BEST OF THE SEASON
Saoirse Ronan, Oscars
Looking back, Saoirse's gown picks were a little uneven for me, but there's no question: This is the best look from anyone all season. Everything about this works: the sparkling emerald-green (and whose heart doesn't melt at the fact that she chose it to represent Ireland?), the classy and sexy silhouette, the perfectly tousled hair and low-key yet dramatic makeup, even the mismatched earrings. It wasn't Saoirse's year to win, but I think we know she's a contender and she'll be back.
Kate Bosworth, Golden Globes
I know, I'm like a raccoon, I can't resist shiny things. But this dress! How does this pink beading with silver accents manage to look understated? I think Kate looks so lovely here and I know people use "old Hollywood glamour" to death, but this look is the epitome of that feeling to me.
Jennifer Garner, Oscars
Well, well, look who came to play. Jen only had one appearance this season and she certainly made it count. There are always so many black gowns on the red carpet, so they're not always memorable and they don't always stand out from the crowd, but this one. This one is flawless. You can see the interesting details in photos, it's not flat, it's sophisticated and flattering. She looks beautiful and completely at ease. Well done.
Krysten Ritter, Critics Choice Awards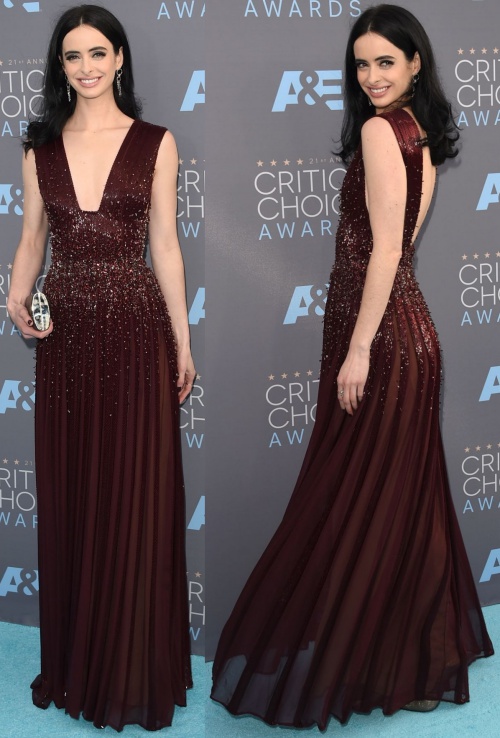 THIS. IS. A. MOMENT. We didn't cover the Critics Choice Awards (although maybe we should have, you'll see several looks made it into this post), but Kim was watching and she texted me a picture of this dress "for future reference." And looking over the season, it was an immediate lock for the Best list. I've loved Krysten Ritter for years (Veronica Mars, Apt. 23, anyone?) but I've never seen her look like a star before. She commands your attention in this (burgundy? Brown? Who cares what the color is, it's gorgeous) gown that's perfectly suited to her statuesque figure, raven hair and pale skin, and I think she styled it perfectly (the rare occasion I approve of no bold lip!). With Jessica Jones, she's found the role she was always meant to play and I feel confident she has a long career, and many red carpets, ahead of her, which I couldn't be happier about.
Alicia Vikander, Golden Globes
I know this look is divisive but I loved it on the night and I love it now. I think it's just out of the box enough without going too far. It's deceptively simple. The ruffles, the belt, the subtle stripes and the way the skirt moves. It all works for me. Easily my favorite white of the season (and there were A LOT of white gowns, seriously).
FIVE WORST OF THE SEASON
Brie Larson, SAG Awards
This remains one of the most significant bummers of my lifetime. I can't find anything about this that I like, not even the glacier shade of blue. There's just so much going on from the twists of fabric to the slash over the bust to the sparkle ties on the side to the slit and can we not even mention the orange luggage strap on the back? No, you're right, we have to mention it because why. Just why. That's all I want to know. WHY.
Kate Winslet, Oscars
During one of our many heated discussions about Kate's style at HOF headquarters this season, Kim insisted that at this point in the game Kate would be choosing fit over flare. And I understood that about her early picks, bored though I was. But look at this, you guys. It makes her gorgeous figure just look… wide? I hate even typing that but this liquid metallic trash bag isn't flattering, it does nothing for her. It's just sad.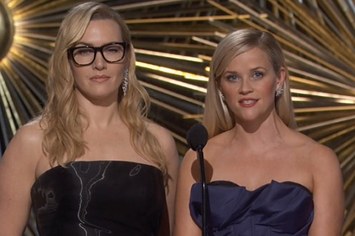 And you guys know I'm pro-eyeglasses at awards shows (so that, you know, people can see), but you have to straighten them before you walk out on stage. Kate, just like keep an eye on Reese, a real friend would have fixed them for you.
Jennifer Lawrence, Golden Globes
No, absolutely not. Okay, I mean, I like this shade of red. But that's it. It's kind of matronly, no? And believe me, it feels weird saying that about a dress with cutouts, but here we are, Dior, are you happy now?? I wish I could see it with her hair down (and maybe not quite that shade of blonde). And whoever tacked on that necklace needs a firm talking to.
Julianne Moore, SAG Awards
When she misses, she really misses. I fully hate this. I could have been convinced to get on board with the color but that fabric just looks so itchy to me and I hate the strap/bandeau/cutouts/weird trim of it all. Hard pass.
Rachel McAdams, Oscars
I don't think this shade of green is doing her any favors, this (wrinkled!) fabric was a terrible choice, and it just looks cheap. Period.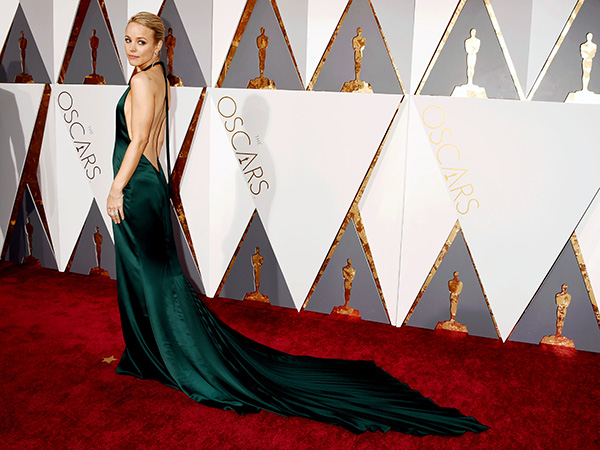 You thought you could get me with a train, Rachel? Nice try, but I remain unmoved.