Another year of television in the books. We've laughed and we've cried and we've flailed. We've fallen madly in love and we've had our hearts broken. We've said goodbye to beloved shows and embraced new ones. It's the ciiiiiiiiiiiircle of liiiiiiiiiiiiiiiiiiiiiiiife and it mooooooooooooves us allllllllll.
We've already posted the first half of our annual year-end celebration of all the hours we spent in front of the telly this year. What else made the list? Read on to find out! –Kim
11) Patricia Arquette wins an Oscar, demands equality for women. 
Patricia Arquette ran the table during Awards Season, picking up every single award there was for her performance in Boyhood.  Her speeches for most of the season were typical. She always pulled out a written speech, which drove me bananas, because GURL at this point you know you are going to win. Memorize your speech. (Says the girl who has never won a major award and had to get up and talk in front of thousands of her peers, so you do you Patricia.)  However all the sub-par speeches were forgiven at The Academy Awards, when Patricia got up in her black and white gown, reading glasses, and fierce red lippy and closed out her speech with this:
"To every woman who gave birth, to every taxpayer and citizen of this nation, we have fought for everybody else's equal rights. It's our time to have wage equality once and for all and equal rights for women in the United States of America."
Cue Meryl Streep, Jennifer Lopez, and every other woman in the audience losing their shit. Does anyone have more fun at awards shows than Meryl? I think not.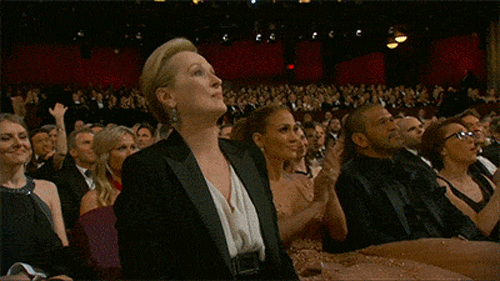 Bless you, Patricia, for using entertainment's biggest stage to stand up for your fellow women. GENDER EQUALITY? What a concept.  –Kim
12) "Buddy" – Parks and Recreation
When NBC decided to burn off the final season of Parks and Recreation by airing back-to-back episodes every week, Kim offered to share my Pawnee recapping duties to lighten the workload. Tag-teaming season 7 kept me sane (and I loved getting to read what my brilliant co-blogstress wrote about Leslie and the gang), but it wasn't easy to let my baby go. I didn't get to recap "Leslie & Ron" for the site, and I admit: I was a little bitter about it.
Because this episode was the heart hug that Parks fans had been aching for since the show's victory lap began. It was disconcerting and friggin' scary to time-warp to 2017 and learn that Ron Swanson and Leslie Knope were no longer speaking. Every couple is an odd-couple on Parks, but Leslie and her former boss had been a testament to the power of putting friendship and respect over side-of-the-aisle debates. They'd overcome so many differences in all the years they'd known each other; it was their similarities that had pulled them apart. Leslie and Ron are the most stubborn characters on the series (and probably in the fictional midwest in general); and the length of their feud reflected it. Fed up, Ben and their friends lock their Ron and Leslie in the Parks office to work their out their shit. And work it out, they do. After Leslie systematically tries to wear Ron down with jeers about wood ("You guys, Ron loves plastic!"), a friendship flow chart, and her own batshit version of Billy Joel's "We Didn't Start The Fire" ("Peter Piper, pee-pee poopy, Daddy ate a squirrel!"), the former work proximity associates finally get down to brass tacks. Pride is everything to Ron. He swallowed it and got burned. And he closed right up for a while.
Leslie: Ron, you were going–
Ron: I was gonna ask you for a job. In the federal government. Just saying it out loud feels dirty.
Leslie: You missed your friends, and you wanted to come up to the third floor and work with us again. I can't even imagine how hard that must have been for you. God, why didn't I see that? Ron, I am so sorry. I should've been a better friend to you.
Ron: Honestly, Leslie, it's fine. It was a punctuation mark on a sentence that had already been written. My time in government work was over. Sure, I loved shutting things down and bleeding the rotting beast from the inside.
Leslie: Your metaphors are so beautiful.
Ron: But it was time for me to leave, and I didn't feel like explaining why to you or anyone. Everything that happened after– the fight we had, not giving you a heads-up when my company took on the Morningstar development and bulldozed the nurse's old house– I do regret that.
Leslie: I had a good run here.
Ron: But after you and Tom and Donna and April and Terry left, when I looked around this office, nothing was the same.
Leslie: Yeah, well, there's a way to fix that.
As the sun comes up in Pawnee, Leslie and Ron bury the hatchet in the office where their hard-won friendship was forged, over a bottle of Lagavulin with Willie Nelson's "Buddy" (Ron's contribution to the Parks Department BBQ Mix) scoring the montage. There's a distinct sense of making up for lost time as they give in to their silliest impulses. Parks always takes care of its audience's emotional needs, and those brilliant fuckers knew that they couldn't end the Leslie and Ron reunion on an apology and a handshake. Instead, we get to see them having stupid, ridiculous fun together, and we know that their relationship is now even stronger for what it's been through. –Sage
13) Amber's baby shower – Parenthood
 The 100th episode of 
Parenthood
was a humdinger. The Bravermans gathered in the hospital as Zeek endured another heart episode. Hank proposed to Sarah in the hospital parking lot and (naturally) she went running, telling him she'd think about it. The Luncheonette was robbed, putting Crosby and Adam at odds regarding its future. Joel and Julia eased their way back to each other after some much-needed make-up sex. But the emotional gut-punch came when the Braverman women threw Amber an impromptu baby shower in the hospital cafeteria. No silly games or outrageous presents. Just Amber's mother, her grandmother, and her aunts imparting what they've learned about being a mom. So simple, yet so unbelievably heart-warming and emotional.
God, the women of Parenthood were amazing. They were all vastly different but all incredibly strong and their advice reflects their characters so perfectly. "Drink wine." "Embrace and own life's curveballs." "Do right by yourself. Don't ever give up on your dreams." "Don't let anyone tell you that you can't do it all. You can." "Don't be too proud to ask for help." The best part about this is that it's not just MOM advice, it's life advice. These words can apply to anyone and what was so beautiful about the women of this show is they all refused to be seen as only mothers.  They have so much love for each other and their bond is unbreakable. (Sarah: "No matter what, I'll always have your back." Amber: "I know.") Then Camille, lovely, strong, elegant Camille, who has presided over all these amazing women as the family matriarch brings it home. "Amber I would say to you that life is short. You cannot know how impossibly fast it goes by. So just enjoy this baby. Cherish this time. Cherish every minute of it." I'm not crying, it's just raining on my face. –Kim
14) Lily shows her cards – Penny Dreadful
Ah, Penny Dreadful. The feminist literary horror masterpiece of my dreams.
The creatives behind the Showtime drama were smart enough to cast Doctor Who alum and my future wife Billie Piper, but she didn't have much to do in season 1 besides cough up blood, be Irish, and look sad. When Brona Croft succumbed to TB and Piper was still on the call sheet for season 2, her future as a "bride of Frankenstein" figure seemed set. HERE'S WHERE IT GETS GOOD.
John Clare aka Caliban aka Mr. Nice Creature forces Victor to make him a mate. Lily, as Brona is known in her second life, is the fantasy of both men: a malleable, amiable flower – innocent and eager to please. They're both too busy projecting onto her to see her as she really is. They make it so easy to play them, don't they? Men always do.
In an X-Files episodes about some suburban Satanists under siege by a demon, Mulder asks, "Did you really think you could call up the devil and ask him to behave?" Lily has literally been to hell and back, but Victor and his creature don't give a thought to the side effects of man-made resurrection. (Though they've both lived those consequences.) The audience knows that something's up though. Lily's simplicity and purity are too absolute to be genuine. Her motives become clear when she seduces a man and snaps his neck mid-tryst. Lily/Brona has been used by men in life and in death, and she. Has. HAD IT. There's coldness in this diatribe, but there's life too. It's a seering performance, and I believe I stood up and clapped when it was done.
Lily: How can you imagine that I could care for you? Does that face belong alongside this? Doesn't the world smile on us? Don't we make a beautiful couple, "thee and me"? Shall we wander the pastures and recite your fucking poetry to the fucking cows? You are blind. Like all other men.
Clare: And you are unlike all other women.
Lily: You tell me how. We flatter our men with our pain. We bow before them. We make ourselves dolls for their amusement. We lose our dignity in corsets and high shoes and gossip and the slavery of marriage! And our reward for this service? The back of the hand. The face turned to the pillow. The bloody, aching cunt as you force us onto your beds to take your fat, heaving bodies! You drag us into the alleys, my lad, and cram yourselves into our mouths for two bob when you're not beating us senseless! When we're not bloody from the eyes, and the mouth, and the ass and the cunt! Never again will I kneel to any man. Now they shall kneel to me.
Billie Piper growling at men to kneel is 100% my aesthetic.
Later, Lily asks the same prostration from Dorian Gray.  (Is "kneel, boy" her catchphrase? I think sooooo…) But him, she has use for. Dorian has no more illusions about his humanity. He lives to take, but at least he's up front about it. Lily is so done with men who simper to her face, but want only to possess her body (those grody old men she takes to bed) or her soul too (her creators). Dorian can be her partner in honest depravity – a soulmate who also sees the vice and malevolence simmering just under the surface of polite society. What WILL they get up to next season? I can't wait to find out. –Sage
 15) Team SharNick dances to "Backstreet's Back" – Dancing With the Stars
Everyone knows that I am Backstreet Boys Trash for LIFE, so needless to say I was ecstatic when Dancing With The Stars FINALLY booked one of the boys. Nick Carter proved to be the perfect type of DWTS contestant. He was naturally talented but still struggled learning some of the specific styles. He was a showman but was not afraid to make himself vulnerable as he opened up about his marriage and their struggles with fertility. But the best part about Nick was that he was completely willing to milk his status as a Backstreet Boy. He knew EXACTLY why people were voting for him and he gave the people what they wanted. Week 4 of the competition was the ALWAYS great theme week of "My Most Memorable Year" (I famously made all my friends watch this night after the HIMYM finale and we all ended up weeping over Amy Purdy).  Naturally, Nick chose the year he joined the Backstreet Boys and he opened up about just how much the boys saved him. All of his boys were part of the interview package, with AJ even showing up for rehearsal.  Nick danced to "Backstreet's Back" recreating the iconic choreography and basically being just hot as hell with his partner Sharna Burgess (a goddess in her own right).
My favorite thing is how Nick just soaks it all in when it's done. This man has been through hell and back and it warms my heart to see him in such a good place. I DIE over AJ in the audience screaming for his little bro. I die over Joey Fatone cheering him on because boy banders support other boy banders (HEY GUYS CAN YOU ADOPT ONE DIRECTION TOO, IT'S ALL I WANT). Nick ended up finishing in second place (I blame them returning to the BSB well for their freestyle) but he was always first in my heart. –Kim