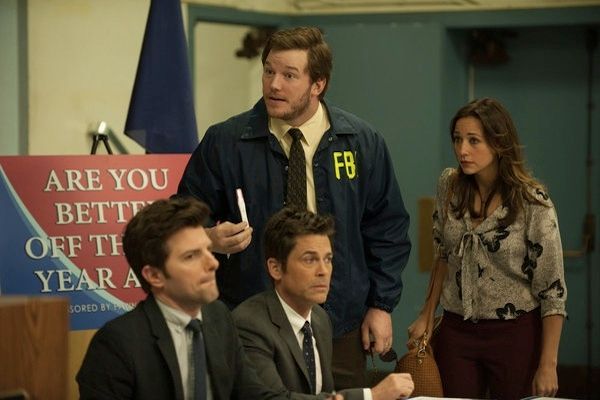 Parks and Recreation
Season 5, Episode 22: Are You Better Off?
– Posted by Sage
TWIST!!
Baby talk, new relationships, fertility doctors, unstable girlfriends – little did we know that Mike Schur & co. had been setting us up for MONTHS for a season finale mystery big enough to bring rogue FBI agent Burt Macklin out of retirement.
Macklin, you son of a bitch.
While looking for the sweatshirt he accidentally trashed, Andy finds a positive pregnancy test in the garbage after a weekend retreat at Ron's cabin. Now it's up to his alter ego to find out which of the five women who were there is good and knocked up. Like in the classic Dawson's Creek "who had sex?" episode, there is evidence to support any of the five theories. Let's take a look at our suspects:
Ann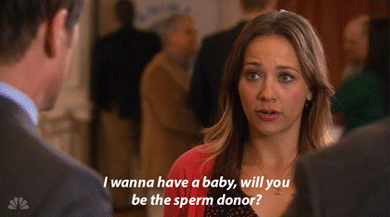 Even Andy is savvy enough to question Ann first. Everyone knows that she and Chris are back together and trying to have a baby (though not necessarily in that order.) But no success yet. She sets Andy straight, expresses some joy/jealousy re: the future parent, and joins Macklin on the case. Ann's got everything Andy's looking for in a partner: #1, willingness to buy lunch; #2, there is no #2.
Donna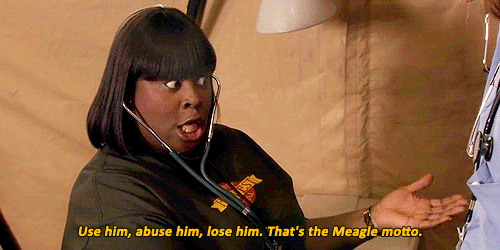 No one knows everything that Donna Meagle gets up to in Pawnee or in the sensuous rains of Seattle. There is every chance that this woman of mystery is keeping a secret from her colleagues. But, as Burt discovers during her interrogation, Donna is not, in fact, carrying 1/9 of a person. She's a careful grown-up, thank you very much, and there is no way she's dipping into her pedicure budget to cover any kid-related expenses.
Leslie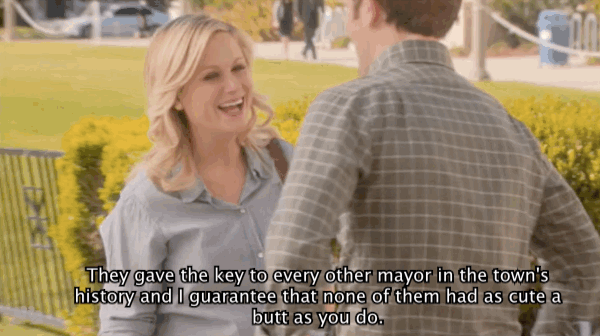 Blissful newlywed Leslie is also a strong candidate. In "Jerry's Retirement," she and Ben decide to open the conversation about starting their family, and we all know they are doin' it anytime they're not working. Burt barges in to Leslie's "victory lap" town forum with Ann hot on his heels, wielding the positive test and demanding answers. Once again, excellent face-acting by Adam Scott for the split second before Leslie answered and Ben thought he might be about to become a father. But no, Leslie isn't the culprit. And she's got more pressing problems on her hands than finding out who is. More on that later.
Mona Lisa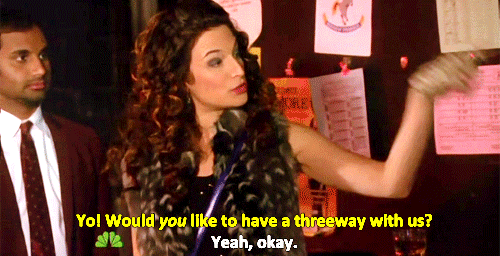 Despite his genuine terror of her and Ann's best efforts to untangle him, Tom is still with Mona Lisa. And they're having sex in trees and parking lots and god knows where else. Burt and Ann break the news to Tom first, showing him the test. ("Womb! There It Is." "That's her brand.") Tom sits Mona Lisa down to ask her what's up, and surprise: a wild Jean Ralphio appears!
Anyway, it's not Mona Lisa either, though she let's Tom believe it for long enough to cause unrepairable damage to his nervous system (and for him to make a "dumb-dumb face.") "Do you know how many different pills I take, birth control or otherwise? There is no way I could be pregnant with a human baby." Good point. Science!
April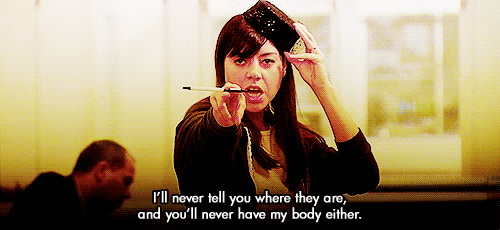 That leaves one remaining female who was at the cabin on the weekend in question. April was the first suspect crossed off Burt's Homeland/Castle-esque bulletin board, because he was sure she would have told Andy right away. But once he and Ann have exhausted all other possibilities, it seems clear that April is preggers. The ambiguous phone call she receives earlier in the ep supports this theory. Case solved, Burt fades back into the shadows and Andy runs to celebrate with his wife. She has news, but not the kind he's expecting. April was accepted into vet school and Andy wholeheartedly supports this dream of hers that he's known about for nearly 20 seconds. ("I'm really glad I married you." "Yeah, we made a good call on that one.") He also supports their family plan for adopting two adult Romanian twins some day.  Families come in all shapes and sizes, my friends. Love is love.
…so who is it?