Note from Kim: Everyone welcome our new contributor Kayti Burt to the Head Feels Family!  Kayti is a shameless fangirl trying to make her way in a world still recognizing the perfection of Farscape. When not covering The Vampire Diaries, Pretty Little Liars, and The Originals for Wetpaint.com, you might find her writing about travel for the Go Girl Travel Network, debating the effectiveness of Steven Moffat with her roommates, or listening to songs she first heard on British television. You can follow her on Twitter at @kaytiburt
If I could save one low-rated TV show on The CW, it would be The 100. But, if it were some kind of two-for-the-price-of-one deal, then I would throw Reign in, too. The soapy historical fantasy romance drama isn't my favorite show on television, but it is one I look forward to watching week after week. It's fun, full of awesome female characters, and is beyond beautiful to look at. On a landscape of television dramas filled with superhero stuff (that, don't get me wrong, I love), it something a little different. Not to mention it fills the hole Gossip Girl's ending left in my heart.
Why am I telling you all of this? Because Reign is definitely in danger of being canceled, and my pillow feather dance scene-loving heart can't take it. Partially for all of the aforementioned reasons, but mostly for the fact that it would mean no more Queen Catherine — aka the delightfully-quippy and morally-questionable queen mother played by Canadian Megan Follows.
I have loved Megan since her work as Anne Shirley in the classic TV miniseries Anne of Green Gables, etc. As a kid, I watched her every year on PBS when they pulled out their most popular programs for fundraising campaigns. As an adult, I try to schedule in a viewing every winter. When Reign first premiered and I saw she was part of the main cast, I knew I had to watch it.
Though Queen Catherine/Megan Follows isn't the only reason I watch the CW drama, she is one of the best parts of it. And, in honor of my love for both of Megan's best-known parts, here is a recap of Reign — through the eyes (read: gifs) of Anne Shirley…
Reign tells the story of badass teenaged queen, Mary, Queen of Scots.
Query: Would you rather be divinely beautiful, dazzlingly clever, or angelically good?
Mary doesn't have to choose. She's all three — arguably, with some ground to make up in the angelically good department. (Ruling a country or two doesn't come without its share of moral compromises, OK?)
Mary is totally in love with her husband Francis aka the King of France aka Catherine's son whom she would do anything to protect.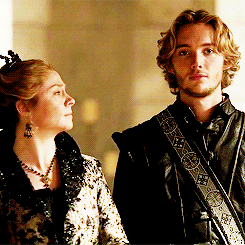 For those Anne of Green Gables fans in the audience, Mary and Francis have a total Anne-and-Gilbert thing going on.
They met as children in the French court and, despite some loving bickering over the years, fell head over heels for one another.
Like Anne and her strict adoptive mother Marilla, Mary and Catherine have a strained relationship. (Unlike Anne and Marilla, Catherine occasionally tries to kill Mary). Despite the tension between these two, Mary and Catherine actually have a lot in common: they are women in power in a man's world, trying their best to protect the people they love.
We're hoping for an Anne and Marilla arc for this queen team, but right now they're more Anne-and-Marilla circa that time Marilla thought Anne was an uncouth, willful heathen who was more of a nuisance than a godsend than they are Anne-and-Marilla that time every time after that.
Like Anne of Green Gables, friendship is a major theme in Reign. Anne only has one bosom friend in the form of neighborhood babe and loyal companion, Diana Barry.
Mary, on the other hand, has not one, but three bosom friends: Lola, Kenna, and Greer. They have many of the same interests: like Scotland, securing husbands, and dancing.
Like Anne, Mary also knows how to dress for any and all occasions. Nervous about a big party and/or diplomatic gathering during which someone may or may not try to kill you? Go with the puffed sleeves. (Amirite, Anne?)
Or the flower crown. (Amirite, Mary?)
When it comes down to it, we think Anne Shirley would love the romance and melodrama of Reign.
And if you haven't figured it out, these two leading ladies — Anne and Mary — have a lot in common. They're both smart, powerful, and empathetic female characters who aren't afraid to make their thoughts and feelings known no matter what the consequences.
And that's pretty cool.
Are you a fan of Anne of Green Gables and/or Reign? Sound off in the comments below!
Kim: Thanks, Kayti, I totally have to watch Reign now.  Kayti will be back with us in January to share her hopes and dreams for Agent Carter!