I don't remember the exact date that I first saw Clueless. I remember that I was 14 years old, it was the summer before my freshman year at a big, scary public high school, and that my older sister offered to drive me because she wanted to see the Mighty Mighty Bosstones perform in the movie. I do know exactly where I was on July 19, 2015, the 20th anniversary of the classic's release: curled up on the couch with my DVD, ready to watch Cher and her crew talk like grown-ups. I could probably write an entire separate post about all of the things that went over my head during that first viewing in 1995 (and many subsequent ones, if we're being totally honest) that I now understand (seriously, raise your hand if you had no idea that Christian was gay until literally when Murray said the words "he's gay"), but instead let's take a moment to appreciate another reason for the movie's enduring appeal: the fashion. Much like Troop Beverly Hills, Clueless serves as a beautiful little time capsule of its era, complete with chokers and mini backpacks, scrunchies, the challenging world of bare midriff, even respect paid to retail holy grail Contempo Casuals, where I bought my first baby doll dress. (Just by the way, I had a short-lived job in the one at my mall during college, and they were STILL selling tiny mohair sweaters.)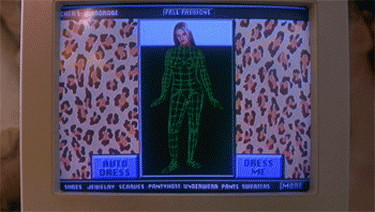 Cher Horowitz is probably the most relatable queen bee in modern cinema and it's due in part to her wardrobe and styling. I don't know how much of this was of the time and how much was a specific choice, but Cher's well defined style is deceptively simple, elegant with clean lines, and her hair and makeup are remarkably unfussed with, all in a way that actually feels attainable. I recently watched another 90s teen comedy on Netflix, Drive Me Crazy, and there's a ceiling on how much I can relate to Melissa Joan Hart in that movie simply because I would never be able to replicate her complicated hairdos. But Cher? I could see myself in her even though I wasn't in a clique using my popularity for a good cause (although I totally would have!). Somehow Cher's closet software is still not a part of my daily life (which, come on), but I still feel like I'd be able to pull off a Cher inspired ensemble without looking like a fashion victim (or do we prefer ensemble-y challenged?).
I picked out my personal top ten Cher outfits — and listen, I had to make a lot of tough choices so my heart was too spent to actually rank them. So, in no particular order:
The "AS IF!!" Yellow Plaid Ensemble
Look at this precious sunflower ruling the school like a benevolent Amanda Woodward. This look hits every note, right off the bat: knee highs, school girl-y mini skirt, midriff baring tee, mohair sweater, mini backpack. It's so perfectly mid-90s, I want to cry.
The "I drive really good usually" Driving Test Outfit
Okay, I'm sure the white collarless shirt from Fred Segal would have been perfect, but I love this outfit. I'm really into the different proportions and the way she's mixing the preppy argyle with the softness of the sheer ruffle-y shirt.
"Is it James Dean or Jason Priestley?" Shopping Dress
This light green dress is honestly one of my favorite pieces. It's so chic and somehow the slightly tricky color isn't messing with her complexion. Alicia, tell me your secrets (unless it involves kale or something, in which case, hard pass).
The "Playing footsie with the dumb kid" Outfit
I love this white eyelet top so much and I feel like the lavender jeans are this amazing unexpected bonus. It's so fresh and youthful, but still grown up.
"What's that?" "A dress!" "Says who?" "Calvin Klein!" "It looks like underwear!"
Should I just transcribe my notes for this one? Okay, why not:
yes the white calvin klein amazingggg
white coat thing, the fucking BARRETTE though
when she sticks it in her neckline later omg
the necklace
this outfit is everything i ever wanted to look like
That pretty much sums it up, right?
"The entire student body was utterly grateful for the improvement in their grades." Coat and Beret
I would wear this outfit, head to toe, TODAY. Have you ever seen such coat porn in your life?
The "What's the point? Everywhere you go has valet!" Driving Ensemble
I adore this look, I can't get enough if it. I prefer it without the jacket, the leather skirt mixed with the soft white top are so great on their own. (I'm just now realizing how much I respond to the way Cher mixes hard and soft edges, by the way.)
The "I never knew he was this motivated" Plaid Pants Ensemble
This one is just so preppy and CUTE. I never wear white collared button-downs due to school uniform scarring, but I love the way her collar and sleeves appear over the pink sweater so much that I'm tempted. And it's just perfectly coordinated without going too matchy-matchy (which actually, Cher tends toward a bit, I think).
"My party clothes are so binding" Sweater Set
I don't know if this one will surprise people because there are so many great options and it's so casual, but I just love it. She's cozy, she's at home, she looks amazing in purple, and she's clipping her hair up like a crazy person. I love.
"Oh, no. You don't understand. This is an Alaia."
You didn't think I would forget THE ALAIA, did you? He's like a totally important designer! The coat veers a little frouffy for my tastes, but the DRESS, you guys. Perfect color, perfect fit, perfect all around. There's a reason this look is iconic.
Honorable Mentions: 
"l doubt l worked off the calories in a stick of Carefree gum!" gym outfit
"He does dress better than I do. What would I bring to the relationship?" 
"I thought they declared peace in the Middle East" ensemble
Okay, I felt a little silly knocking out one of the top tens to include one of these but I have to mention how much I love these little tank tops layered over white t-shirts. Why? I have NO IDEA, I JUST DO. She looks so CUTE here, right?! I should bring this back, yes?
Obviously Cher's not the only fashionista in the movie. Everyone at Bronson Alcott High School puts their best foot forward, so let's check in with the supporting characters. Who's up for best and worst looks?
AMBER
Best: "She's a full-on Monet." 
I know, I know, Amber's a full-on Monet but her fashion choices are probably the most compelling of the rest of the cast. For some reason I really like the little pink tutu — and you know I love a tiara.
Worst: G.I. Amber
Even though this camo look is a total tragedy, you kind of can't stop looking at it, right?
DIONNE
Best: "Bucking for Best Dramatic Actress at a Val Party."
I must give Dionne snaps for her courageous fashion efforts. Her Val party outfit is probably the most successful execution of bare midriff in the entire movie and she looks flirty and fun yet still sophisticated.
Worst: "Cher, he's getting her digits!"
This red and blue outfit though pains me a little, most likely because it's just not that flattering and I know she can do better.
TAI
Best: "It's my hips, isn't it?"
Tai only wears this little blank tank for about a minute, but it's easily the most flattering thing she wears during the entire movie. Necklace is cute, hair is cute — sorry about Elton (although not really), but you look great.
Worst: "You're a virgin who can't drive." 
I have a personal bias against this other outfit because it's what Tai wears while delivering the way harsh "you're a virgin who can't drive," but also it's just ill-fitting and she's basically trying too hard, right?
Special Shout-Outs
Ms. Geist's wedding dress because it's basically perfect.
As always, the boys' fashion just isn't as fun to cover, sorry not sorry. But I would like to point out that Elton totally wears grandpa sweaters the entire movie:
Okay, hit us up in the comments! Which outfits were your faves? What did I miss? Be seeing ya! (But I hope not sporadically.)