Scandal Season 5, Episode 5
"You Got Served"
Posted by Kim
FITZ MAY BE IMPEACHED!!!! Is our long (fictional) national nightmare finally over?  Let's get right to the gifs to find out.
Cyrus is in his jammies, surrounded by booze and junk food, watching telly.  Basically living my dream life.
To remind us that he still exist, Michael appears, looking as handsome as ever.  He tries not to judge Cyrus' coach potatoness by saying he knows this is his Super Bowl.
"The Super Bowl happens every year. This is the moon landing!"
"This is the day the Lord has made…he's made it for me!"
Footage of Fitz and Liv waltzing around together is intercut with the Judiciary Committee announcing their investigation. 
"I HAVE DONE NOTHING WRONG!!" Reminder that Fitz is a CHILD.
"Do you know what an impeachable offense is? You don't need to spend time thinking about that because you don't."  David has no time for this shit.
"This isn't a normal trial, Mr. President, it's a political trial." 
"It won't just cost you your presidency, they will put you in jail." 
Liv calls Abby, who can't talk to her about anything.  "I need a loan." Say what?
HI LEO I MISSED YOU!!!!
"Thing 1 and Thing 2 and a new addition to the bestiary!" Can we start a petition for Girlfriends' Guide to Divorce to be canceled so Paul Adelstein can join this show full-time because I LOVE HIM.
"You're his Monica, his Marilyn."
"We are going to spin it into the greatest romance ever told." Well…second greatest. #LarryIsReal
Liv, however, refuses to sell her romance.  "What else you got, Leo?"
Olivia Pope, Woman of the People.
"That's the thing about the great ones, they perform no matter what utter crap they are dealt." 
Leo goes thru Liv's wardrobe. "If you cannot buy it from the mall, you can't wear it out of the house."
"Where's all her food?" "You mean her wine and popcorn?" Huck has been so on point this season.
"Of course not you're too busy getting your freak on with the prez." 
Leo sends Liv out to the grocery store in schlubby clothes. 
"They need to be told by someone, someone they respect, that you are in fact human." 
"WEIRDOS! FOCUS!" 
HI EDISON HOW YOU LIVIN'? Remember when he and Liv were a thing? 
"You look uncomfortable." "Coming here was not easy." 
"Should I feel sorry for you?"
"A criminal, a whore, an idiot and a liar." That sounds like the beginning of a very good joke.
"You implied that I was clinically insane for suggesting that you were screwing the President." 
"If you want me to help you, you're going to be honest with me." 
"You tried to make a fool of me for seeing you exactly as you are." 
"I pray for her." Edison, God love him, sells the CRAP out of this.
Cyrus LAUGHING with popcorn at the interview.
"Already with the lies, I can see I have my work cut out for me." It took exactly .5 seconds for me to fall in love with Fitz's lawyer Patty.
"Oh funny, you're going to be the funny one, I'm going to laugh at you a LOT." 
"The President has nothing to hide." Abby toes the company line because she knows who butters her bread.
"If I hear the words "executive privilege" come out of your mouth one more time." CAN WE KEEP HER?
"Did someone give you a list of buzzwords when you took this job? Do you say these buzzwords to Putin?" I AM DYING THIS IS AMAZING.
"The President is testifying. I am not asking, I am telling." 
"I want trucks full of files." To stall the investigation, the White House sends basically every piece of paper they have.
"We should show the American people how scared and sneaky this White House is behaving." Mellie knows EXACTLY what is up and is having none of it.
"I am not some scorned woman bitching about my ex, I am a Senator." I mean, it's a LITTLE about that, but that doesn't mean they can say that to Mellie's face.
"You HAVE to step aside." I love how these bastards needed Mellie to get this whole thing started and then they shove her aside as soon as they get it.
"What's happening?" "ARMAGEDDON, ABBY!" Have we established that Leo and Abby are still doing it? They better be.
Soooooo the press now knows about the ring Fitz gave Liv, which destroys the entire narrative they built. 
"What is the first rule, YOUR first rule?" "Do not lie."  "DO NOT LIE." I love how Liv sits there and lets Leo scold her.  Fitz should take note.
"It's time for Olivia Pope, lovestruck teenager." 
"You will speak as if you are chatting with your bestie." 
Mellie puts her sweats on and joins Cy.  This is everything I've always wanted.
"She's actually managed to go from being a slut to an every woman to your sister-wife in 48 hours." 
Mellie told the press about the ring and Cy is just so proud of her. "That's a real big girl move."
"I've got sparkling wine, 5 different kinds of cheese…" BEST FRIENDS.
The committee goes after Marcus to get info on the workings of OPA.  "You've never known bullies like us."
"You want me to be a spy?" "I want you to be a good citizen." Don't do it Marcus, I have such high hopes for you.
Liv shows up at Jake's unannounced and finds Elise there. 
"I have to go on TV and sell a love story." I don't know why Liv always goes to Jake to whine about Fitz.  Good LORD, he wanted to stand in the sun with you…where is your sensitivity chip?
"All of your exits become walled off. You will be tied to the White House and him for the rest of your life and that is absolutely terrifying to you." JAKE DROPPING TRUTH BOMBS ERRYWHERE.
"Just tell the truth, Olivia. Tell your story. Tell the world how you really feel about him." 
Quinn talks to Marcus about planting evidence. Cut to Marcus telling the committee he'll be their spy. Ruh roh.
Leo prepping Olivia for the interview. "I'm not asking you to jump up and down on a couch."
Liv being super fake in the interview. "It was one of those fairy tale moments you see in the movies."
"I wish I never laid eyes on him. I wish we'd never met." Whaaaaaaaaat is happening?
"It's something I'm proud of, it's something that could all go away because I laid eyes on that man." Basically.
"Is the love of 2 people worth all this destruction?" NO. NO IT IS NOT.
"If it were a choice, who would choose this kind of love?" 
"Don't ask me to fall out of love with Fitzgerald Grant because if I could I would." 
"Does that answer your question?"
"That's the one thing Olivia and I agree on. I wish they'd never met too." MELLIE MY SAD QUEEN.
"They might never have met if not for me and for that I am deeply sorry." CYRUS.
MARCUS IS A DOUBLE AGENT FOR OPA. Thank God.
The committee has her kidnapping tape. "If they have that tape, then we are ALL going down."
Liv ACTUALLY puts "Let's Get It On" on the record player. 
"Going to war for your mistress is an impeachable offense." INDEED IT IS.
Cyrus is the only person who can say Fitz saw the tape. OH THIS JUST GOT INTERESTING.
"We should have locked ourselves in a room together and gotten drunk years ago." YES YOU SHOULD HAVE.
"Where's your old friend tonight?" Liv, you KNOW you have no right to be jealous, right????
"How do you know her?"  "She's my wife." Jake no longer gives any fucks.
"You have a type." "So do you. Married guys." BURN.
"Why am I here?" "I want you back." Oh NOW you want Cyrus back, assface.
"We have unfinished business in this administration." Gag me.
"What do they have?"  Praise be, Cyrus knows EXACTLY what up.
"Oh no, it's the tape. That's really not good, is it?" I love how much he is enjoying this.
Cyrus replays all his history with Fitz. "This is what I know about you. This is what I remember. YOU."
"I dream your dreams and I sweat your nightmares. This is what you are to me." 
"What am I to you?" 
"If I left this room, you wouldn't even remember I was here." 
"That's the deal on the table and I'm not going to take it." YAS.
"Because this band is never ever getting back together." You go talk to your friends, talk to my friends, talk to me…
"I do not need you. Not anymore." IS THIS REALLY HAPPENING?
"Your mom's name was Helen." DAMMIT FITZ YOU RUIN EVERYTHING.
"I am sorry. Truly, deeply sorry. I'm sorry for what I did to us." YOU KNOW HE IS ONLY SAYING THIS TO SAVE HIS ASS, RIGHT? THINK ABOUT WHAT YOU HAVE WITH MELLIE.
"Everything you did, you did for me. You are my guy." 
"The job is Chief of Staff. That's the job." Sorry, LizzyBear.
Cy takes his seat.  DAMMIT.
"It's good to have you back, Cy."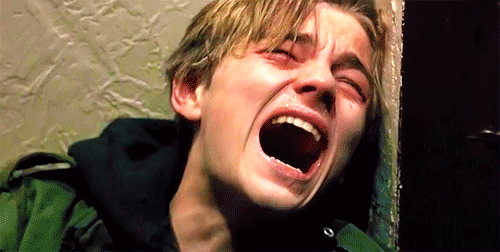 "I serve at the pleasure of the President." WE COULD HAVE HAD IT ALLLLLLLLLLL. ROLLING IN THE DEEEEEEEEP.
Soooooo…just how long will Cy last at the White House this time?  WILL Fitz get impeached another way? Leave your thoughts in the comments!