Scandal Season 5, Episode 18
"Till Death Do Us Part"
Posted by Kim
This week on Scandal, we take a brief intermission from all this Election Drama to finally get to the root of Jake and Rowan's plans. It is, to say the least, a DOOZY. Plus, we FINALLY get a deep dive into Jake Ballard and his past. To the gifs!
We open with a kid playing with his little army men listening to his parents having a violent argument. 
OMG FINALLY WE ARE GETTING JAKE'S ORIGIN STORY. 
"I've decided you are going to eat something today." Liv is holed-up in her childhood bedroom post-murdering Andrew. She is not doing well, naturally.
"You're going to want to do something with your hair. Have you looked in the mirror recently? It's not pretty." EXCUSE YOU JAKE.
"The only thing you should feel bad about is that you didn't do it sooner." I mean, Jake's not wrong.
"She promised to do something with her hair, so we're making progress." I love how Jake and Rowan discuss Olivia like she isn't even there.
THIS IS SUCH A WEIRD FAMILY. Like Rowan treats Jake like he's his ACTUAL son and yet his son and daughter have had all the sex.
I have to take a moment to appreciate that teen Olivia loved Dead Poets Society. 
"We've moved up Jake and Vanessa's wedding." The Monica in me is like there is NO WAY you can move up a wedding that easily, especially one this high-profile, but OKAY Rowan. I'm sure B613 can call the caterer and let them know the change in plans.
"I know he'd love for you to be there." Liv's FACE. Jake's wedding is the last place she wants to be.
"For a screw-up, you are very bright." Jake and Rowan's first meeting! And Jake is a troublemaker with a temper!
"This says Jake Ballard on it. My name's Pete Harris." MOM HOW MANY LIES HAVE I BEEN LIVING?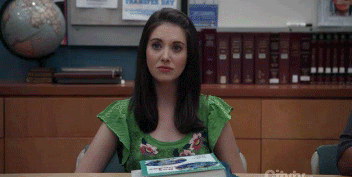 "I signed up to be a navy man not play make-believe with some black ops psychopaths." Jake has Rowan's number RIGHT AWAY, bless him.
"You're just a loser with an anger problem." 
"Option B makes you MY bitch." Rowan's whole life is about making people his bitches.
"I can turn you into somebody. A real soldier with a real future." 
"What's it going to be? Pete Harris or Jake Ballard? Their bitch or mine?" I'll take option C. NO ONE'S BITCH.
"Were you followed?" "No, they are buying the entire act." Olivia is PLAYING THEM and I am ALIVE.
"She is pretty basic." I love Quinn's solidarity in hating Vanessa.
"Why does Vanessa want such a big wedding? It's not like it's going to make Edison President." OR IS IT?
"What's his weakness?" "Me." 
"Liv…talk to me."  Olivia conveniently has a "meltdown" before Jake and Vanessa's engagement party and Jake plays RIGHT INTO IT.
LIV'S TRIUMPH FACE WHEN HE DITCHES VANESSA TO TALK TO HER. 
"This is our wedding!" "And this is a friend!" FINALLY Vanessa sees the giant elephant in the room regarding Jake and Olivia and she calls him on it.
"I don't know if moving up the wedding was a good idea…"
"You made a commitment, now you will follow through." Rowan will NOT allow Jake to get cold feet.
"Shut your mouth, Charlie." YOUNG CHARLIE YOUNG CHARLIE!
Rowan lays into Jake about his birth father and it's HORRIBLE. "Is that the kind of dad you want?" YIKES.
"Nobody takes command, son." Everybody take a drink!
"I'm getting married." "I know. Why?" I DO enjoy Fitz and Jake bro-time where they don't talk about Olivia but they really talk about Olivia.
"Do you love her?" "Who?" "Vanessa." FITZ KNOWS.
"She's perfect. It's easy. That's what I'm supposed to want, isn't it?" I hope those are his vows.
"Do you miss her? Olivia?" "It's good to be free." Sure, Fitz.
"You hit like a bitch." I would say take a drink every time someone gets called a bitch but I like being alive.
"I know! Who leaves a Maltese on the street?!" CHARLIE.
"You've been drinking." "I have." Oh yes, let's do this.
"Tell me about the party, how was it?" "I played my part." He kept Liv in the dark, now he's going to show her the shape of his heart.
"You gonna save me from finishing this bottle by myself or what?" 
"You have no idea it is for me to sit back and see you suffer like this." 
"This can't be what you want." IT IS NOT.
"Unless Vanessa is who you want. What you want. Which makes me a crazy person." This is AMAZING. Liv is playing him but at the same time she is speaking her truth. Kerry Washington is KILLING this season.
Jake finally snaps. "I DON'T REALLY LOVE HER."
"Tell me what is going on!!" PLEASE I AM DYING HERE.
Edison is going to declare Jake as his running mate and this whole thing is a stunt to raise his political image. Ohhhhhhhhhh. 
"All he's ever wanted is what's best for us…" Again this whole Rowan is Dad to both of us thing is beyond fucked up.
"The truth of the matter is I'll never love anyone as much as I love you." THIS HURTS.
"You have never chosen me." 
"For some reason, I still end up here. In front of you. Looking at you. Wanting you. In love with you." I'm in PHYSICAL PAIN.
"You can't marry her." FINALLY Olivia is being real. NO HE CAN'T MARRY HER.
"TELL ME WHAT IM SUPPOSED TO DO." I mean, I know what you're supposed to do here and what you are supposed to do is KISS.
SEXY TIMES. And like…none of this rough-let-me-get-you-so-hot sex that they've been having. When she goes for that, he STOPS HER and gently kisses her. Stop. Leave me here to die.
"Vanessa has Jake on the Paleo diet." Way to kill the mood, Rowan. Also, gross.
"Are you still getting married?" "Do you want me to get married?" This is the most awkward morning after EVER.
"I don't know how I can protect you from him…" WE NEED A HERO.
"Sit with me, be with me. Pretend like last night never ended for a bit." UGH UGH UGH.
"There are ones who find comfort in darkness." Rowan gets Jake out of the hole after a month for a little psychological torture.
"If I had to share DNA with your father, I'd loathe myself too." It is literally taking every ounce of Jake's self-control not to murder him right now.
"It's pretty disgusting to know that you did nothing to stop him." SERIOUSLY? Super cool to put that on a child/teenager.
"I am not him. I will not hurt you. I will protect you." Okay, like Jake knows he has Stockholm Syndrome from all of this right?
"I don't want to marry Vanessa. I want to be with you. Do you want to be with me?" 
"You have to jilt Vanessa at the altar in front of all of Washington."
"I'll see you at the church." YEAH YOU WILL.
"Are you sure you want to do this?" "I want to be happy. I'm ready to be happy." And everything goes to shit in 3…2…
"I've built you in my likeness as I would my own son."
"Do you want this? Or do you prefer normal?" NORMAL SAY NORMAL.
JAKE WALKS OUT ON ROWAN. Is he choosing normal?
"Tell him that you've changed your mind. I know what you're planning, Olivia." Well fuck.
"He doesn't want it. He never did!" HE JUST WANTS TO BE A REAL BOY, ROWAN.
"If this wedding does not go forward, I will slit Jake's throat. I will do that because I love him." 
"I would rather him be dead than mediocre."
"The hell I will let what happened to you happen to my son." HE IS NOT YOUR SON YOU SICK FUCK.
"A wedding or a funeral? The choice is yours."
"I can't do this." Liv would rather Jake live so she hurts him to save him.
"Did Rowan get to you?" "This isn't him. This is me." The horrible thing is that Jake knows exactly why she's doing this. He may not know that his life was in danger but he knows that this is all Rowan and SERIOUSLY can he like poison him or something?
"You LOVE ME." SHE DOES THAT IS WHY THIS IS HAPPENING.
"You're not good enough for me. You're weak." WHY.
"You were never an option for me." EXCEPT HE WAS.
"I would tear right through you. Destroy you." The horrible thing is that Olivia's strength is one of the things Jake loves most about her and she's making it ugly.
"You're scared of what we have." TRUE.
"Do you honestly not know by now? I'm in love with Fitz." I mean, Olivia is lying, but she knows JUST where to hit Jake so it will hurt the most.
"Fitz is who I choose. You are just the lesser version of him." 
"Good luck becoming Vice President, Jake. You'll need it." Even in the midst of heartbreak, Liv still is like "PS Imma win this election."
Liv leaves holding back tears. Fitz tries to stop her but she just walks on by.
After flashback!Jake walked out on Rowan, he went back to his childhood home. And OH YEAH HE KILLED HIS HORRIBLE FATHER. 
Jake says "I do" after an interminable pause at the altar. Welcome to your loveless political marriage, boo.
After killing his dad, Jake goes back to Rowan, who is overjoyed. "Welcome to B613." 
What did you think Gladiators? Who deserves to end Rowan more…Olivia or Jake? Because that has to happen…right? Let us know in the comments.