It's week two of JoJo's journey to find love. Let's get to know some of these "gentlemen", shall we?
Maggie: I like how the "Coming up tonight on The Bachelorette" scenes are all about Chad who will hopefully eventually get left behind on an island.
Kim: So we're diving right into the "Chad is the villain of the house" narrative then. The villain will probably make it to like…the top 6? He'll go home right before the hometowns, because AGAIN he is here for the entertainment value. And because no one else has stepped up to be the cause of drama yet.
Maggie: I remember more names than I thought I would! But possibly not even half of the guys, though.
Kim: Since there was nothing else on and we were in Nashville with no social events planned for the evening, I made Sage watch this with me. I don't think she will ever forgive me? I just kept topping off her wine glass and cackling at her tweets. She is a saint, that one. I owe her like 10 hours of watching Sebastian Stan videos. Except that would be pleasurable for me too?
Help ???????????? https://t.co/rowaaxkokx

— Sage Young (@abrighteryellow) May 31, 2016
Maggie: Okay but one of these guys IS a fireman, I remember because Liam. Grant?
Kim: Yes, Grant! He FINE.
Maggie: Wait why did they even do that? Why the limo fire??? I don't??
Kim: My first thought was they were doing stunt school for their date? But no. They are going to play fireman for the day. What even is this and how is it considered a fun date? WHO COMES UP WITH THESE IDEAS? How does whether or not someone can pull off the moves of a fireman help you determine if someone is husband material?
Maggie: You know they only cast Grant so they could do this "date"? Should we worry about him since they scheduled this so early in the process?
Kim: No, I still think Grant is going to be a major player because of the outcry for more diversity on this show. The hot fireman thing is just a bonus.
Maggie: I like that the erectile dysfunction pastor is scared of fire.
Kim: Of COURSE he is. The fires of HELL, duh.
Maggie: GRANT, YES
Kim: I don't think he would have been able to go back to work had he lost this Fireman Challenge. How embarrassing.
Maggie: EW that Canadian vampire isn't even worth hating but I still hate him.
Kim: I AM SO HAPPY THAT NAME STUCK.
Maggie: CATTY CATTY CATTY.
Kim: LISTEN. Wells TRIED. No one should criticize. Oh, wait.
"He was such a trooper." = #TheBachelorette trophy for participation

— Sage Young (@abrighteryellow) May 31, 2016
Maggie: That was cute but I'm just not into Wells
Kim: Honestly, I am sure he is a nice young man but I also feel like JoJo would EAT HIM ALIVE IRL.
Maggie: "I am sure he is a nice young man" hahahahahahahaha (but also YES SHE WOULD)
Maggie: I'm so mad about this singalong because James Taylor.
Kim: Look, I get that these people literally have nothing to do but be idiots together, since they take away all other forms of entertainment, but I feel like James Taylor is trying for the next Top 40 hit here and NO JUST STOP. Also, yo Hipster. Louis Tomlinson called and he wants his beanie back.
Maggie: I didn't even notice the beanie, my skin was crawling too hard.
When you have Stockholm Syndrome #TheBachelorette https://t.co/7qiSSZJYsY

— Jessica Goodman (@jessgood) May 31, 2016
Maggie: JAMES TAYLOR MUST BE STOPPED. I cannot BELIEVE he is friend of HOF's Kelsey's type. Kelsey, bb, WHO HURT YOU??
Kim: Seriously. Explain yourself, bb.
Maggie: The way that Jordan flips his hair still gets me overwhelmed
Kim: The fact that Jordan gets a lowkey edit this episode proves that he's going to be a bigger player once she starts paring the field down. Also do you think this means that she listened to the advice of the former Bachelorettes and was like "I like you and I know that so I am going to see who else I like too just so I don't focus on you."
Kim: YES you're so right, I had forgotten that tidbit!
Maggie: Top 3 racing for the "Time with JoJo": Luke (YES!), Grant (Well, yes), and Wells (How?).
Kim: I don't think Grant would have been able to go back to work had he lost this Fireman Challenge. How embarrassing.
Maggie: Luke, I love you, but shut up about losing.
Ummmm, the "War Veteran" LOST? I don't think JoJo supports our troops. #TheBachelorette

— Sage Young (@abrighteryellow) May 31, 2016
Maggie: Who even is Derek?
Kim: He has such a vacant expression, I am not sure if he is even a person.
Maggie: THE ERECTILE DYSFUNCTION PASTOR HAS KIDS???
Kim: Should I rescind my sex criminal hair comment?
Maggie: It's too apt, you can't
Maggie: Jojo's outfits with the cutouts makes her look like a villain on a 90's Aaron Spelling primetime soap, btw. (This is not necessarily a criticism, Amanda Woodward was a badass.)
Kim: LISTEN. Amanda Woodward was the QUEEN of the Power Miniskirt Suits.
Maggie: Does Luke look like Billy Crudup? Is that who he reminds me of or do I think that because I just saw Spotlight again?
Kim: I'm forever stuck on how they made Luke pose pensively in front of a barn, so I will look closer next week. ALSO are they MAKING him wear his dog tags to remind us that he's a vet or does he actually wear them all the time?
Maggie: Considering they made his occupation "war veteran" I think  it's the producers.
Kim: Agreed and it's tacky AF.
Maggie: God shut up about Wells, he's not interesting. He brought photos of his dog and I didn't even care, okay.
Kim: BUT WHERE DID THE ACAPELLA GROUP GO?
Maggie: I'm amazed we recognize him without them
Maggie: LUKE I LOVE YOU BUT SHUT UP ABOUT LOSING
Maggie: "Giddy like a schoolboy." No, absolutely not.
Kim: WHO ACTUALLY SAYS THAT? Like in real life? The producers HAVE to be feeding him dialogue.
Maggie: WHO EVEN IS DEREK? HE MADE NO IMPRESSION ON ME NIGHT ONE.
Kim: Derek is the one who I said had slight John Krasinski face but I take that back because that's an insult to John Krasinski.
Maggie: Is this promo for The Choice or do I think that because I just saw it? Why all the choices.
Kim: WAIT. You actually saw The Choice?
Maggie: IT WAS UNDER DURESS.
Kim: AND?
Maggie: It was the WORST. So much good ole' boying. And he's dithering about his choice and never actually ends up making it. They should have called it The Dithering.
Maggie: Should we start drinking every time JoJo says the word "hot" or would we die?
Kim: We would die.
Maggie: "Kiss or no kiss? I'm gonna go with kiss"
Kim: As it becomes abundantly clear, she's always going to go with kiss. (Sage: Well she certainly isn't shy about making out with everyone.)
Maggie: HOW MANY TIMES HAVE THEY SUNG THIS SONG?
Kim: BABY LOOK WHAT YOU'VE DONE TO ME.
Maggie: Oh my god, Chad bonding with the Canadian vampire is priceless.
Kim: For reals. Maybe Daniel wants to drink his blood.
Maggie: Chad needs to up his insult game, they keep getting away from him.
"Old, wrinkly-looking…high school kids." That insult got away from you, my guy. #TheBachelorette

— Sage Young (@abrighteryellow) May 31, 2016
Maggie: Smol marine alert!
Kim: SO SMOL. Isn't there a height requirement?
Maggie: Who is the guy that looks like Jordan and didn't get a date this week? Chase? Who the fuck is that?
Kim: The whole some guys not getting a date each week bugs me. YOU HAVE GROUP DATES YET YOU LEAVE SOME PEOPLE OUT? Do they not have the budget to include everyone in the firefighter date? Please explain.
Maggie: ME TOO. At least try to appear to be fair.
Maggie: CAN WE WEED OUT SOME MORE GUYS PLS.
Kim: THAT is why some people don't get dates.
Maggie: OOH SPARKLE DRESS!!!!!
Kim: You are Harry and Sparkle Dresses are Louis. (ALSO THIS GIF CAME UP WHEN I SEARCHED "DISTRACTED BY SHINY THINGS". WHERE IS THE LIE?)
Maggie: This is all such surface speak, they're talking and saying nothing and I'm usually not even mad at that
Kim: Welcome to EVERY SINGLE DATE on The Bachelorette. NO WONDER 99% of these couples break up because you're basically getting proposals after 3 dates of small talk and fantasy suite sex.
Maggie: Wait I think Derek was actually speaking his truth or whatever but I had totally zoned out.
Oh good, the "nice guys" are announcing themselves. That always works out well. #TheBachelorette

— Sage Young (@abrighteryellow) May 31, 2016
Maggie: Because GOD FORBID a straight man admit to enjoying The Bachelorette.
Maggie: OH CHRISTIAN WE LIKE CHRISTIAN HE IS TOO PURE FOR THIS SHOW.
Kim: Have we ever heard him talk other than his intro? Am I not paying attention?
Maggie: Update: I still love Jordan.
Maggie: "Hands off the merchandise" is disgusting but also, actually, Chad, hands off the lady.
Kim: Am I going to have to use a NO TOUCHY gif every week?
Maggie: What is it with protein shake insults this week? What is going on in that house that we don't see?
Kim: I DON'T EVEN WANT TO KNOW. (Wanking is happening, that's what. PROTEIN.)
Did Chad just suggest making a jizz milkshake out of his roommates? #TheBachelorette

— Sage Young (@abrighteryellow) May 31, 2016
Maggie: Shut up, Santa (that IS Santa, no?)
Kim: I HAVE NO IDEA.
Maggie: CHAD ENOUGH NO ASS GRABS PLEASE.
Maggie: Presented without comment: "Starting off a little naggy here"
Kim: Welp. HOW IS THIS ALWAYS A GO-TO INSULT FOR A STRONG WOMAN? However, I DO have to have a modicum of respect for chad for blatantly refusing to play the game of "I FELL FOR JOJO AT FIRST SIGHT" that all the others play. It is the most ridiculous thing about the show. YOU DON'T EVEN KNOW HER YOU JUST WANT TO BANG HER.
Maggie: Listen, I've been conditioned to hate Chad so that's what I'm gonna do here.
Kim: You are the perfect Bachelorette watcher, Maggie.
Maggie: Thank you, thank you. I've put in a lot of prep time with other reality shows and it's really paying off.
Maggie: I missed whatever James Taylor did but I don't really care, he makes my skin crawl.
Maggie: Does she have to touch up her lipstick like every five minutes because that seems like a lot of maintenance to kiss guys like James Taylor.
Sage: These poor make-up people.
Maggie: CATTY CATTY CATTY leave the smol marine alone WAIT DO I LIKE HIM NOW?
Kim: OH HOW THE TIDES HAVE TURNED, MAGGIE.
Maggie: JORDAN IS LIKE PLAYING WITH HER HANDS YOU GUYS OMG
Maggie: 100% Chad uses that tiny dog to pick up chicks, sorry about his mom, but come on
Kim: My first response to the mom story was "It's SUPER early in the game to play the Dead Mom card but you do you." HE DIDN'T EVEN SHED A TEAR FOR HIS DEAD MOM?  Also, I am going to hell.
Maggie: Okay, as you pointed out, he didn't even tear up. Is his mom even dead, have we fact checked this??
Kim: Side note, I've decided from here on out that Chad gets Ryan Lochte gifs.
Maggie:"If Chad got a rose tonight" it would mean that we're on a reality TV show.
Kim: PRECISELY. Get with the game, y'all. Chad's the only "character", he's not going anywhere. MAKE UP YOUR OWN CHARACTER IF YOU WANT TO STAY.
Maggie: I respect the power move of Chad walking JoJo in. I still hate him.
Kim: I LOVE how the guys reacted to that.
Sage: WHY ARE THEY SO MAD? They literally could have walked outside and gotten her themselves. They are just mad that THEY didn't think of it.
At this point, I hope Chad wins just to spite all these other jamokes. #TheBachelorette

— Sage Young (@abrighteryellow) May 31, 2016
Maggie: I love the smol leading the charge to confront Chad and discuss his lack of respect
Kim: "Go, Napoleon, go!" #TheBachelorette

— Sage Young (@abrighteryellow) May 31, 2016
Maggie: Why is it snowing?? Oh because. No. WHO IS CHASE?
Kim: More importantly, where did her mittens come from?
Maggie: Jordan, I know we hate Chad and I know I love you, but no food shaming please and thank you
Kim: Look, I WOULD BE ALL OVER all of the food trays so I just have a lot of respect for it. Even if I was a little grossed out by eating the cold cuts straight up. BREAD IS DELICIOUS. Just ask Oprah.
Maggie: This was a smart move, he's going to be the only one without a hangover tomorrow. Listen, we all know why they keep the alcohol flowing and the buffet small at these parties and I have to respect Chad's strategy OF ACTUALLY EATING and not getting smashed and starting weaksauce confrontations.
They're SHAMING HIS FOOD PLATE. https://t.co/VKfeVDr0sB

— Sage Young (@abrighteryellow) May 31, 2016
Maggie: CHAD MENTIONED PROTEIN SHAKES AGAIN WTF.
Kim: We're talking about a guy who did pull-ups with his suitcase essentially strapped to his dick. Clearly, it's a euphemism.
Maggie: WHAT IS GOING ON IN THAT HOUSE?
Kim: Singalongs?
Maggie: Listen, dudes, don't paint me in the corner of defending Chad eating.
Kim: Chad gives ZERO fucks though. He doesn't need any defense.
Maggie: Chad's had a lot of facetime this week and meanwhile there are guys who I don't even know who they are, I'm just saying.
Maggie: I love how they keep riling each other up about how Chad's level of respect/disrespect.
Kim: TESTOSTERONE!
Maggie: Chad was right, that confrontation was weaksauce.
Kim: CHAD GIVES NO FUCKS.
Maggie: I repeat, the Canadian vampire is Chad's only friend in the house.
Kim: WHY though? I still think he plans on murdering him and drinking all his blood.
Maggie: ONE ANGRY SMOL STARRING ALEX.
I feel sad about Alex's lack of exposure to real horror movies. #TheBachelorette

— Sage Young (@abrighteryellow) May 31, 2016
Maggie: Rose Ceremony, finally, here we go
Kim: THIS EPISODE HAS BEEN 84 YEARS LONG.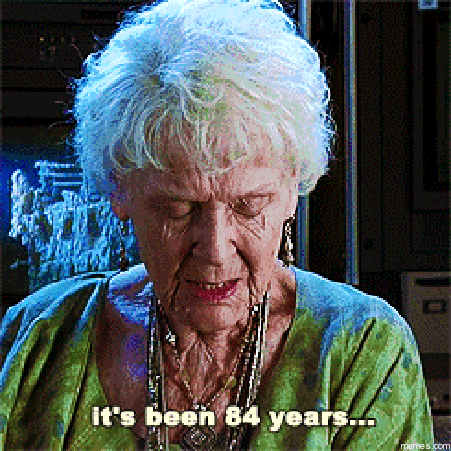 Maggie: I know who Christian is and he is too pure for this show.
Maggie: WHO. IS. CHASE.
Kim: Canon fodder/Future Bachelor in Paradise contestant.
Maggie: JORDAN, MY MAN
Maggie: I think Grant is here to lowkey stay awhile.
Kim: Nods.
Maggie: I know we don't use the CD word but Alex needs to calm down
Maggie: Okay so who's going home, the superfan, good, the hipster good yes, and… I have no idea who that was. That wasn't James Taylor, was it? It looked like him. Nope, I see James Taylor. God, I'm so mad I have to keep typing that name.
Kim: You're lucky he didn't sing the JoJo song for her.
Maggie: Okay, Christian lost me in this credits bonus scene.
Kim: I DIDN'T WATCH WHAT HAPPENED.
Maggie: He like drew a bubble bath and stripped down and Jojo was like um I'll just perch on the edge of the tub fully clothed, thanks, and it was so gross and awk, I can't.
Kim: OH NOOOOOOOOOOO CHRISTIAN.
"A parade of losers." – Chad just rebranded this show! #TheBachelorette

— Sage Young (@abrighteryellow) May 31, 2016
Next week, we get TWO episodes and you know what that means. MONDAY IS GOING TO END IN A CLIFFHANGER. Share your thoughts on Chad in the comments, Rose Lovers!