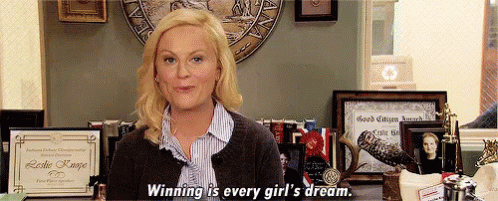 After a week-long battle in the Feelie Fandom Arena, these ten have emerged victorious. Some races were runaway victories, some were nail-biters that came down to the final day of voting. What they all have in common is that they were chosen by you, with minimal shilling from us. (Hey, it's our site and we're allowed to have faves!) My favorite thing about the Feelies is that it's almost like taking the pulse of the readership of this website. What are you guys passionate about? What shows give you the feels on a regular basis and how can we cover them? (Good news, I think we've FINALLY cracked how we want to do Jane the Virgin recaps, thanks to a brilliant idea from Maggie.) These are YOUR winners and we are so proud of all of them. Feeling Awards all around! –Kim
Best Comedy: Jane the Virgin
Nominees: Broad City, Brooklyn Nine-Nine, Crazy Ex-Girlfriend, Unbreakable Kimmy Schmidt, Veep
For the second year in the row, you guys have voted The CW staple your favorite TV comedy!
And that's how it's classified for awards consideration, but Jane The Virgin makes us misty as often as it makes us laugh. And it can serve both purposes equally, because JTV never forgets where it keeps its heart.
Season two ran on the nimble ensemble and creative storytelling that defined this show in the first place, but doubled-down on the intricate machinations of its airtight plotting. The year began with the resolution of Sin Rostro's abduction of newborn Mateo and ended with an ill-fated wedding (complete with musical number!); dozens of reveals and reversals happened in between. The whole production rallied around the show's experiments with pastiche, and everyone from the actors to the directors to the writers to the graphics people deserve credit for using homage to everything from silent movies and Shondaland to actually drive story forward, not just to wink at the audience.
It's a rare series that can balance character and plot so well, especially when the audience is expecting an average of 2.5 gasps per episode. The personalities who occupy Jane's world are too strong to be swallowed by their own drama, and that makes for one satisfying viewing experience. Also, any show that casts Britney Spears in such a positive light has my loyalty forever. –Sage
Best Actress in a Comedy: Gina Rodriguez, Jane the Virgin
Nominees: Rachel Bloom as Rebecca Bunch, Crazy Ex-Girlfriend; Ilana Glazer as Ilana Wexler, Broad City; Abbi Jacobson as Abbi Abrams, Broad City; Ellie Kemper as Kimmy Schmidt, Unbreakable Kimmy Schmidt; Julia Louis-Dreyfus as Selina Meyer, Veep
Just like her show, IRL angel Gina Rodriguez is also a two-peat Feelies winner!
I touched above on how Jane the Virgin's twisty telenovela plot stays grounded in character, and the show's leading lady is truly its center. It's easy to forget what a relative newcomer Gina was when she got the part. An actor who doesn't have her natural confidence (in herself and in the show) would never be able to anchor this series. Think about it: While Rogelio deals with his career nemesis making moves on his ex; Michael chases down a murderous drug dealer who's also a master of disguise; and Petra has her identity stolen by her long-lost evil twin; Jane struggles with finding an adviser, carving out a childcare schedule with Rafael, and hovering at the perfect level of drunkenness at her bachelorette party. Jane should exist on a different plane than the shenanigans that surround her, but Gina plays her so genuinely and with such warmth that her even her adviser struggle carries the same weight as the Sin Rostro mystery. We care about Jane because Gina does. Now PLEASE, can she finally get some? –Sage
Best Actor in a Comedy: Santino Fontana, Crazy Ex-Girlfriend
Nominees: Tituss Burgess as Titus Andromedon, Unbreakable Kimmy Schmidt; Billy Eichner as Billy Epstein, Difficult People; Vincent Rodriguez III as Josh Chan, Crazy Ex-Girlfriend; Andy Samberg as Jake Peralta, Brooklyn 99. 
For most of the week, Best Actor in a Comedy was a horse race between Tituss Burgess and Andy Samberg. But in the last 36 hours of voting, it was like Santino Fontana decided he could win a Feelie if he wanted to. Thus, in the most Greg Serrano way possible, Santino Fontana is your Best Actor in a Comedy. AND WE'RE NOT EVEN SETTLING FOR HIM.
Listen, Greg Serrano won my heart from the moment he said that Rebecca was his type because she was ignoring him. Emotionally constipated guys may be horrible IRL but MAN do I love them on television. Like Pacey Witter, Chandler Bing, and Jeff Winger before him, Greg wears his sarcasm and his humor like a suit of armor protecting a deep insecurity that he's never gonna be good enough for himself or for anyone else. (I KNOW I am going to get shit for comparing Greg to Pacey and Chandler, but Rachel Bloom HERSELF compared Greg to Fitzwilliam Darcy, who is the grandfather of ALL of those characters, okay? Deal with it. #TeamGreg) Greg's default mode is to lash out with a scathing comment aiming to hurt before someone else can hurt him. He calls people out on their shit but shuts down when it's turned back on him because no one is telling him something he doesn't know already. He hates his life but has no idea how to get out of it because he has obligations. He self-sabotages because he expects things to end ANYWAY. But he's also the guy who will show up with a bottle of whiskey on Thanksgiving, a guy who will take care of his ailing father, and a guy who will show up when you're in the hospital. Under all that sarcasm and self-loathing, he's a big old softie. I feel Greg on a fundamental level, you guys.
The thing is a character like Greg would absolutely not work without the delightfully wry performance that Santino gives. He delivers all of those one-liners with a twinkle in his eye and that smirk and you're just like…YES. Of COURSE you are this guy. (Don't even get me started on the glass-shattering moment that I had when I realized his delivery is VERY Joel McHale-esque because I can't unhear it and I just wanted to pass that along to all of you people.) And then there's that singing voice. I bless the casting team of Crazy Ex-Girlfriend for filling their ensemble with musical theatre actors because Santino just knows hows to emote through song. If I wasn't already thoroughly in Santino's corner, I definitely was after his Billy Joel inspired number "What'll It Be." Damn, son.
I would be remiss if I left out the "Three days of you and me ruining each other" moment because both Sage and I literally screamed at that. He has the ability to go from sarcastic goofball to throw me up against the wall and have your way with me and THAT, my friends, is a gift. Someone's got a nomination for Most Handsome Young Man coming his way to go with his shiny new Feelie is all I'm saying. –Kim
Best Supporting Actress in a Comedy: Donna Lynne Champlin, Crazy Ex-Girlfriend
Nominees: Anna Chlumsky as Amy Brookheimer, Veep; Tina Fey as Andrea, Unbreakable Kimmy Schmidt; Yael Grobglas as Petra Solano, Jane the Virgin; Jane Krakowski as Jacqueline Voorhees, Unbreakable Kimmy Schmidt
Sage mentioned it in our nominee post but it bears mentioning again: I could not be more thrilled that millions of people have now been exposed to the brilliance of Broadway Baby Donna Lynne Champlin and I could not be more thrilled to bestow a Feelie on her for Best Supporting Actress in a Comedy.
Everything about Donna Lynne's Paula is the DEFINITION of a what a great Supporting Performance should be. She has the capability to steal every scene that she's in but she also knows when to step back and let her fellow actors shine. In fact, she MAKES them shine because she's there giving everything she's got.
Paula was bored as hell before Rebecca Bunch came into her life like a hurricane full of neuroses and excitement. These two ladies bring out the best (and worst) in each other. Part of Paula's devotion to Rebecca getting her happy ending with Josh springs from her desire to see SOMEONE get the fairy tale that she didn't, god dammit. You literally SEE that in the manic gleam in Donna's eyes every time Paula and Rebecca come up with some new (usually ill-advised) scheme because she is just having the BEST time. Paula Proctor is the friend you call when you need bail money but she's also probably the friend who landed you in jail in the first place. That's true friendship. PLUS girlfriend can belt out a Mama Rose inspired number like no one's business.
What makes Crazy Ex-Girlfriend work so well is the fact that ALL of the characters are larger than life cartoons (they HAVE to be with all the bursting into song) but yet the actors who bring them to life are SO committed to their performances that you buy it. Donna Lynne Champlin grounds Paula's insanity with a real desire to just take care of someone and be appreciated for doing so. She makes Paula the person you want to have in your corner…because God HELP you if she's against you.  –Kim
Best Supporting Actor in a Comedy: Brett Dier, Jane the Virgin
Nominees: Andre Braugher as Ray Holt, Brooklyn 99; Jaime Camil as Rogelio de la Vega, Jane the Virgin; Pete Gardner as Darryl Whitefeather, Crazy Ex-Girlfriend; Reid Scott as Dan Egan, Veep
BRETT DIER, YOU WON A FEELING AWARD.
And it was hard out here for Michael Cordero in Season 2. I will admit that for most of Season one, I was holding it down for Team Rafael. He and Jane seemed fated, and I've never been able to resist a reformed bad boy. But sweet, steady Michael proved himself to Jane over and over again this year. And as he stood in front of all their family and friends tearfully recited the Spanish vows he studied with Abuela, it became clear that even if Michael and Jane weren't bound by destiny or an accidental insemination, they loved each other enough to make up for it.
Around Feelies time last year (when his co-star Jamie Camil swept the vote), Brett promised us via Twitter that he would make us feel this year. And make us feel he did. We felt the beating heart of the mildly suffocating but completely pure bromance between Michael and his now father-in-law Rogelio. We felt Michael fumbling to work out where he fits into this nontraditional family unit, respecting Rafael but also stepping up as another loving father to Mateo. We felt Michael's unyielding support of Jane, in her work and in her choices about her body. And we felt fear for this boy who has pissed off A LOT of the wrong people. (Dun dun DUN.) Most of all, we felt grateful that Brett Dier has this part. Bring on the next chapter. –Sage
Best Drama: Outlander
Nominees: Doctor Who, Jessica Jones, Penny Dreadful, Scandal, UnREAL
Once the Outlander fans discovered this post, the race for Best Drama became a race for second place (which was actually a tightly contested match between Jessica Jones and Doctor Who). Outlander won by an overwhelming margin (63% of the vote) and it's easy to see why fans are so passionate about it. Outlander is marketed as a bodice-ripping romance, which is probably why major awards bodies haven't warmed to it. If the Emmy Voters would actually WATCH their screeners, they would see that Outlander is right up there with Game of Thrones in terms of production value, ensemble acting, and story scope. The only thing missing from Outlander is dragons. (Oh yeah and the fact that it's led by and told from the perspective of a woman. Whoops.)
Outlander is SO MUCH MORE than a romance though. Sure, it has those hot as hell sex scenes (though less so in season 2, I get why they were missing this year but bring those back please!) but it's also filled with political intrigue as we watched Jamie and Claire infiltrate the courts of Versailles in their quest to stop the Jacobite Rebellion. It's a show that doesn't shy away from difficult stories like rape survival and the loss of a child. It is unflinching in its savageness and it's gentle and delicate at the same time. It's a mystical time-travel story about a love that surpasses and defies all boundaries and it is a sweeping historical epic. It's magnificently acted from its two incredible leads all the way down to the ensemble players (Louise de Rohan, we hardly knew ye). It's bold in its story telling and it's a bitch of a show to recap and I wouldn't have it any other way. –Kim
Best Actress in a Drama: Caitriona Balfe, Outlander
Nominees: Jenna Coleman as Clara Oswald, Doctor Who; Eva Green as Vanessa Ives, Penny Dreadful; Tatiana Maslany as the Leda Clones, Orphan Black; Sarah Paulson as Marcia Clark, The People vs. OJ Simpson; Krysten Ritter as Jessica Jones, Jessica Jones; Kerry Washington as Olivia Pope, Scandal
Hell hath no fury like Outlander fans scorned. For the second year in a row, Caitriona Balfe takes home the Feelie for Best Actress in a Drama Series. At least the FANS are taking note of this extraordinary performance even if major awards bodies continue to ignore it. (SHAME ON ALL OF THEM.)
In a year where we lost powerful female leads like Peggy Carter, Vanessa Ives, and Abigail Mills due to cancellation (and shitty writing), I consoled myself by saying "At least we still have Claire Fraser". Claire is the heroine we all need and deserve. She is a woman who refuses to sit idly by and let the men run things while the ladies serve to be decorative objects. (How relevant is her "I need a purpose" scene? QUEEN.) Claire takes no shit. She is ferocious and difficult and brave and passionate and vulnerable all at once and we're so lucky to have a character like her on television.
Sage put it perfectly in our Nominees post when she said that Outlander asks a LOT of the woman playing Claire Fraser. The entire show rests on Claire's shoulders and it would ABSOLUTELY fail if the actress playing her wasn't up to snuff. We are SO LUCKY to have Cait because she makes all of this look EASY. From the very first anguished cry of season two, I knew we were in for a treat this year and boy did Cait deliver. What amazes me about her is the range of her performance. She's wonderfully sly in "Not in Scotland Anymore" (I could write essays on all of her reactions to Annalise). She sensitively paints a picture of PTSD in "Prestonpans" and she effortlessly altered her posture and speaking voice to play a 20 years older Claire in "Dragonfly in Amber". However, Cait's shining moment was the tour-de-force performance she gave in "Faith". THE FUCKING RANGE SHE SHOWS IN THIS EPISODE GUYS. She goes from a feral desperation as she realizes she's lost her child to a deep bone numbing grief to stone cold bitch La Dame Blanche realness to a cathartic release of forgiveness ALL IN ONE EPISODE. It's astonishing. It absolutely blows my mind that awards bodies aren't falling all over themselves to praise this woman's brilliant performance. When they finally DO we can all sit back and cross our arms smugly and say that we've known all along. –Kim
Best Actor in a Drama: Sam Heughan, Outlander
Nominees: Peter Capaldi as The Doctor, Doctor Who; Charlie Cox as Matt Murdock, Daredevil; Rami Malek as Elliot Alderson, Mr. Robot; Aaron Paul as Eddie Lane, The Path; David Tennant as Kilgrave, Jessica Jones
The Outlander fandom is not to be trifled with, but we can't even be mad that they led the charge for their show in voting again this year. Sam Heughan won the 2015 Feelie and came roaring back in Season 2 with Scottish vengeance. (RED JAMIE FTW.) I know I speak for Kim when I say that we're happy to keep showering Sam with virtual awards as long as establishment voting bodies keep their eyes closed to this beast of a performance. We canna help but be transfixed by him.
Survivor stories are so important, and no less so when we're talking about a male victim. Sam knocked us out last season when Captain Jack Randall raped and tortured Jamie; something broke inside of him that night. In Season two, that trauma is still with him. And I'd venture to say that the lasting guilt and humiliation of that experience is even more challenging to play. Jamie's internal struggle raged on and inspired some bad decisions. (Marriage tip: don't get all giddy in front of your wife about getting it up in a brothel, even if you let that boner go to waste.) But where Jamie never wavered was in his pride in his home and countrymen and in his epic, earthshaking love for Claire.
For better or worse, Jamie has grown up so much since we first met him. Sure, he was always a man, but he's starting to realize what that really means. Sam plays Jamie as a leader who, though he's far from infallible, is still the only man his clan would want marching them into battle. He can make himself at home next to a pompous windbag of a royal if that's what the situation requires. And I'll never be over his "oh shit" face whenever Claire goes into her "I'm a witch!" routine. We saw him for the first time as a father, both to his unborn child and to his little ward Fergus.
And then he grieved next to his wife, but still made sure that she got the lion's share of the comfort. At the end of the season, Jamie performed the most selfless act that could ever be asked of him and he did it in a way that once again put Claire's feelings before his own. Sam Heughan and Jamie Fraser are redefining what it means to be a romantic hero and clearly our readers are here for it. –Sage
Best Supporting Actress in a Drama: Billie Piper, Penny Dreadful
Nominees: Olivia Colman as Angela Burr, The Night Manager; Maria Doyle Kennedy as Siobhan Sadler, Orphan Black; Rachael Taylor as Trish Walker, Jessica Jones; Bellamy Young as Mellie Grant, Scandal; Constance Zimmer as Quinn King, UnREAL
I love all our nominees, but I am OVERJOYED that you guys voted Billie Piper to the top of this category. I wasn't prepared at all to let go of Penny Dreadful for several reasons. Chief among them: where am I going to get my weekly B. Pip's four-page monologues?
I get emotional about this woman a lot. I think about her career as a teen pop star and about how Russell T. Davies and Julie Gardener believed in her talent as an actress SO MUCH that they were willing to stake no less than the future of Doctor Who on it. And then I see interviews with PD showrunner John Logan where he talks about how much he loves writing for her and how those monologues are a result of him just wanting to let her loose on some heavy material. If casting directors aren't falling all over each other to get her on another series, I don't understand this business at all.
Because Billie BROUGHT IT as Lily Frankenstein. And clearly this character is close to my heart; she's the entire violent reality of rape culture and male privilege distilled into one fed up crusader. Her mission was doomed from the get-go, but it's no wonder the fallen women of London were drawn to Lily's simmering fury.
What I love the most about Lily is her pride. A vulnerability shined through, but Victor's creation was steadfast in the belief that she was in the right. She held her position of power like a man would, without apologies or qualifications. I like to think that somewhere out in Victorian London, she still does. –Sage
Best Supporting Actor in a Drama: Hugh Dancy, The Path
Nominees: Jon Bernthal as The Punisher, Daredevil; Jordan Gavaris as Felix Dawkins, Orphan Black; Rory Kinnear as The Creature, Penny Dreadful, Christian Slater as Mr. Robot, Mr. Robot; Robin Lord Taylor as Oswald Cobblepot, Gotham; TJ Thyne as Jack Hodgins, Bones
If Hugh Dancy started his own cult, I'm just saying, I'd really have some thinking to do.
This win is proof that you folks are also watching The Path, a terrifying and nuanced study of how seductive belief and belonging can be. We saw in Hannibal how well Hugh can play a person caught in the sway of something powerful, even though it might repulse him. Cal Roberts is a much nastier, more vengeful individual than Will Graham, but they do share that Alice-falling-down-the-rabbit-hole quality. I also find it interesting that, as an actor, Hugh Dancy seems drawn to projects where characters revere and hold onto symbols. All this to say, I think that Hugh Dancy explores tricky material in a responsible, thoughtful way. Cal Roberts can't be written off as a crazy person or a zealot, and that makes him all the more frightening.
Cal is like a wild animal who senses mankind encroaching on his territory and therefore lashes out in fear and self-preservation without much thought for the consequences. He's also a spiritual leader neck-deep in his own sin. To distract is flock from those failings, he throws his fellow sinners under the bus. The acting head of the Meyerists is ultimately a small man. And though the jury's still out on whether or not he even believes what he's preaching, the power that his position gives him makes him feel big. –Sage
THANK YOU FOR VOTING. Honestly, you guys, the Feelies are probably our favorite time of year because we love seeing how much you get into it. Happy with the results? Bummed your fave lost? Feel your feelings in the comments, please.