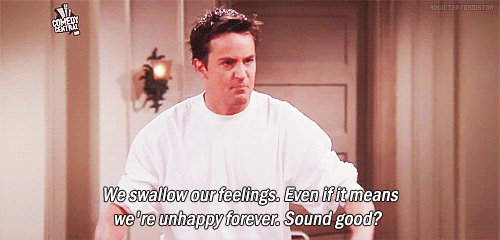 We've arrived at the conclusion of our Friends appreciation posts, and who better to take us home than Chandler Muriel Bing?
In the original character descriptions of our six favorite New Yorkers and obviously influenced by classic British comedy, Chandler is said to be "droll," "dry," and "a wry observer of everyone's life." ("You know what's weird? Donald Duck never wore pants. But whenever he's getting out of the shower, he always puts a towel around his waist. I mean, what is that about?") But those few words barely scratch the surface of where Matthew Perry took this character.
I'm struggling to put my lifelong affection for Chandler Bing into words. How can I possibly do justice to the caretaker of the WENUS? The late-bloomer who first touched a girl's boobs when he was 19? ("Thanks, man.") The blabbermouth who was the first to spill the beans about Ross's love for Rachel? He was the type of half grown-up who I now know actually litters the NYC landscape. Stuck for most of the series in a dead-end, boring desk job, all the romance and fun in Chandler's life was outside the 9- 5. He was together enough to take care of Joey, but forever unable to resist a Baywatch marathon or making their apartment into a cozy home for a couple of farm animals. ("Do you guys know how to get a chick out of a VCR?") He rocked many an old-school bowling shirt and got overly excited a lot. ("Chandler, you're panicking." "Yes! Join me, won't you?") People sometimes assume that he's gay because he has a "quality." ("Good, cause I was worried you guys were going to be vague about this.") He had a partying college friend nicknamed "Gandalf." He was a bro to Ross and Joey, but thoroughly capable of and happy to spend many a girls' night with his ladies.  Chandler didn't have much of a childhood, so the family of friends that he's created for himself means everything to him. He's legitimately torn up in the arc where Joey gets rich and moves out of their apartment for a period. It still hurts to think on it. Hey, at least we got to meet Eddie. ("Well, see ya, pals.")
By all accounts, Matthew Perry's addition to pain medication stayed hidden and untreated for so long because he maintained his professionalism and work ethic on set. So, though his fluctuating weight had us fans concerned about Matthew's health, Chandler Bing remained completely unaffected. The impact endures. SEVERAL comic characters on TV right now owe a characteristic or two or ten to Miss Chanandeler Bong. But no one will ever fully take his place. Here's why:
1. His Sardonic Wit
Like so many of us, Chandler's immediate response to any tense situation (or any situation, really) is to crack a joke. And why not? People in general take themselves and their problems too seriously. When things got deep on Friends, Chandler was always there to help us navigate those choppy, emotional waters. Whether he was eating Monica's organic hair wax to stay alive through Ross and Rachel's marathon breakup ("Not the USED wax." "Because THAT would be crazy.") or smoothly trying to transition his relationship with Monica from casual hook-ups to decidedly less casual hook-ups ("Y'know, I don't know if you've ever looked up the term goofing around in the dictionary. Well, I have, and the technical definition is, two friends who care a lot about each other and have amazing sex and just wanna spend more time together. But if you have this new fangled dictionary that gets you made at me, then we have to, y'know, get you my original dictionary."), the Chan-Chan man set the tone for the humor of the whole show.
Not that it didn't get him into trouble, of course. Chandler's mouth has been known to end relationships, botch job interviews ("And then it was really hard to sidestep that 'duty' thing."), and earn him plenty of enemies in the tri-state area. But who cares? Because he's got 5 people who understand him, and that's all he needs. Being universally liked versus cracking your friends up daily? No contest.
Chandler often got the glory of the straight-faced punchline. The other characters would set 'em up, and he'd knock 'em down. This one still makes me giggle, after roughly 20 years.
Ross: "You uh, you don't believe in gravity?"
Phoebe: "Well, it's not so much that you know, like I don't believe in it, you know, it's just… I don't know, lately I get the feeling that I'm not so much being pulled down as I am being pushed."
[Knock at door]
Chandler: "Uh-Oh. It's Isaac Newton, and he's pissed."
I could copy and paste Chandler lines from here until forever, but that's not why you're here. Or maybe it is. Just know that in researching this post, I was in laughter-tears only 1/4 of the way down his IMDB quotes page.
2. Forever Alone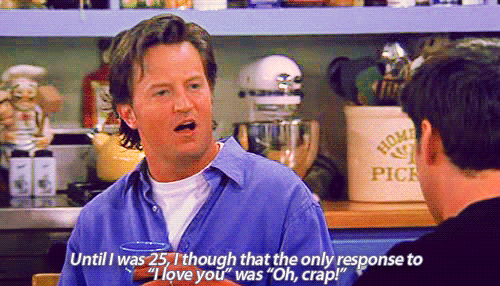 Shame on the women of fictional New York for not realizing what they had in Chandler Bing. Then again, it was his romantic trials and tribulations that made Chandler build up his sarcastic deflection methods, so thanks. From his early days of not scoring, ("Didn't you read The Lord of the Rings in high school?" "I had sex in high school.") to his adult days of not scoring ("I wanted to wear my bathrobe and eat peanut clusters all day. I wanted to start drinking in the morning. Don't say that I don't have goals!"), Chandler gave the less romantically successful of us someone to identify with and root for. We even shipped him and Janice for real for a bit, didn't we?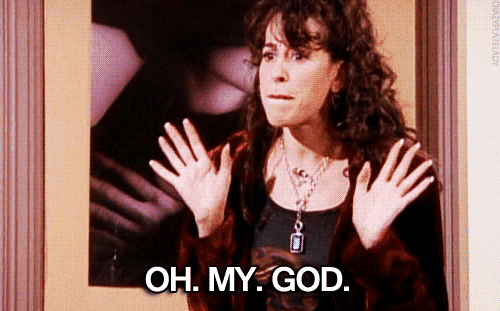 But Chandler's lack of game was all in his head. He set himself up to fail because he was convinced that he wasn't good enough to be happy. Remember: broken home. It's a real testament to his friendship with Joey that they stayed strong despite their uneven distribution of confidence with women. It probably helped even the scales that Joey thought Count Rushmore was the guy who painted the faces on the mountain. Anyway, turns out the universe had big love plans for Chandler and they didn't involve him turning into Crazy Snake Man. We'll get to that soon.
3. His One-Man Sponsorship of Joey Tribbiani's Acting Career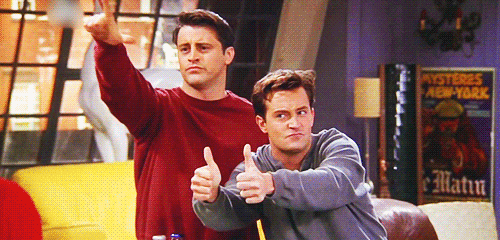 Maybe Chandler really believed that Joey would hit the big-time someday. Or maybe he just supported him because he was his bestie and acting was his dream. Either way, any butt-double gigs or off-off-Broadway Freudian musicals Joey booked, he owed entirely to his roommate.
He'd joke about the bill Joey'd rung up with him, but Chandler never expected his goofy friend to pay his tab. Beyond the cash for stage-fighting workshops and headshots, Chandler's support extended to attending every awful play he ever starred in ("So I'm gonna get on this spaceship and go to Blangon 7 in search of alternative energy fuels. And when I return, 200 years from now, you'll be long gone. But I won't have aged at all. So you tell your great, great great grandaughter to look me up. Cause Adrian, baby, I'm gonna wanna meet her."), attempting to physically tackle him to the ground so as to not embarrass himself in Soap Opera Digest, and being a test contestant as Joey prepped for an audition to host the hottest new game show on the planet, Bamboozled.
It was this brand of casually selfless encouragement that made Friends so much more than a generic sitcom about 20-something white people. And for that, Chandler deserves all the Wicked Wango cards.
4. His Dancing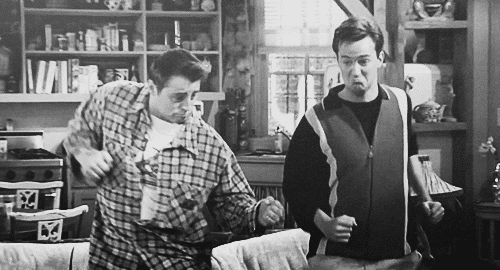 Let's celebrate Chandler's physicality in general, but ESPECIALLY his uber-white dance moves. And let this flaily abandon be an example to us all.
Chandler never let his lack of skills stop him from embarking on a victory dance, and neither should you.
5. His Nubbin
Chandler is so special that he is actually a mutant. In the second season, we find out that Chandler has a non-fuctional third nipple (Monica was the only one who knew about it – FORESHADOWING) when the gang was throwing out each other's secrets. It's overshadowed by the revelation that Joey shot a fully clothed part in a porno, but it returns in the third when Chandler has it removed. ("Two nipples, no waiting." "Just like Rachel in high school.") Yes, Chandler did away with his tiny nubbin, and when he missed the aforementioned easy Rachel joke, fears that with it, he nubbinectomied "the source of all" his power. Two-nippled Chandler is still hilarious, though we missed that weird little thing for the rest of the series. Let's celebrate our differences! A little nubbin is nothing to be ashamed of.