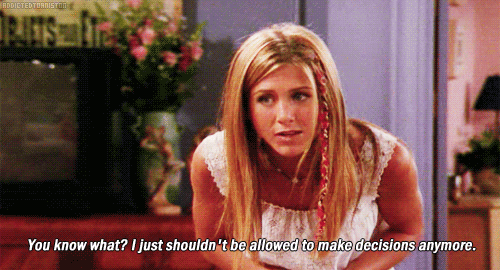 Posted by Sage
Recently, my dad interrupted one of my The-Big-Bang-Theory-doesn't-deserve-all-this-Emmy-attention rants by arguing that the Friends are just as emotionally staid as Sheldon and company. That statement is patently false; and in defense of my beloved show, Rachel is Exhibit A. From spoiled Long Island rich girl to fashion executive and single mom, it's she who has the widest, series-long character arc.
The inciting incident of the whole show just happens to be the disheveled bride's arrival at Central Perk ("I just want to be married again…" "…And I just want a million dollars!"). It's through Rachel that we're introduced to the group of coffee-loving, hardly-working twenty-somethings who would become the West Village Six.
And, like the rest of the six, the Rachel we grew to love over the course of nine seasons was hardly the archetype (here: recovering prom queen) we met in season one. While the rest of the Friends had a laser-focused want or two in those initial years, whether it was job or relationship related, Rachel's goal was just to figure out what it was that she was even looking for. ("Ahh, the lesser known I Don't Have a Dream Speech.") Her openness and vulnerability is what softened her. Rachel was much more savvy and adaptable than she gave herself credit for, and Jennifer Aniston's superb comic timing brought out her sarcastic wit ("Oh, there he is: the father of my child, the porn king of the West Village.") Sure, she made some mistakes along the way. She wasn't supposed to put beef in the trifle; 18 pages IS a lot to ask someone to read in the middle of the night (front AND back); and her decision to spend $1,000 on Mrs. Whiskerson was a little rash. ("Every time this cat hisses at me, I know it's saying 'Racheeel.'") She was sexy, but, like everyone ever, occasionally became a bumbling mess in front of the object of her desire. Much of her screen time was spent will-they or won-they-ing with Ross, and theirs is one of the ships that's practically defined that term for American audiences. But you also couldn't go wrong by combining Rachel with any other Friend. See for evidence: Rachel teaching Joey how to sail on the Mr. Beaumont; Phoebe and Rachel running together in the park, each in their own style; Monica and Rachel switching places on their double date with two dreamy and slightly familiar-looking doctors ("I use my breasts to get other people's attention!" "Hey, we BOTH do that."), and Rachel attempting to get Chandler un-handcuffed from her boss's desk.
And so, our Friends character appreciation series continues with Rachel Karen Green. Isn't that just kick-you-in-the-crotch, spit-on-your-neck fantastic?
1) She's gonna make it after all.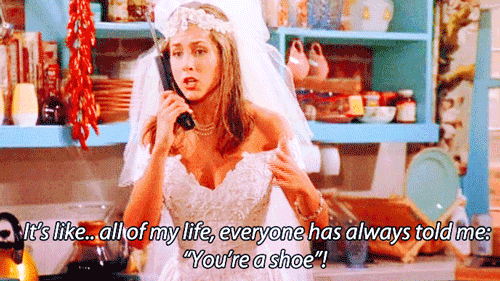 For those of us who have done this in the real world, we know that striking out on one's own in the big city actually looks more like renting out a hovel at the farthest reaches of the least-trendy borough and STILL calling one's parents twice a month for money than an 800-sq-ft room in Monica's purple apartment. But for Rachel Green of the Long Island Greens, cutting one credit card in half is twice as anxiety-inducing as all that. But surely, whether you're a shoe or a hat, we can all agree that it's really unfair how much money that "FICA guy" takes out of our paychecks.
In the later seasons, it was easy to forget that the Bloomingdale's buyer and Ralph Lauren merchandising manager was once the most forgetful (but cutest!) waitress at Central Park. But then sisters Amy (Christina Applegate) and Jill (Reese Witherspoon) would show up to remind us and Rachel of the life she probably would have ended up living if she had become Dr. Mrs. Barry Farber, D.D.S. ("You decorated dad's office and now you're a decorator? You know what? I went to the zoo yesterday and now I'm a koala bear.")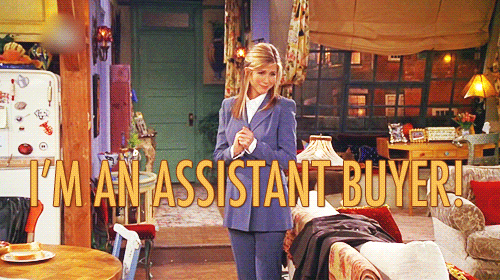 It was a blow to feminism when Rachel gave up an exciting job with Louis Vuitton in Paris to stay in New York and play house with Ross. (Yes, you read my Joey/Rachel shipper shade correctly.) My head canon is that turning down that gig made her an even more coveted get for fashion head hunters and she ended up running shit at a New York-based line. Not bad for the cheerleader who once went out with Wallas Pinser just so he'd take her SATs.
2) Her life partnership with Monica.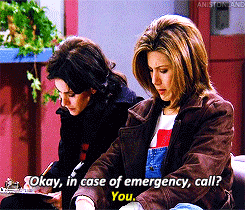 Rachel has no plan when she escapes to the city except to find and reconnect with her high school best friend, Monica Gellar. She's having an identity crisis and the only person she can count on to get her through it is someone she hasn't even spoken to in years. That's how hard they BFF, you guys. None of Rachel's richie-rich shopping buddies ever came close to taking Monica's place. You know how you know which popular girl actually has a soul? Find the one with a fat best friend.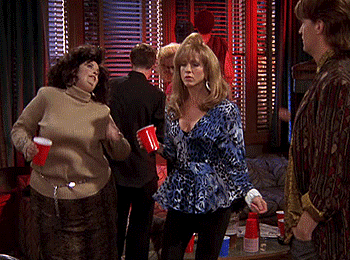 Before Rachel arrived, Monica's city family consisted of Phoebe, who's often on a wavelength that's impossible to access, and a bunch of boys, who ate all her food and made fun of her boyfriends. When Rachel came back into her life, Monica got a sister (she IS the daughter Judy never had) – someone to write messages for her on the mirror, cover her with a blanket when she falls asleep on the couch, and fight with over Jean Claude Van Damme. Rachel could also be counted on for some much needed real talk, whether in regards to questionable dating decisions ("It's like inviting a Greek tragedy over for dinner!") or kitchen fascism ("No, Mon. YOU want to put the marshmallows in concentric circles. I want to do this.") According to Joey (sorry), Ross and Rachel's marriage is canon, and Monica and Rachel are now sisters for realsies. So the show's finale was the end of one era and the start of a new one.
3) Her powers of seduction.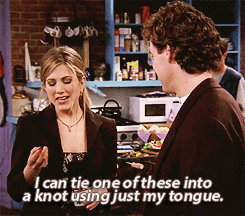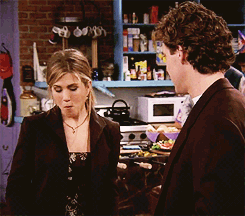 Jen Aniston doesn't get the credit she deserves for her aptitude for physical comedy. And it didn't get much better than in Rachel's ill-fated pursuit of client/crush Joshua (JOSH-UA) in Season 4. We all have that person who we just can't help but make idiots of ourselves in front of, every single time we're in their presence. Rachel's first move on Joshua results in him taking his nephew to a Knicks game instead of her, and from there, the downward spiral is steep and fast. She unpacks every trick in her arsenal, even reaching back to her high school moves and pulling – most sadly and hilariously – her cheerleading uniform out of mothballs.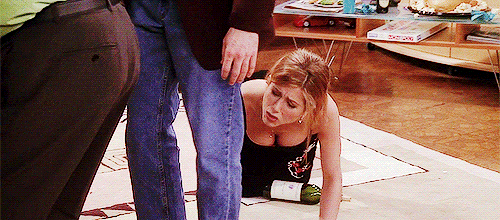 We've all been there, Rach. Well, maybe not all the way down there, but close.
4) She's a fangirl.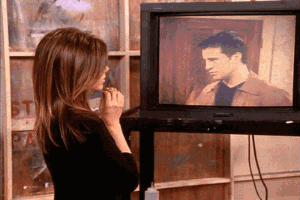 What could be better for a soap opera super fan than waking up to Jessica Lockwood in your apartment ("MONICA!!!") or being a plus one to the Soapies? Gal Pal Rachel Green is the only Friend who expresses the correct amount of excitement over having access to a celebrity like Joey Tribbiani. Basically, if I had to pick one of the six to eat ice cream and marathon Scandal with me, it would be her.
5) She's her own Windkeeper.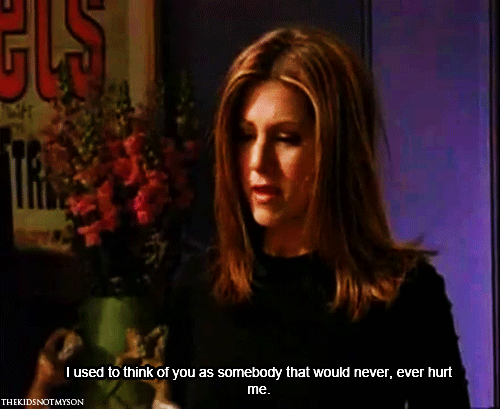 Rachel Green would NEVER let anyone wash his feet in her pool of inner power, even Ross.
"The One With the Morning After", the season 3 episode where Ross and Rachel have a long and painful breakup, is emotional and raw for a primetime sitcom. It had to be. After the lengths the showrunners went through to convince us that they were soulmates, whatever was going to break these two apart had to be bad. I've always been on Rachel's side in the "we were on a break" debate ("Then you sure had a hell of a time at the wake!"), and, as much as these 22 minutes of television broke my teen heart, I was always proud of her for standing up for herself. She chooses Ross because she's confident that he's a good guy. A NICE guy. That illusion crumbles with the copy girl situation, and the cracks were already showing before that in his petty jealousy of Mark and, simultaneously, Rachel's happiness with her new job. (Ross really was the worst sometimes.) It was at that line in the gif above – "I used to think of you as somebody who would never, ever hurt me." – when I knew that the episode wasn't going to end with them tearfully getting back together. "This can't be it," Ross says. And Rachel, who's not letting anyone – not even someone she loves – steal her wind says, "Then how come it is?"