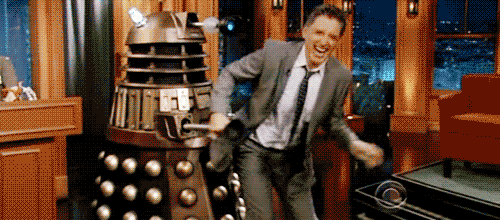 Yesterday, the man who described Doctor Who as "the triumph of intellect and romance over brute force and cynicism" announced that he'll be stepping down from The Late Late Show in December. And just like that, American Whovians lost their greatest chat show ally.
Well, not yet. We still have eight months of CraigyFerg at 12:30am; plenty of time for him to get on David Tennant's Gracepoint press schedule and welcome back his friend Peter Capaldi, this time promoting the eighth season of Doctor Who. But what are the chances that his replacement will keep a TARDIS on his (her?) desk or celebrate Matt Smith's first appearance by twerking on a full-size Dalek? Well, consider this post one vote for Chris Hardwick.
Ferguson has been an ambassador of Who to this country, and his evangelism no doubt played a small role in the show's increasing popularity here. We'll miss his off-the-cuff references, the memorabilia casually strewn about his studio, and, most of all, his interviews with Doctors, companions, and fans, which made Who feel like a super-cool but welcoming club – one we all wanted to get into.
In honor of Craig Ferguson and his service to the fandom, let's relive his sit-downs with some of our – and his – favorite people.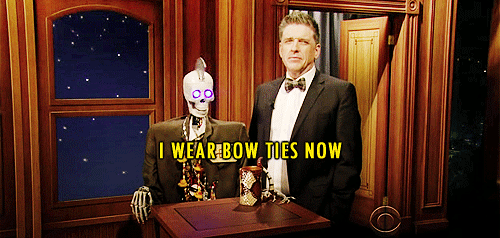 Matt Smith

Smith-dog (blame Kazza – I didn't make it up) has been on the show several times, but his first appearance on The Late Late Show was also his very first American talk show spot. Ferguson rolled out the red carpet for him, dedicating the entire episode to the mad man with a box. Matt and Craig discuss important issues of the day such as whether the on-set Dalek is a boy or a girl ("It's wearing a big metal dress…but it's covered in balls.") and have an awkward "threesome" when Hardwick shows up in a Tom Baker scarf. (Seriously, Hardwick – is your agent on this?)
Karen Gillan
Another frequent guest, Kazza always charms Craig with her tall ginger queenliness and of course, their common heritage. In this appearance, which happened right after Karen's move to LA, he assures her that Scottish people don't have to "get involved" in SoCal's juicing culture and assures her that he's not offended by her teasing. ("It's alright, I've been mocked by redheaded Scottish women before now.") Not a lot of Who talk since Amy and Rory had already had their close encounter with a Weeping Angel at this point, but Craig does call Matt "David Bowie" for at least the second time.
Jenna Coleman


Back when she was Jenna-Louise Coleman, Craig welcomed the shiny new companion to the show.  He congratulates her on the gig and on being the "sauciest" in the Doctor's long line of fellow travelers. He does not, unfortunately, congratulate her on bagging Robb Stark. Jenna throws a bit of that sauciness his way when she calls Craig out for having a not entirely up-to-date blue box on his desk. "Thanks for criticizing my TARDIS, new girl on Doctor Who." He's secretly thrilled.