Sleepy Hollow Season 3, Episode 17
"Delaware" 
Posted by Kim
(Note: I wrote a GOOD portion of this before that disaster of a series season finale. I'm letting what I previously wrote stand and I'm going to TRY and not let my rage color the rest of this, but I make no promises.)
I am not okay.
I may have been REALLY good about avoiding spoilers for this season of Sleepy Hollow but I am also not dumb. The minute Zach Appelman became the point person for all the press concerning "Delaware", I knew my beloved Joey Corbin was doomed. I tried to convince myself otherwise. He brought too much to the show, I argued. He was an essential part of the gang. He was a tie to Abbie and Jenny's roots. He brought a totally different type of masculine energy to Team Witness and served as a perfect counterpoint to Ichabod. He PROMISED Jenny he would be the one for her to tell all her crazy stories to when they were old and gray. He was CAPTAIN of the SS Ichabbie. JOEY CORBIN WAS ESSENTIAL. Of course, even as I argued with myself for all the reasons NOT to kill Joe, I realized they were actually all the reasons that OF COURSE they were going to kill Joe. Nobody likes Danny, so no one would bat an eyelash if he died. You CAN'T kill Sophie because she's Ichabbie's daughter from the future and time travel is REALLY hard to write about. So that left two options: Joe or Jenny. Considering the revelations about the Family Mills in this episode, it makes zero sense to off Jenny from a storytelling perspective. (Jenny may not be a Witness, but it's clear to me that she has a bigger role in this story than even she realizes right now.) (Plus, I think Sleepy knows better than to fridge a woman of color at this point in time.) (AHAHAHAHAHAHAHA AND THEN THE FINALE HAPPENED, I WEEP FOR MY INNOCENCE AND FAITH IN THE SHOW.) Thus Joey Corbin, perfect cinnamon roll, too good and too pure for this world, had to meet his end and Sleepy Hollow wrenched my still beating heart out of my chest and did a tap dance on it.
I told you I wasn't okay.
Look, I get that Sleepy Hollow is a show about the battle against the apocalypse and Gods and monsters and that sacrifices HAVE to be made along the way or the show would make less sense than it already does. (That's a compliment. I LOVE your batshit nonsense, show.) And at least Joe's death was treated with respect unlike other shows currently airing (*cough* THE 100 *cough* JUSTICE FOR LINCOLN *cough*) have done recently. But like Sage raged in her post on Beth Greene's death on The Walking Dead , the problem that I have with the offing of Joey Corbin is not that it was done but that it was principally done to cause Jenny Mills pain. We've seen Jenny BLOSSOM over the course of this season as she's opened herself up to trusting and loving Joe. It's been fantastic watching her find solidarity in their relationship and seeing her loosen up on the tightly held grip of her personal life. I've seen comments from showrunner Clifton Collins that Joe's death opens up an "interesting" storyline for Jenny. HA. JENNIFER MILLS IS PLENTY INTERESTING ON HER OWN WITHOUT KILLING OFF HER BOYFRIEND.
Also, I can tell you EXACTLY how this story is going to go. Jenny Mills is not going to be a person who looks at Joe's death with a perspective of someone who is all "Well I found great love but he died but I FOUND it and I'm totally open to finding it again." Jenny is going to be "I opened up to this man who promised he was never going to leave me and I allowed myself to love him and guess what? He fucking DIED. So thanks but no thanks but I don't care for that yucky love stuff and I'm going to be even more closed off than I was before." If I can predict EXACTLY how a character is going to react, that's not interesting. It's cheap. Killing Joe off was CHEAP, even if the WAY it happened was not. The very act of it was cheap. So I weep for the wasted potential of Joe Corbin. There was so much more to explore with him, both as an individual and in his relationship with Jenny and Team Witness. I weep for the interesting stories he still had to tell. (Sage: They had a REAL MONSTER ON THEIR TEAM. Their Angel, their Oz.) I get that the wasted potential is tragic, but it's a tragedy we didn't need to push this story forward. Selfishly, I weep that I don't get to see Zach Appelman's face every week. It didn't have to be this way.
So let's talk about the episode, shall we?
#CreepyHollow and #WHATTHEDAMNHELLHollow
After an Ichabbie scene that damn near killed me on the spot, we find Team Witness + Pandora in the archives hashing out their plan to take down The Hidden One. Joe and Jenny are both SUPER Anti-Pandora, pointing out that there is absolutely no way that Pandy isn't going to screw them in the end. "She's going to work really hard to gain our confidence and then screw us over again for her megalomaniac boyfriend." (Agreed that she's going to screw them over, but I think it's going to be for her OWN gain because she's sick of THO stealing her wind. She is her own windkeeper, after all.) I love that Pandora is SO BORED with this shit. "It matters very little if you trust me or not," she deadpans. (True. Also, I just love Shannyn Sossamon's performance SO MUCH. ) Just when the party couldn't GET more lit, it does, because heeeeeeeeeeeeeeeere's Danny, ready to join the mission because he thinks it will get him into Abbie's pants. I LIVE for how Joe, Jenny, and Sophie all rolled their eyes at his arrival. Ain't nobody got time for this. Danny and Abbie have a quick heart to heart about him joining the team where they spew cliches like "This is where I want to be" and "If anything happened to you, I wouldn't be able to forgive myself." I'd believe it if Abbie hadn't shown more delight at Crane's cappuccino than she did at Danny's promise to take them back to the Nicholas Sparks Cabin of Feelings. If you're going to shove this pairing down my throat, the least you could do is have Abbie show a little enthusiasm. JUST SAYING.
Back to the mission. Apparently, Team Witness has a grand total of eight hours before the sands run out of the hourglass and THO possesses the total power of the pantheon of the Gods. The strategy is as follows: Abbie and Ichabod will go to the catacombs to restore Pandora's box, whilst the others do everything they can to slow THO down. Danny's been on the team for all of 5 minutes before he starts questioning everything. He questions the fact that they have so little intel on THO and he questions why BOTH Abbie and Ichabod need to go to the catacombs because his deposit on the Nicholas Sparks cabin is non-refundable, and let's face it, he's hoping Ichabod will end up trapped there anyway. Pandora insists that the job can only be done by the two witnesses (and because she ships them and knows they need some time together because she's watched the past few episodes).  While I side with Jenny in her annoyance that Pandora is keeping herself out of harm's way by not going WITH Ichabbie, I ALSO see her reasoning in staying behind. She does know THO the best, after all, and she's the only one who has some sort of semblance of power that can stop him.  So it's settled.  The Witnesses will cross the river to the catacombs while the rest of the team zeroes in on containing The Hidden One. According to Pandora, THO is on Bear Mountain, which sits on a focal point of ancient energy. According to good old Washington's journal, the mountain is covered in a bunch of intersecting ley lines whose power can be channeled to fight the powers of the hourglass. "Into the woods, it's time and so I must begin my journey…"
In the car on the way to the river, Ichabod reflects on his relationship with Betsy Ross. Betsy returned from the catacombs irrevocably changed. Abbie points out that she herself was changed when she returned but Ichabod insists this was different. She returned and completely cut off all communication with him despite their previous closeness. This, kids, is what we call foreshadowing. The Witnesses get their boat on the river and strive to recreate the mural of Washington crossing the Delaware, down to Crane wrapping himself in a blanket. He hands Abbie the flag with a grin. "Would you do the honors?" he smirks and I CAN'T EVEN EXPRESS how important it is to me that he cedes all power to Abbie in this moment. Every little thing that he's done since it became clear they would have to go back to the catacombs has been done with respect to her agency. He KNOWS what the catacombs did to her and he knows how utterly brave and selfless it is of her to be willing to go back. He leaves it to ABBIE to hold the flag because it allows her the power to say no. What's even more important is the fact that Abbie DOESN'T say no. She simply cracks a joke about how foolish they will look if this doesn't work. ("If this doesn't work, you DO realize that we're just two people on a boat singing the anthem?") Abbie unfurls the flag and starts to sing, tentatively at first, but she gains strength as she continues. The flag illuminates on the phrase "Bright Stars" and we're not in Sleepy Hollow anymore, Toto. Welcome to the River Styx. I had no idea it was located in upstate New York.
After a heart to heart on the boat that I'll definitely be discussing in the shippy section because MY GOD, Abbie and Ichabod reach the shore only to find that Washington's original mission clearly went to shit. There are fragments of the boat and bodies ERRYWHERE. Ichabod finds a missive from Betsy on one of the bodies (HOW CONVENIENT) that details just exactly what went down. There was a traitor on the boat (courtesy of our buddy General Howe, REMEMBER HIM?) and he blew the boat up. Washington and Betsy were the sole survivors (because of course). Once again the witnesses discuss that Betsy came back from this mission a completely different person…going as far as to say that she was LITERALLY a different person, just in case we didn't think we were being hit over the head with the fact that they are most definitely going to find her in the catacombs by the end of the episode.
Meanwhile, the remainder of Team Witness is following Pandora's magical compass so they can drive stakes into all the ley lines of Bear Mountain. They've split up into the combos of Joenny and Danny, Sophie, and Pandora so they can cover ground faster and Danny's barking out orders as if he's in charge even though he LITERALLY joined this team ten minutes ago. (PANDORA joined this team before you, Danny, GTFO thinking you are in charge.) Suddenly we get a shot of a flock of birds converging over the mountain and Pandora says "He knows we're here" and I had to make sure I was watching Sleepy Hollow and not Fellowship of the Ring.  THO conjures a storm and now Team Witness knows they have to go through the Mines of Moria instead of over the Mountain realizes they have GOT to get a move on. One problem though. The storm manages to damage Pandora's compass and now they have no way of marking the ley lines. Their only hope is a map Jenny has back at her trailer but it will take too much time to retrieve it and bring it back to the mountain. Joey volunteers to go back and then text Jenny the correct coordinates. "Watch your back, babe." This is me: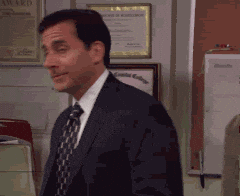 Back in the underworld, Abbie and Crane realize they are equally fucked. They have no map or ANYTHING to direct them on how to get to the catacombs. To make it worse, one of the soldiers springs back to life and attacks Crane because the one thing this episode was missing was zombies. Crane and Abbie take out the zombie together (kudos on the blood and guts, show) and Crane discovers a dark magic charm that Howe used to give its wearer eternal life. Really this has no significance to the overall plot except that it makes Crane look closer at Betsy's missive. It's encoded with directions to the gateway to the catacombs because Betsy Ross is the smartest person who ever existed, didn't you know? Abbie and Ichabod stand outside the gateway and Ichabod STILL gives her the ultimate choice. He's not going anywhere until she says it is okay. "I'm really going back there," she breathes, steadying herself. "Only this time you're not alone," he gently reminds her. "And we have a way out." In a BEAUTIFUL parallel to the Season One finale, Abbie and Ichabod link their hands (HER HAND IS SO SMALL IN HIS I CAN'T). "Shall we?" MY HEART.
Danny is all "I don't like being blindsided" to Pandora, who just responds with a withering glare because she has no idea how this guy ended up in charge. He sends Jenny out on Hidden One recon with strict orders that she's not to engage with him (Ha, that's going to go over well) while he, Sophie, and Pandora distribute the rest of the ley line spikes. Jenny gets in position and finds that she has a clear shot at THO and she wants to take it. Danny ORDERS her not to engage and Jenny's all "Sorry I can't hear you. You're breaking up. AND WHO PUT YOU IN CHARGE?" because NO ONE tells Jenny Mills what to do. She moves into position to take her shot (she's not throwing it away, y'all) when Joey comes through with the coordinates. GOOD JOB BOO.
Back at the trailer, Joey is locking up so he can rejoin the gang when out of NOWHERE Ezra Mills shows up and immediately things get shady as FUCK. Joey is immediately on edge and Ezra is all "Is this a bad time?" and unease permeates the ENTIRE scene because Ezra is just oozing faux-innocence. I am pretty sure Sage and I broke bones in each other's hands in this moment because we were SO afraid that Ezra was a baddie in this moment. On the mountain, an unfortunate snapped twig gives away Jenny's presence and THO knocks her over and drags her to him using his magic. "It almost impresses me," THO sneers. "The insatiable mortal desire to fight what you cannot possibly conquer." Jenny, precious and brave sunflower, refuses to be cowed. "I don't know what I hate about you most: the way you talk or the way you treat women." TEN POINTS TO GRYFFINDOR. It's a glorious retort but it's also a reckless one because it turns THO's eyes on how best to torture Jenny. "I know well the value mortals place on love. Let me take yours and turn it into pain." (This line also strengthens my point that what happens to Joe was done EXCLUSIVELY to cause Jenny pain over anything else.)
At the trailer, Joey grimaces as a mystical light surrounds him. "You need to run," he croaks at Ezra, his face contorted with pain. He turns into the Wendigo right in front of Ezra's eyes. "It seems like you're having a really bad day, son." Ezra is AFRAID but he's strangely NOT freaking out. HMMMMM. Ezra runs, because he's no fool, but it is almost like he was expecting this to happen to Joe. Curiouser and curiouser.